Quiz, Noël Coward Theatre
Tuesday 10th April 2018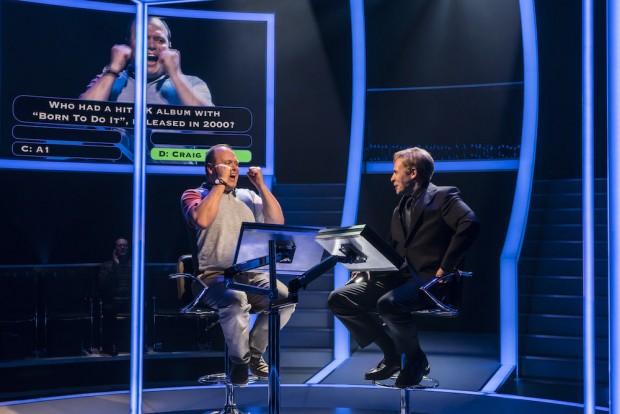 It's been a golden week for James Graham, British theatre's wonder boy. After winning an Olivier award for his comedy, Labour of Love, he now has another show in the West End, this time a transfer from the Chichester Theatre, where it premiered last November. Always interested in historical stories that say something about our present preoccupations, this time his subject is the "coughing major" scandal that in 2001 affected ITV's hit show, Who Wants To Be a Millionaire?. And, like some of his other plays, Privacy and The Vote, this new one has an element of audience participation. Its subject, after all, is a quiz show.
At the start of the new millennium, Charles Ingram, a British army major, became the third contestant to win the biggest cash-prize in British television game-show history: a cool million pounds. But his success did not last long. The television company called his achievement into question and he was alleged to have cheated in an elaborate scam, which involved his wife Diana and a casual acquaintance called Tecwen Whittock, who was believed to have coughed tactically in the Elstree studio to help Ingram to win. The case was tried in 2003 — and the result was a majority verdict of guilty; all three got suspended prison sentences.
Based on a book called Bad Show by Bob Woffinden and James Plaskett, Quiz is a glitzy documentary show which, typical of Graham, plays an intriguing game with audience expectations. In the first half we are presented in a gloriously razzmatazz way with the case for the prosecution, and it looks pretty damning. If it's a vital part of our national identity to uphold fair play, and applaud our armed forces, then the idea of a major being a cheat is abhorrent. By the time the interval arrives, we are pretty much convinced of the whole trio's guilt. Using the digital devices provided, we vote according to the irrefutable evidence. They're clearly guilty.
But Graham has a couple of surprises up his sleeve. In the second part of the show he produces the case for the defence. And our doubts begin to surface: Whittock was chronically ill with a lung condition which made him cough in the hot studio; there were several difficult questions which the major answered correctly without any prompt; the production company's recording of the show was doctored. Clearly, the major, his wife and so-called accomplice were innocent. The trial was a travesty of justice brought about by a powerful company which wanted to teach ordinary members of the public a lesson. We vote accordingly. They're obviously innocent.
It's tempting to fill this review with catchphrases from Who Wants To Be a Millionaire?, such as "Phone a friend" and "Ask the audience", but there's no need for this because Graham has incorporated all these references into the experience of watching his entertaining drama. As usual, his structure, which allows him to present the case for and against the major, produces the pleasures of a courtroom drama, with its formal speeches and cross-examinations. Added to this, the evening is also shaped like a quiz show, with a warm-up presenter, a pub quiz that the audience participates in, and the voting that delivers the verdicts.
Within this format, Graham as usual includes lots of research: he tells us about the origins of the word "jury", he has the major and his major-general sing a snatch from Gilbert and Sullivan, he gives a potted history of ITV's game shows, such as Take Your Pick, Bullseye and The Price is Right. Remember them? All of this raises questions of national identity, about our love for games and drinking (pub quizzes), and our fascination with reality television since the 2000s. How we love to build celebrities up, and then bring them down. The costs to the Ingrams were horrible: a dance section sees them being tormented by people pointedly coughing, and they are spat at in the street.
Graham also takes a broader look at truth and lies, a theme that runs through the evening. He talks about how the media prefer an entertaining lie to a less extraordinary truth, the role of lies and truths in propaganda, and the theory of confirmation bias. There are mentions of Picasso, 9/11 and the Iraq War. Of emotainment and infotainment. Of how we are creatures that love to see a fellow human being sweat: the best contestants of quiz shows are those who reveal their emotions openly. Yet the main problem with this show is that the emotional, psychological and personal elements of the relationship between Charles and Diana Ingram are sidelined, and not highlighted.
My problem with Graham's work, and this is true not only of Quiz but also of Ink and Labour of Love, is that he tends to choose what is for me the wrong story. And that there is usually a much more interesting story buried in plays burdened by their research. In Ink it was the story of the kidnap of Mrs Muriel McKay, which has much more human interest than the story of Rupert Murdoch. In Quiz the personal story of the Ingrams would have been so much more fascinating than the quiz-show format, however entertaining. In fact, the format in many ways negates the message: if we are so happy to clap the jokes in the show, how can we really criticize the social role of celebrity culture?
There are also other aspects of the show that are worth a mention. Graham's short account of how Who Wants To Be a Millionaire? was first created is a model of clarity, and argues that it was an innovative leap forward in popular culture. Even people who never watched the show became aware of its significance. But because it set the stakes so high, the show provoked an unusual reaction: a group of obsessive fans who tried to crack the system and get on the show. We see how they, including the Graham family, achieved success through dedication and skill. And by analyzing the show's week points, and observing the changing nature of its questions, from elitist to pop. In the era of fake news, alternative facts and populist politicians, this counter-community feels like a nerdish version of a resistance movement. But, once again, this is contradicted by the play's format: if truth and lies are so important why do the audience votes feel fake? Or are we meant to realize that nothing should be taken at face value?
But if the politics of Quiz are questionable, this production is certainly slick, slick, slick. And then some. On a stage designed by Robert Jones which recreates a shiny television studio, Chichester head man Daniel Evans directs with panache. Gavin Spokes sweats convincingly and his Ingram changes from confident charm to a man whose dreams have been destroyed, and he is well supported by Stephanie Street as his quiz-obsessed wife, and the brains of the family. Mark Meadows plays both Whittock and the major-general, while Keir Charles is memorably funny in his lively caricatures of quiz masters Chris Tarrant, Des O'Connor and the Warm Up man. Sarah Woodward is the thorough defence counsel who leads us towards the truth, or at least questions the official version.
© Aleks Sierz