Protest Song, National Theatre
Thursday 19th December 2013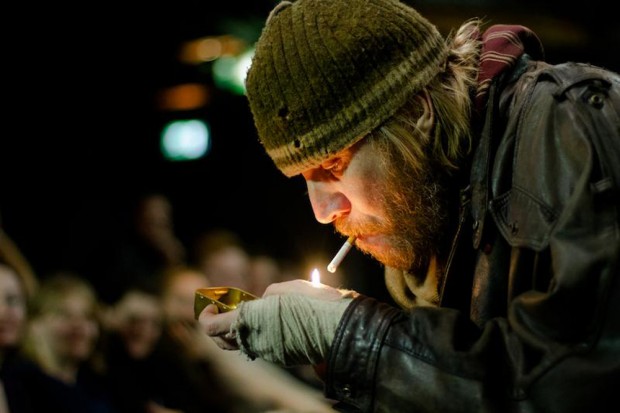 Whatever happened to political theatre? About a year after the Coalition Government heaved itself into power, there appeared a fistful of plays fuelled by anger against austerity. Then a sudden silence. Is anger not entertaining enough? Does it threaten the funding of theatre-makers? Now, finally, here are a couple of overtly political plays, one in the commercial West End and the other in the alternative Shed space at the National Theatre. But what are their politics like?
The Duck House, at the Vaudeville Theatre, is written by television gagsters Dan Patterson and Colin Swash, and is a humorous satire about Westminster politics, set in the days of the MPs' expenses scandal in 2009. So while the piece can't be accused of being very timely, the fact that it is a retrospective provides plenty of ironic and richly humorous jokes. As you'd expect from the penmen behind Have I Got News for You and Mock the Week, the piss-takes of Gordon Brown and Nick Clegg are populist — and certainly popular with audiences. At the same time, there's a relentless cynicism here that gets a bit tedious after a while. Oddly enough, there's a lack not only of subtlety, but also of real passion. There's a lot of frantic activity, but no real human feeling. Yuck.
Over at the National Theatre, Tim Price's Protest Song — well directed by Polly Findlay — is based on a good, if rather troubling, problematic idea. Danny is a rough sleeper who lives in the vicinity of St Paul's cathedral. One day in 2011 he wakes up to find that the Occupy protest movement has set up camp right next to his home. What follows is a series of encounters with the middle-class activists that results in Danny helping out, and then falling out with them.
Of course, this is fiction and an entertainment, so Danny — who in real life would be a smelly and difficult character to talk to — is played with enormous charm by Rhys Ifans in what is basically a short one-man show. Although the play doesn't explore the ethics of making a play out of the misery of a rough sleeper, it does tell a good story and Ifans's interaction with the audience occasionally feels a bit risky, a bit edgy. Danny begs for money from audience members, has a mobile phone and asks spectators for their digits, and talks directly to all and sundry. Occasionally, he screams at us.
It may be provocative, a bit unpleasant, but somehow you can't forget that this is a star actor and that his satirical take on politics — he uses the c-word to describe London Mayor Boris Johnson and then gets the audience to chant the same insult, over and over again — is all Tim Price's. And all rather rather puerile.
Danny gets involved in the everyday life of Occupy, but his rough-sleeper lifestyle proves incompatible with the straighter nine-to-five routines of the middle-class protestors. Although he participates in the big meetings, he gets criticised for making too much noise at night, and for bringing drink into the food tent.
But although it is a strong image to have Danny, a symbol of inequality, juxtaposed with protestors who want to end that inequality, the play ends on a particularly sour note that the audience, on the night I saw the show, cheered to the roof. Once again, this seems both masochistic and cynical: insult the middle classes and they will applaud you! To me it seems like another example of a tendency in theatre during the age of austerity that I would describe as soft socialism. Liberal middle-class spectators want so badly to be radical that they cheer any gesture that plays up to this need. Meanwhile, I am still waiting for some real political theatre.
© Aleks Sierz