Product, Arcola Theatre
Tuesday 5th May 2015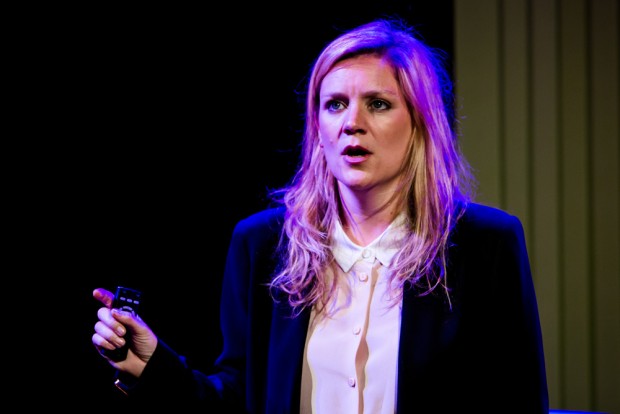 Sometimes hilarity can hurt. I remember seeing Mark Ravenhill's Product when it was originally staged by Paines Plough in 2005, and I laughed so much I felt quite heady. In that production, Ravenhill spoke his own monologue in what was his acting debut, and the play had a silent onstage listener, played by Elizabeth Baker. In this superb revival, first seen at Edinburgh last year, the silent listener has been dropped and Olivia Poulet delivers the monologue directly to the audience on an empty stage.
Poulet plays a film producer who is pitching a project called Mohammed and Me to an unseen female Hollywood star. The star is in the frame to play the fictional Amy, a privileged white woman (a running joke describes her London loft apartment as an old converted abbatoir). On a flight, Amy meets and falls in love with a dusky stranger who turns out to be part of a jihadist cell. At one wicked moment, the couple are visited by Bin Laden himself, and she gets a "warm breathy kiss on the forehead from Osama".
It's a brilliant piece of satirical writing, bright and clever, and as the script's plot becomes more and more outrageous this monologue develops into both an attack on clichéd film dialogue and a joyous example of absurd storytelling. The content, which examines our prejudices against the Muslim other, remains highly relevant, and the jokes about "movieland" and the media are still hilarious. On a more serious note, Ravenhill is rightly sceptical of the way in which different media construct the way we see the world, providing easy psychological explanations and trite emotional understandings in easy-to-digest formulas.
By changing the sex of the speaker, director Robert Shaw's production (designed by Gillian Argo) plays a beguiling game with gender. Having a female producer instead of a male one means that the fictional Amy comes across more strongly than in the original. At one moment, Poulet talks about the character's sexual feelings — and she emphasises the point with her hips. As one woman trying to convince another, this producer is less concerned about power and more inclined to try empathy.
With only a leather chair, script, pen and Starbucks coffee, Poulet performs with a kind of desperate conviction that instantly commands attention. She tries lots of tricks in her armoury of persuasiveness. Full of energy, she taps the script, acts out the characters of Amy and Mohammed (lightly funny foreign accent), and paces enthusiastically up and down. Poulet also carefully suggests that she knows in her heart that she's selling a dud. There is an underlying sadness to this bravura display of selling. As the producer says, when she can't help but notice just how poor the script's dialogue is, "It can be punched up."
Although it's only 50 minutes long, Product covers a lot of ground: it laughs at the silliness of softcore cinema sexuality, at Hollywood product placement, at the use of body doubles, at film stunts and extravagant depictions of violence and mayhem, at the racism of stereotyping, at the emptiness of characterisation, at clichéd explanations of motivation, at the futility of flattery, at the hooks and arcs of scriptwriting, at the sentimentality of Disneyland and at the necessity of securing a bankable star at any cost. And I do mean any cost. With its humorous soundtrack, excellent acting and absorbing text, this may be a rather slight monologue, but it is also powerful one and, most importantly, a hugely entertaining one, and director Shaw's production is a little gem. Once again, I laughed until my jaw ached. Yes, it is a cheering experience.
© Aleks Sierz