The Pride, Trafalgar Studios
Tuesday 13th August 2013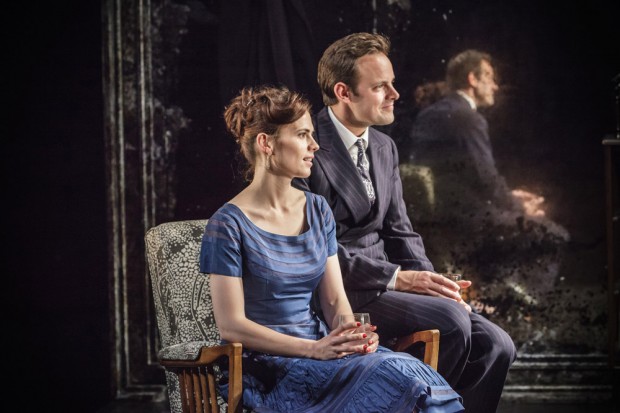 Is there such a thing as a gay play? As opposed to a play by a gay writer, or one which has some gay content or is about gay characters. The programme to this atmospheric and moving revival of Alexi Kaye Campbell's 2008 play contains Edward Albee's complaint that the gay play is "such an imprecise term". You can see his point. Whether The Pride is gay or not matters less than the fact that it is an excellent account of self-knowledge, emotional truth and personal honesty.
Set in two time zones — the 1950s and the present — the play tells the stories of two love situations, both involving two gay men and one straight woman. The characters have the same names but are otherwise unconnected. In 1958, estate agent Philip is married to Sylvia, a book illustrator who is working with Oliver, a children's book writer. In the present, Philip is leaving his promiscuous lover Oliver, a writer, and actress Sylvia is his confidant. Both of these plot lines echo and resonate with each other. Although the present is more liberated than the past — a point underlined by the Gay Pride march that is shown — the past has no monopoly on human misery. In the 1950s scenes, the prejudice against, and self-loathing of, some homosexual men is powerfully imagined, yet what unites both eras is a strong sense of the essential loneliness of the human condition.
The emotional cross-currents and psychological twists and turns are sketched out with perception and precision, and the play's ideas about self-knowledge and living truthfully come across loud and clear. Kaye Campbell writes effective dialogue and is eloquent in fleshing out his themes: in the 1950s, Oliver's search for something to believe in, illustrated by his epiphany at Delphi, contrasts with Philip's determination to avoid the truth. In the present, Oliver's manic sex addiction ruins his relationship with the faithful Philip. The scenes showing the marriage of Philip and Sylvia in the 1950s are completely convincing, while the present-day Sylvia tends Oliver's emotional wounds almost against her better judgement.
In the second half of the evening, there's a horrible scene of 1950s aversion therapy, which attempted to put homosexuals off sex with men by administering doses of poison. This horrendous quasi-medical treatment looks very like vindictive torture. At moments such as these, the play's images of gay life feel a bit old fashioned: here gays are suffering, unlovable and miserable. Surely there were some happy homos — even in the grim 1950s. Still, the emotional desperation of the characters is strong enough to pull you through the story, and the writing's beguiling mix of humour and fantasy compensates for any doubts about the play's politics.
Jamie Lloyd's production, on Soutra Gilmore's bare set, with its spooky mirror backdrop which reflects the audience to itself, is careful and fluid. Hayley Atwell's 1950s sensitive Sylvia contrasts well with her modern feisty character, while Harry Hadden-Paton's brittle 1950s persona fuses with his present calmness. Al Weaver (a passionate Oliver in the 1950s and a troubled one in the present) and Mathew Horne — who plays several cameos, including a rent boy who dresses up as a Nazi — are similarly just right. The echo of Martin Sherman's play, Bent, is typically apt. If the play's sunny ending comes more from its author than from his characters, this doesn't feel like a major fault. No, this is a powerful and satisfying play about the human heart.
This review first appeared on The Arts Desk