Pilgrims, The Yard Theatre
Friday 23rd September 2016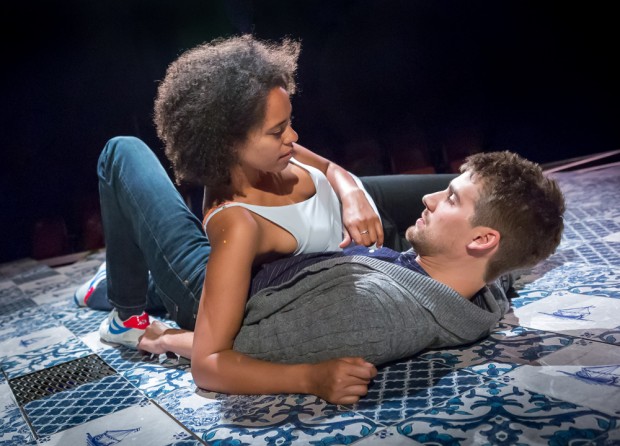 At its best, theatre is great at putting resonant metaphors on stage. And, as Elinor Cook's new play abundantly proves, the activity of mountain climbing seems very promising as a metaphor for masculine endeavor. All that effort, all that heaving, all that straining. Blood and sweat and sometimes tears. And then the question: why do men want to stand on top of the world? And is it just men who have this urgent need for power and dominion? The song "Climb Every Mountain" in The Sound of Music is sung by a woman, but some of its sentiment seems appropriate to Cook's story. And although Pilgrims is a rather short and small play, it is provocative not only in the questions it asks, but also in some of the answers that it suggests.
Dan and Will have been friends for years. And they love mountain climbing. At the age of 18, they managed to scale Everest. They were heroes, with their pictures in the papers. But, as Rachel — the woman that they both fall in love with — tells us at the start of the play, if this is a "Hero's Tale", what is her role in it? When Will and Dan meet her at a party, it is the super-confident Will, whose name sums up his character, who first seduces her. But his relentless selfishness, and jealous anger, gradually pushes her into the arms of Dan, the quieter and darker one of the pair. In this triangular sex war, however, Rachel has a bad deal in both cases. For the men, she is the person they return to, not their main goal.
With a nice ironic twist, Cook makes Rachel a budding PhD student, whose field of interest is folk songs, folk tales and myths. Stories, such as that of Tam Lin, in which the cursed hero is a rapist, and is finally saved by Janet, who "has to just hold on" to him while the Evil Queen transforms him into "an eel, a lion, a naked knight". As Rachel points out, in many of these traditional ballads, the woman must either wave her man goodbye, or save him by some self-sacrificing act. But, in the here and now, she discovers that it's not easy to save a man from his own darkest urges, and self-sacrifice doesn't lead to happiness.
Pilgrims is a 75-minute piece that tells the story of these three by jumping between the present, where twentysomethings Dan and Will are trapped on a mountain and look certain to die, and the past. The characters take turns to narrate the story, to question each other's memories of almost forgotten events and to underline — sometimes a touch too explicitly — the metaphorical significance of the story. At one point, Rachel washes Dan's blistered feet, a reference to Jesus that suggests that the image of the woman as servant has a long pedigree. Soon after, she complains of being like Penelope, always waiting for her Ulysses to come home. But more compelling is the larger metaphor of mountaineering as the Western project of conquest and domination. As Will says, on top of one mountain, "We will be gods."
More troublingly, Cook suggests that Rachel allows herself to be invaded, and that her discovery of her own story — rather than just playing a bit part in the men's tale — requires a lot of pain and sacrifice. Despite an upbeat ending, this is anything but a feminist fable. As directed by Tamara Harvey, Pilgrims is a theatrically exciting and free-flowing piece of narrative. James Perkins's simple but beautiful set allows the cast to clamber over gaps and crevices — and some moments feel as dangerous as mountain climbing. As Rachel, Amanda Wilkin has an attractive openness and her energy is more rooted in the everyday reality than the more fantastical urges of the vigorously egoistic Will (Steffan Donnelly) and the milder and more introspective Dan (Jack Monaghan). First seen at the Hightide festival at Aldeburgh earlier this month, the play is an impressively detailed and suggestive example of contemporary new writing.
This review first appeared on The Arts Desk