Misterman, National Theatre
Wednesday 18th April 2012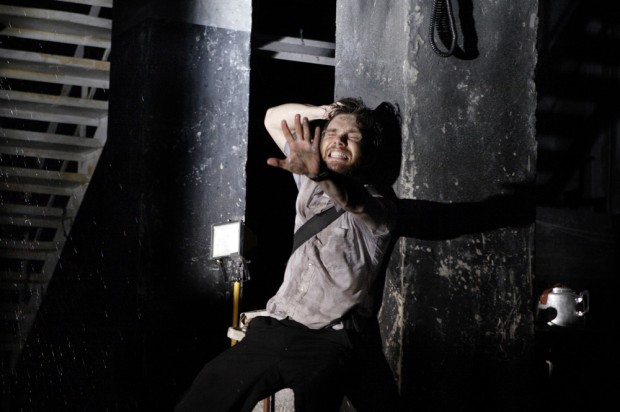 Religious mania is bad for your love life. In Enda Walsh's revamped 1999 play — which has already been seen in Galway and New York, and opened in London tonight — a 33-year-old man (played with immense conviction and enormous presence by Cillian Murphy) invites us inside his mind to explore the dark and dangerous caverns of religious enthusiasm and psychological collapse. Be warned: it is a strange, tormented and rather weird trip.
Set in Inishfree, which the programme reminds us is an Irish town celebrated in WB Yeats's 1892 peace-yearning poem, the play is a monologue which tells a deceptively simple story. Thomas Magill is a man who lives with his mother after the death of his father; struck with religious mania, his evangelical fervour forces him out of the house each day to inspect the behaviour and the morals of the townsfolk. Armed with a notebook and a tape recorder, Thomas makes a list of all the wrongdoing which he encounters. One man drinks too much, another swears too much, a third ill-treats their own mother. One man has a nude calendar on the wall of his workshop; a cafe owner wants to flirt and dance with her customers. Then Thomas meets Edel, an ordinary 14-year-old English girl newly arrived in the town. He accepts her invitation to take a walk by the river.
What happens next results either in a vicious attack, or a suicide attempt, or Thomas's arrest and detention in a secure psychiatric unit. Walsh keeps us guessing by playing and replaying the events of that fateful day in a variety of different keys: on one level this is a straight story about a family's decline in a small provincial town; on another the events are seen through the eyes of Thomas at his most religious (Edel is transformed into an angel); finally, this is also a memory play, showing a mind in which fragments of the past jostle against awkward thoughts.
Inevitably, an Irish play which includes tape recorders is reminiscent of Samuel Beckett and Krapp's Last Tape, and Walsh alludes to Beckett with a couple of jests about bananas (which also feature in the Beckett play). But Walsh's tone is more flighty and wilder, less restrained yet still perfectly disciplined. He includes a handful of incidents which can be very touching, as when Thomas washes his mum's back, or very shocking, as when he kills a dog. But there are also lots of jokes and lighthearted touches.
Despite the laughs, the emotional core of Misterman is loneliness. Thomas is a human being who is completely alone. The banal rituals of his daily life happen in an almost impenetrable solitude, made worse by his acute awareness of the other lives that carry on regardless around him. In this terrible emptiness, religious fantasy offers meaning, a future and a sense of belonging. Simultaneously, it leads him into the abyss.
Murphy plays Thomas and the other townsfolk — in concert with recordings of voices belonging to his Mammy, Edel, plus others — in an astonishing 90-minute performance. He commands the large stage space with ease and authority; he has perfect control of his narrative speeches and convincingly conveys the certainty of the fantasist. At various points of the evening, he is smitten with idealistic and angelic visions, gripped by resentments, offering outbursts of violence, nervy jerks and sudden slumps, along with sickening howls of despair. It's amazing, mesmerising, moving, funny and unforgettable.
In this production, directed by Walsh himself and co-produced by the Galway Arts Festival and Landmark, the huge expanse of the Lyttelton stage is plunged in a purgatorial gloom. The space looks like an abandoned factory, with several levels, old machinery, dilapidated furnishings and some wonderful effects, from small glowing crosses to a garish, glittering cafe and a hellish disco dance (the original 1999 version of the play came soon after the playwright's classic Disco Pigs). Part cartoon, part tone poem, Misterman is a terrific study of religious mania, loneliness and longing. It really rocks. You to the core.
This review first appeared on The Arts Desk