Love, Bombs and Apples, Arcola Theatre
Friday 17th June 2016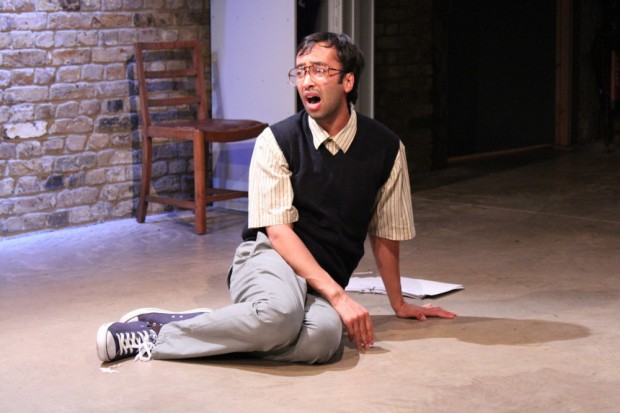 Most plays about the Middle East are too politically correct. This means that they don't mention sex. But the work of Hassan Abdulrazzak is different. In plays such as Baghdad Wedding (2007) and The Prophet (2012), he reminds us, and usually in a full-on humorous way, that many people think about sex a lot of the time, and that it is an ever-present fact of everyday life. And his latest play, which is a compilation of four monologues, is no different. Love, Bombs and Apples carries the scent of sex from the stage to the audience in an often hilarious and always thought-provoking way.
The first monologue — Love in a Time of Barriers — is about a Palestinian actor, who is "nearly" famous and works in Ramallah. After a performance of Hamlet, during which he uses pictures of Yasser Arafat and Mahmoud Abbas to manipulate the response of his local audience, he finds himself at a post-show party. There he meets Liz, a privileged, Surrey-educated, lefty English woman, and successfully gets off with her. Then he has a problem: where can they go to have sex? In a short but hilarious monologue, the difficulties of getting laid on the West Bank are brilliantly explored.
Next up is Level 42, in which Sajid, an earnest Pakistani youth who lives in London, writes what he thinks is the "definitive post-9/11 novel". When it's finished he sends it to every publisher he can think of, only to find himself accused of writing a training manual for terrorists. Here Abdulrazzak compares Osama Bin Laden to Kurt Cobain in a highly satirical and sharp account of cross-cultural misunderstanding. Among the many pleasures of this longer and more Kafkaesque monologue is the figure of the anti-terrorist policeman who is a dab hand at literary criticism.
In The Apple, a shorter piece, the young Bradford Muslim protagonist compares the devotional aspects of his local mosque with the Apple Store, and finds some surprising similarities between traditional religion and new media. This monologue contains a sensual appreciation of an i-phone in a provocative narrative based on the idea that the Westfield shopping centre in Bradford has been built to "pacify" the Muslims and distract young men from becoming Jihadis and travelling to Syria. Imaginatively and comically, Abdulrazzak gives voice to the kind of community not often heard from in contemporary British theatre.
The final and most provocative play is called Landing Strip, and is set in New York. Isaac is a young Jewish man who has an extremely Zionist father and a lefty peace-activist girlfriend, Sarah, who is pro-Palestine. He tries to reconcile these two sides of the Jewish community, but blunders into a sexual indiscretion. As the title indicates, he wants Sarah to shave her pubic hair, but the timing of his request is not good. This longer piece contains a sharp and lucid criticism of the power of the Jewish lobby, which also applies to this country, as well as some haunting imagery: Sarah has a dream in which she sees souls rising from Nazi concentration camps in order to march with the Palestinians "protesting the loss of their land".
Although Abdulrazzak's writing is marvellously lucid, funny and highly political, the main problem for me is that I would have liked to spend more time with some of these characters, so I felt that the monologues were a bit too short. But you can't fault the production. As performed by Asif Khan in a one-man show lucidly directed by Rosamunde Hutt, the playlets have a charm that comes from the actor's ability to be completely convincing. Khan does everything you'd expect, jumping from one personality and one accent to the others, and he does it all beautifully. It makes for an engrossingly evening that reminds us just how global our world now is.
All of Abdulrazzak's creations share an awkward place in the world, being wannabes: wannabe star actor, wannabe novelist, wannabe Jihadist and wannabe family man. The satire of their stories is plucked from this uncertain status and from their alienation. They are lone wolves, and while two of them have a sex life, the other two — arguably the more dangerous pair — don't. Each monologue comments on terror, and our fear of it, and each is free-thinkingly transgressive and politically incorrect. The writing is fresh and attractively humorous. All in all, this is a great entertainment that provokes and delights in equal measure.
© Aleks Sierz