Lay Me Down Softly, Tricycle Theatre
Tuesday 12th July 2011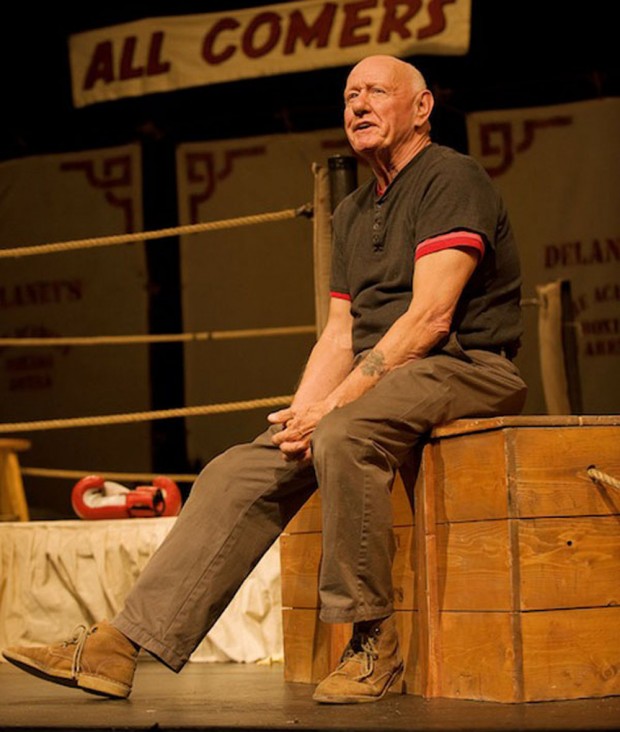 Until quite recently, plays about sport were as rare as British Wimbledon winners. Then, over the past couple of years, came a whole slew of plays about various sports, led by punchy stories about boxing, from Roy Williams's Sucker Punch to Bryony Lavery's Beautiful Burnout. Now this growing list of recent fixtures is joined by Wexford-playwright Billy Roche's bitter-sweet and humorous play, which originally premiered in Dublin in 2008 and opened tonight in north London with several Roche veterans in its new cast.
Set somewhere in rural Ireland in the 1960s, Lay Me Down Softly is concerned with Delaney's Travelling Roadshow, a ragged canvas marquee where everyone is invited to test their fists against young Dean — or Killer Deano, as he calls himself. In designer Bui Bolg's boxing ring that dominates the stage, Dean, for all his knuckle skills, is eclipsed by Theo, the master of the roadshow, and his relationships with two women: Lily, his long-term and long-suffering mistress, and Emer, his newly arrived and long-estranged daughter.
The keynote of loss vibrates through the play. In years past, it emerges that Theo abandoned his wife, Emer's mother, in some shabby hotel, and it is her yearning poetry that gives the piece its title. Now, in the present, it looks like Dean, when he gets roundly beaten in the ring, will be replaced by Junior, the young pretender. At the same time, young Emer is soon attracted to Junior. All this happens under the beady eye of Peadar, the old trainer, a repository of stories about the past and the moral conscience of the play.
Boxing is an expression of brute male power, so Dean's humiliation and Junior's success symbolise the passing of one age and the arrival of another. The only question is whether Junior will stay with the roadshow or follow Emer to a different kind of life. Roche's colloquial, occasionally poetic text quickly sketches out the characters of the older men and a picture of damaged masculinity heaves into view.
Dominating the stage is Theo, a fighter since his teens and a man who has come "up the hard way". In Gary Lydon's outstanding performance, he appears as a larger-than-life character, a strong and wilful boss who dominates by the force of his personality. Lydon not only conveys his gift of the gab, and battered charm, but also his restlessness and dissatisfaction, his hands constantly changing position, his feet ever mobile. There is also a distinct whiff of danger here.
By contrast, Michael O'Hagan's Peadar has a gentle side that occasionally peeks out from his imposing bulk, while Anthony Morris's Dean and Dermot Murphy's Junior illustrate different aspects of the theme of troubled masculinity. As a counterpoint, Simone Kirby's Lily exemplifies female endurance, and her satirical lines at the expense of the men get some of the best laughs of the evening. If Emer's character is rather underwritten, Pagan McGrath lends it all her youthful freshness.
With its small-town setting, Lay Me Down Softly is a rather small play, with few ideas and a distinct sense of yesteryear in its writing. Yet it also has moments of psychological intensity, as when Lily stands up to Theo, who tries to face her down, or when Theo wrestles Dean to the ground in an elemental clinch. Otherwise, despite its evocative 1960s soundtrack, Roche's own production is a bit messy and the set fits a bit awkwardly on the cramped Tricycle stage, but you can't fault the commitment of his cast. Yet you leave the theatre feeling you have seen a couple of good rounds rather than a full match.
This review first appeared on The Arts Desk