Electra, Gate Theatre
Wednesday 13th April 2011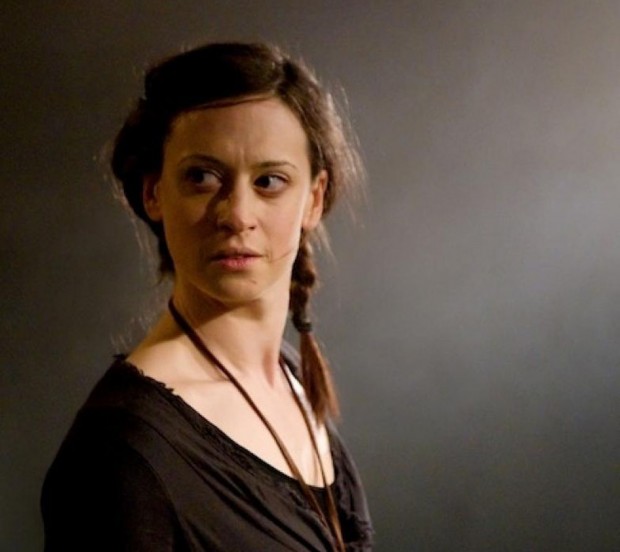 Ancient Greek tragedy is, like a gnarled old olive bush, a hardy plant. It is also a firm favourite with theatres. The reasons for this are unclear, especially if you consider that neither its myths (tragic workings of fate crushing hapless humans underfoot) nor its moral codes (an abject eye for an eye and two fingers up at any legal niceties) have stood the test of time. Still, perhaps it's the endless fascination of extreme situations and psychological stress. Sophocles's Electra qualifies on both counts. Recounting one episode in the huge sprawling tale that is the Trojan War, this play focuses on Electra, the daughter of the Greek king Agamemnon. This man, in order to get a fair wind for his becalmed fleet on the way to besiege Troy, had to sacrifice another daughter, Iphigenia.
But, after the Trojan Wars and following Agamemnon's murder by his wife Clytemnestra (in revenge for Iphigenia), their daughters Electra and Chrysothemis mourn not only the loss of their father, but also that of their brother, Orestes, who went missing after the killing. Ten years later, as Orestes returns, along with Strophius, to avenge his father: how will Electra react to this new crisis?
The first play of the Gate Theatre's final season under the joint artistic directors Natalie Abrahami and Carrie Cracknell, who will be leaving next January, this new version of Sophocles's tragedy is adapted by award-winning playwright Nick Payne. At its best, his translation has a flinty impact, although it is occasionally a bit awkward. You can see that he has struggled to maintain a balance between high seriousness and a more vernacular register.
Cracknell's production turns the theatre once again into an open arena, with the audience perched on ledges surrounding the action, which takes place on Holly Waddington's tiled, adamantine set. In the first moody minutes of the action, Electra is shown scrubbing a large bloodstain from the floor and this reminder of the murder of her father remains visible throughout the play. But if the dark mood of the play is perfectly captured by Cracknell's atmospheric tone poem, with its frequent blackouts and crepuscular gloom, the acting is not always as interesting as it could be. Although the cast members are still for much of the evening, with only occasional noisy outbursts, there is a lack of conviction in this absence of movement. In fact, the best moments of this controlled and taut production are virtually wordless, such as when Electra wildly digs herself into the grave of her father, or the two recognition scenes, when the sisters each meet their brother again. These really catch in the throat and embody the fierce emotions at the heart of the story.
Cath Whitefield's intense and defiant Electra contrasts nicely with Natasha Broomfield's naive and excitable Chrysothemis, and with Madeleine Potter's emotional Clytemnestra. Alex Price (Orestes) and Martin Turner are intelligently vengeful. As the young Electra, Fern Deacon and Yasmin Garrad share the part, which in this version also substitutes as the chorus.
Although this is a punchy account of a classic play, there is little in this version to appeal to a contemporary audience. Electra's paralysing grief is never illuminated by any shafts of light and Clytemnestra never really comes alive. The best moments were those between Electra and her sister, and between Orestes and Strophius. For the rest, human psychology here takes second place to visual atmospherics.
© Aleks Sierz