Each His Own Wilderness, Orange Tree Theatre
Tuesday 21st April 2015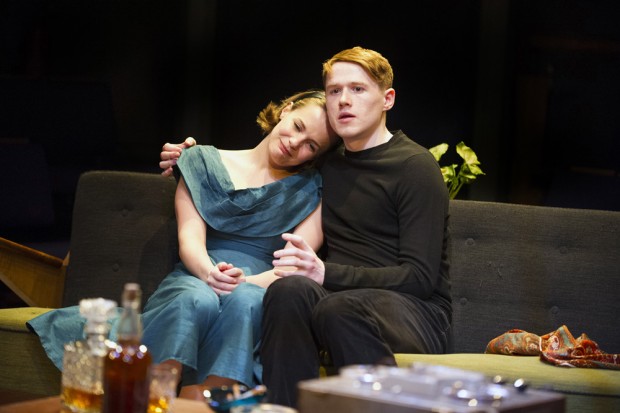 The 1930s and 1940s were a terrible time: fascism, war and the atom bomb. But these were also decades when many people believed in just causes, times when the left, and a passion for activist politics, thrived. Two recent plays revisit those heady days — and enable us to reassess their political effects. One is Tom Morton-Smith's new play, Oppenheimer, the other is this revival of Nobel laureate Doris Lessing's play, Each His Own Wilderness, which was first staged by the Royal Court in 1958.
Set in the large hallway of lefty widow Myra's suburban home, the story shows what happens when her only son Tony returns from national service and makes this space his bedroom (there's a convenient sofa bed) because all the other rooms in the house are occupied. In this family, the usual generational struggle is reversed: mum is the radical activist and her son is a political reactionary. The personal is political so Lessing shows how Myra, whose husband was killed by a bomb during the Blitz, goes from one lover to another (known to Tony as his "uncles"). These include the architect and former lefty Philip, the kindly old duffer Mike, and young Sandy, the son of Myra's best friend Milly.
When old flame Philip arrives with his new bride-to-be Rosemary, who is Tony and Sandy's age, the intergenerational tensions escalate. At the centre of the play, Myra is exasperated that Tony has no interest in the leftist politics of great causes — ban the bomb, sympathy for the Soviet Union and interest in Chinese Communism — but her own political passions are oddly scatterbrained. At the start of the play, she sets off to attend a demo at the houses of parliament, but never makes it: she is distracted when she bumps into some friends.
Myra's vitality results in emotional confusion, especially in the men that buzz around her, but Tony's disillusionment with politics is much more than a reaction to his mother's frenetic energy. Although he has a deep longing for normality — giving up a lucrative career as a trainee architect under Philip (too close to home) for the prospect of working independently as an army-trained electrician — he also has his own radical ideas. Tony advocates a theory of inner immigration, whether as a vision of becoming a tramp and walking around the country or as a form of personal meditation, or experimenting with drugs. He scorns his mother's ability to be "tortured by things thousands of miles away" and only wants to dwell at home in "little Britain". Like Jimmy Porter in Look Back in Anger, he doesn't believe in any "good, brave causes". Unlike Jimmy, he's not very angry. While the public-schoolboy Sandy is climbing up the Labour Party tree, Tony is firmly against all forms of ideology. But he is a questioning spirit, attacking the family, the "little cages of second-rate men", and the alienation that results in each of us living in our own isolated wilderness. He also understands the costs of sexual liberation.
Lessing writes with the novelist's concern for the inner life of all of her creations. She effortlessly mixes personal feeling and political opinion, generational tensions and female friendship. She has a sense of humour, of irony and of life. At times, she can be a bit wordy and a bit repetitive. But that didn't really bother me. Under the laconic dialogue, and the throwaway jokes, beats the real heart of real people, with their frailties as well as their strengths. In what is partly a sexual comedy of partner swapping, there is as much material here for the psychologist as for the social historian. At the same time, Lessing also allows her visionary side the occasional outing, as in Myra's dream of great black machines and the burning horizon that follows a nuclear apocalypse.
Paul Miller's timely revival begins with the sound of the Red Army Choir and the "Internationale", and has good performances from Clare Holman as the energetic but brittle Myra, Joel MacCormack as the quietly but deeply critical Tony, with strong support from Josh Taylor as the priggish Sandy, Susannah Harker as the practical Milly and John Lightbody as Philip. Rosie Holden plays Rosemary. In the end, for all of Lessing's sympathy for her characters, this is a rather reactionary play that leaves behind a feeling of profound disillusionment.
© Aleks Sierz