The Three Lions, St James Theatre
Thursday 26th March 2015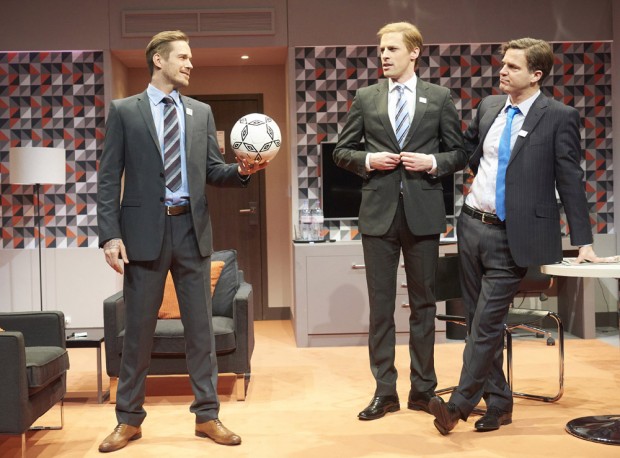 An increasing number of political plays can only mean one thing: a general election must be in the offing. But there are many different kinds of political drama. William Gaminara's The Three Lions belongs to a recognisable genre — the satirical comedy. As the story begins, we are back in 2010, in a Swiss hotel room where England's bid to host the 2018 football World Cup is reaching its climax. Tomorrow is decision time, but tonight the dream team of Prime Minister David Cameron, footie star David Beckham and young royal Prince William are busy preparing to glad hand and chat up the great and the good of the Fédération Internationale de Football Association (FIFA). While they are not exactly begging for votes, they are optimistic.
As events unfold, Cameron is assisted by Penny, a trainee PA whose inexperience and gaucheness is the cue for several jokes — especially about Beckham's sex appeal — and the PM finds himself tested by the fact that the hotel, represented by the twin brothers Vikram and Ashok, seems to have messed up his booking. Amid the elements of farce — rapid entrances and the risk of losing one's trousers — our hopeful lions roar towards victory. Of course, we know the result of that. England only receive two out of 22 votes from the FIFA executive committee in the first round, leaving the way clear for Russia to be the eventual winner.
In the meantime, we have time to enjoy Gaminara's comedy of character. Our three lions are an odd bunch: posh Cameron is breezy, and shares a public-school background with Wills, while both are exasperated by the naivety of working-class-lad-made-good Beckham. These caricatures play delightful games with our prejudices: although most of us know that Beckham is much more canny than the popular image of him as dim, this stage incarnation exaggerates his New Age credulity and limited vocabulary, all for laughs. His inability to say DNA (his version is "D and A") raises a snigger. Likewise, Prince William's Sloane drawl — "ya" and "defo" — doesn't go far in challenging our idea that he is just a privileged twit. By contrast, his sense of humour, inherited he claims from his grandfather Prince Philip, results in some quite subversive moments.
The picture of Britain that Gaminara paints is familiar. Our political leaders, our royals and our celebrities are self-obsessed and complacent. Their ideas are old-fashioned and they have no spirit, no guts and no killer instinct. They are failed Little Englanders; with no grasp of global realities. Is it because they are the products of public-school? No, because Beckham didn't go to Eton. It's more that each of these men is so successful that they live in a bubble, cut off from normal reality, and thus they have no idea about what they are doing.
The first half ends on a lovely cricket anecdote which shows how, given a level playing field, the best man will always win. And the politics of the play illustrate this metaphor perfectly. With its huge financial interests, international football is clearly not a level playing field — it is a commodity in a mass market. At one point, the play points out that the £20million cost of the ill-fated bid to host the World Cup could more usefully have been spent on the NHS. And, as the awkward discussion about the difference between bribes and incentives shows, the market is controlled by money.
So while our three toothless lions laugh about the new money of the Russians, who are buying up central London, they have no idea of how best to make their own resources talk. Of course, they complain that the BBC — whose flagship Panorama programme screened a exposé about FIFA corruption shortly before the voting — has "completely fucked us", but there is plenty of blame for all to have a share in it.
One subplot concerns Rupert Murdoch and the power of the press. With considerable feeling, Gaminara reminds us that, if our leaders are too weak, our journalists are too powerful. By the end of the play, British tabloids emerge in all their despicable glory, with appallingly underhand methods and a reference to the Fake Sheik. Well, the hacking scandal is but a breath away.
Smartly directed by Philip Wilson, this is an intelligent comedy, likable rather than amazing, and one whose fun never quite takes off. Still, it has its hilarious moments and several good jokes, delivered with a smooth agility by Dugald Bruce-Lockhart (Cam), whose rant against footballers is a highpoint, Séan Browne (Becks) and Tom Davey (HRH). Ravi Aujla (Vikram and Ashok) and Antonia Kinlay (Penny) provide solid support. Sadly, the show's politics are better than its humour.
© Aleks Sierz