Dead on Her Feet, Arcola Theatre
Wednesday 3rd October 2012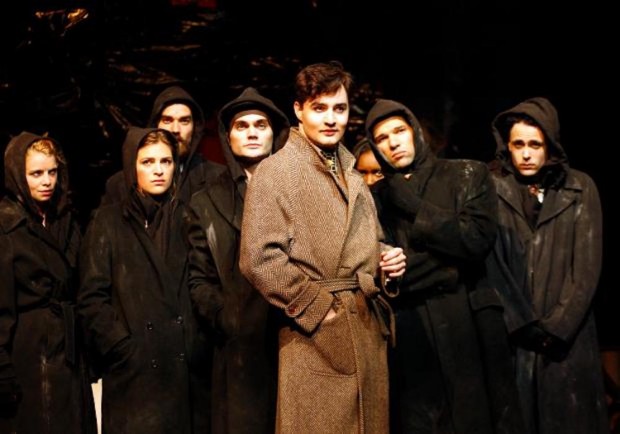 London is the centre of the theatre world not only because its theatres are subsidised, but also because of their interest in international work. If some visiting companies tend to disappoint because of their static or overblown idea of theatricality, British revivals of foreign work are often truthful, and sometimes revelatory. By the same token, they sometimes disappoint, especially those staged on the fringe.
For example, from America comes a promising historical nightmare. American-based Irish playwright Ron Hutchinson's Dead on Her Feet is basically a remake of the 1969 film They Shoot Horses Don't They?, which starred Jane Fonda, and showed the grotesque effects — equally on individual contestants and on the mass of spectators — of the dance marathons of 1930s Depression in America.
Based on Horace McCoy's 1935 novella, the story follows a group of desperate unemployed men and women as they struggle to dance continuously for days on end. Last couple left standing are the winners. Clearly, these mass entertainments grossly exploited not only the desperate unemployed youngsters, but also plumbed new depths in voyeurism. They were a form of public torture.
Hutchinson's play features three couples plus the impresario Mel and the ambiguous enforcer McDade. The powerful text examines American identity and, although the play is set in the 1930s, contemporary parallels are obvious. In sinewy dialogues that flash with insight and poetic images, he exposes the cruelty of the American Way. Despite a rather irritatingly didactic ending, Dead on Her Feet offers a compelling vision of a world in which everyone, from the promoter to the aspiring artist, is a hustler.
Barry Kyle's production has some distracting fussiness, and having only three couples feels a bit thin for an epic story, but there are strong performances from Jos Vantyler as Mel, plus Kelly Gibson and Sam Trueman as two of the contestants. Yet for all its contemporary resonance, the evening remains in the mind as a lesson in history rather than as an exciting piece of drama.
© Aleks Sierz