Counting Stars, Theatre Royal Stratford East
Thursday 1st September 2016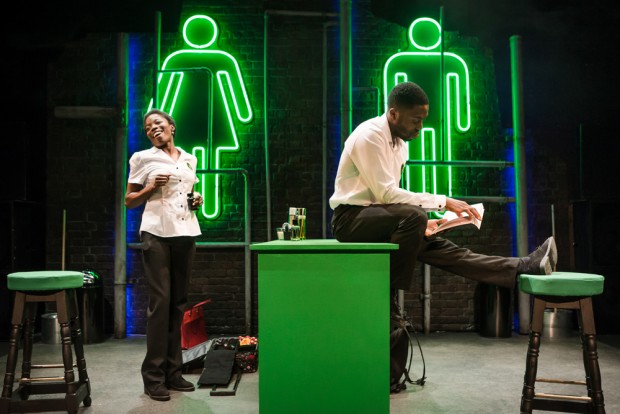 I know it's September, but it's still as hot as August. I'm in a Woolwich dancing place called Club Paradise: my hand has been stamped, my drinks have been bought and the music is thumping loud and good. There are lots of people milling around, and the temperature is rising. Hot, hot, hot. As the music builds, people take their seats and a smartly-dressed black woman moves through the crowd, dragging a small suitcase behind her. Then she comes onstage and introduces herself and her place of work.
Her name is Sophie, and she works as toilet assistant in the club. Next door is Abiodun, her boyfriend. Counting Stars, a 65-minute drama by Atiha Sen Gupta, features the relationship between these two thirtysomething Nigerians, who work in adjacent rooms. On stage the notional wall between them at the club is symbolic of their temporary separation, but their race and their conditions of work are stronger barriers to their quality of life. Their boss, Lawrence, a white Liverpudlian, won't pay them — so they rely on tips and sales, while the racism of some of the clubbers can turn vicious.
So. Here we are in the toilets of Club Paradise in Woolwich on Valentine's Night — the location itself is an ironic comment on our nation's low-wage economy. Still, there's initially a lot of happiness and jolly laughter in this story. Having got together exactly a year ago, Abiodun and Sophie plan to celebrate their anniversary when they clock off at midnight. Speaking directly to the audience, they describe their conditions of work, and Gupta paints a gently humorous picture of their activities. Sophie is the more entrepreneurial of the two: in the toilet, she sells lollipops, perfume by the splash, hairspray by the spurt, and even some make-up assistance. For her, "Valentine's Day is my best earner." For her customers, such as the red-head Samantha, she also provides a shoulder to cry on and some good relationship advice. By contrast, Abiodun — called "Obama" by his boss (an example of the casual racism that is degrading and belittling) — is not very good at small talk, nor customer service. Despite the sales of condoms, his tips are never as high as hers.
At first, Abiodun and Sophie's Valentine's Night shift goes reasonably well, and they fill us in about their shared history. Both came here from Nigeria, and they met at the club. Abiodun's former girlfriend, a Jamaican British woman called Amanda, is their landlady, and there's a touch of tension between her and Sophie. In fact, Sophie calls her "Akata", which is Yoruba for "bitch". At the same time, the imagery of the stars unites both of them — Sophie believes in horoscopes and her boyfriend uses cosmology to remain detached from abuse: if someone insults him, he just imagines them as "an old star".
As the night progresses, Abiodun comes across as much more class-conscious than his lover, and even talks about "class war" against his employer. He embodies the spirit of resistance, a neat contrast to Sophie's more capitalistic ethos. At one point, he challenges her by asking her what the minimum wage is, and she doesn't know. "How much are you worth it," he asks, knowing that the same question applies to him. And you can see his point — after all, he has a degree in physics. Which just makes the racism of some of their clients all the more hard to bear. When one of Sophie's new girls comes into the toilet drunk, and calls her a "bog wog", they try and laugh it off, but Abiodun says that she cried into her pillow that night. And then there's the Woolwich murder of Fusilier Lee Rigby by Michael Adebolajo and Michael Adebowale, which creates an atmosphere that encourages racism and a fear of the outsider. So at the climax of the story, David, the by-now very drunk ex-boyfriend of Samantha, confronts Abiodun and makes him apologies for the actions of fanatical Nigerian Muslims — even though he's a Christian.
But as well as being about prejudice and exploitation, this is a play about love and Gupta includes some tender and humorous moments that compensate for the hatred and brutality of racial prejudice, while at the same time pointing out that such xenophobic outbursts often go hand-in-hand with sexual frustration. As directed by Pooja Ghai, on Diego Pitarch's striking and colourful set, this is an evening characterised by excellent acting — from Lanre Malaolu (as the controlled but angry Abiodun) and Estella Daniels (as the optimistic Sophie) — and confident storytelling. Both actors also play a handful of other characters, which helps the story deliver a light, even gentle, humour, as well as a dramatic ending.
Located in a studio space at the side of the main theatre building, Counting Stars — which was first staged last year in Edinburgh — is an enjoyable and tender love story which also asks the big question: what hope is there for society's outsiders, the oppressed and the exploited? In the end, Gupta's conclusions are quite pessimistic. Here, all the power is in the hands of the employer, who can force their workers to sing a sexist song, or chant silly rhymes, while the employee has no redress. But although there's an anger in this piece about divided Britain, there's also a humanistic faith in the power of the individual to survive adversity.
© Aleks Sierz