Chicken Soup with Barley, Royal Court
Thursday 9th June 2011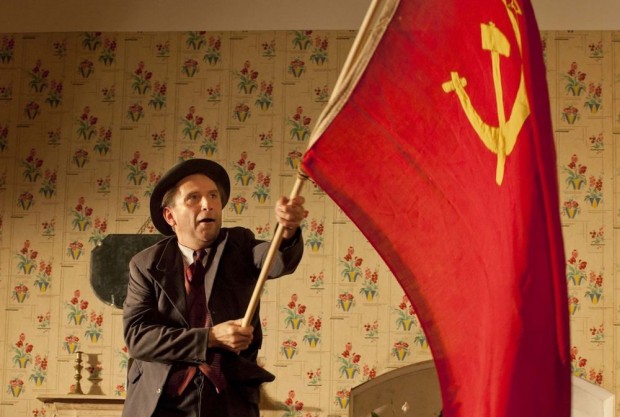 Today, in British theatre there is a real, if unacknowledged, nostalgic need for two things: first, there's an open desire for plays that are about ideas, about issues that really matter to audiences. Second, there is a secret love of the proper well-made play. Both of these longings find satisfaction in this revival of Arnold Wesker's 1958 political story, Chicken Soup with Barley.
Wesker's play — the first of an epic trilogy which examines the life of a left-wing family over several decades — starts in 1936 with the Battle of Cable Street, when the local community in the East End of London successfully stopped Oswald Mosley's fascist Blackshirts from marching down their streets. It's a historic turning point: the idea that fascists "shall not pass" through working-class urban areas is famously, and powerfully, articulated.
The play's setting is the left-wing Jewish Kahn family's well-kept, but rather poor attic room. As Sarah Kahn, the young and dynamic wife of Harry, and mother of their youngsters Ada and Ronnie, struggles with domestic chores, the sounds of the battle against the fascists and police can be heard rising from the streets. People rush out, others rush in. The young men discuss the situation in Spain, where Franco's invasion has just sparked the Spanish Civil War, a portent of the growth of dictatorships across Europe. One man is off as a volunteer to fight on the anti-fascist side.
Later, the injured are looked after, and the events of that tumultuous day relived around the dinner table. But although there is a real surge of idealism which emanates from the stage — at one point even the lazy layabout Harry waves a large red flag — all is not rosy in the Kahn family. Sarah catches Harry, who is unemployed, stealing from her handbag, and it is clear that despite their belief in communism they are unable to hold their own lives together. Personal ethics contradict political beliefs.
The second act of the play is set in 1946, about a year after the Labour victory. The Kahns now live in a brand new council house, which is cleaner if metaphorically chillier than their previous attic. Harry, who still has a casual attitude to working, suffers a stroke, and their daughter Ada decides to move to the country as a way of rebelling against urban capitalist society. Still, the other women in the family remain firm trade unionists.
The third act of the play reaches December 1956, a crucial year in the history of the postwar left. Revelations about Stalinist Russia plus the Soviet invasion of Hungary combine with the growing importance of consumer durables to create a different social and political climate. Ronnie comes home after months of working in a kitchen in Paris with a bellyful of disillusion and a real hatred for what he sees as his mother's false ideals. Yet she has the last word.
At his very best, Wesker mixes the great political issue of his day with personal emotions and family tensions. Under examination are different kinds of communist and socialist beliefs — from the unshakably idealistic to the vaguely pragmatic — and these are shown as changing over some 20 years. In each case, they are tellingly inflected by the character of the individual believer.
Dominic Cooke's vivid production, expertly designed by Ultz, blows the dust off Wesker's play and is blessed with excellent performances from Samantha Spiro as Sarah and Danny Webb as Harry. The tensions between them are always palpable, and Harry ages before our eyes as his ill health takes its toll. Equally good are newcomers Tom Rosenthal as Ronnie and Jenna Augen as Ada. This is not only a brilliantly written play, but it is also a deeply felt production which appeals equally to the intellect and the emotions. At last, a play in which ideas really matter.
© Aleks Sierz