Canary, Hampstead Theatre
Monday 24th May 2010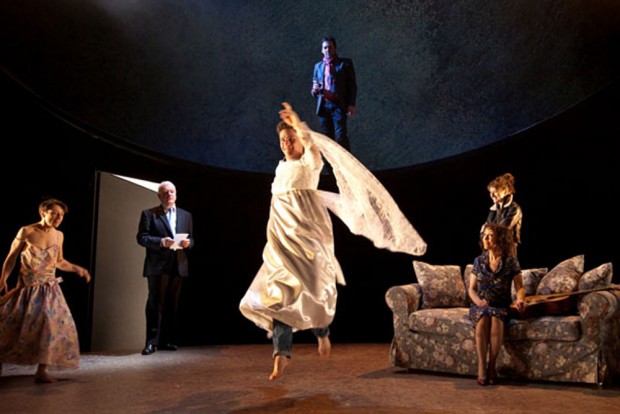 One of the least lamented (by me at least) genres that has fallen foul of social changes in the past two decades is the 1980s gay drama. You know the kind of thing: right-on coming-out speeches, painful but ridiculous instances of homophobia, and the compulsory dying-of-AIDS scene. The irony is that Jonathan Harvey, whose 1993 classic Beautiful Thing did so much to pull the gay play out of its ghetto, has now returned to this 1980s genre. His latest play, which opened tonight and marks his long-overdue return to the stage, revisits gay culture between the 1960s and today. Okay, it's retro, but is it worth seeing?
Well, actually yes. The story centres on Tom, a police chief of a London borough, who is both gay and married. When a tabloid newspaper threatens to out him, he is confronted with an unwelcome choice: does he upset his family by admitting that he's always been gay? As the past catches up in the shape of Russell, an openly gay TV star, there is a series of well-crafted flashbacks: Tom and his lover Billy in the 1960s, and Russell and his best friend Mickey in the 1980s. How are these two couples related? We have to wait until the curtain line at the end of Act One to find out. As these stories interweave, three eras of gay experience — the 1960s, the 1980s and the present — are presented on stage.
As well as bedroom stories, we catch a glimpse of big public events. The first scene is a great crowd-pleaser which shows Mrs Mary Whitehouse, the moral campaigner who condemned homosexuality, preparing for the Festival of Light in 1971. Yes, overt prejudice can be very silly. Then there's Mrs Thatcher, who is seen being asked by her minister Norman Fowler to approve his policy of publicising the safe-sex message in the mid-1980s. Although he comes across as a ridiculous figure, ignorant of the meaning of oral sex and unable to pronounce the word vagina correctly (he says "vageena"!), his policy was actually right.
The name of the play alludes to gay activist Peter Tatchell, who once said that "gay people are the litmus test of whether a society is democratic and respecting human rights. We are the canaries in the mine." With this in mind, the most chilling scene shows an instance of 1960s sex-aversion therapy: a young gay man is strapped down, fed with vomit-inducing chemicals and then shown gay porn. As a "medical policy" it was shocking, disgusting and barbaric. And it didn't work.
At first, Hettie MacDonald's production seems to have taken a snort of poppers — it's fast and furious, and the dialogues rattle along, bright and sharp. Harvey, of course, creates a kaleidoscope of history by filling the air with a characteristic mix of funny one-liners and wry observation. Act Two begins with a lively evocation of the Gay Liberation Front's disruption of the Festival of Light, which spills over into the audience. Things slow down, and get much darker, in the 1980s as AIDS appears on the scene. There is also a moment when the youth of today are criticised for their hedonism, and for not understanding that their current freedoms depend on the struggles of the past.
With a huge epic such as this, designed by Liz Ascroft, there is a lot of doubling in the acting, some of it frankly humorous. Philip Voss plays the dignified and guilty older Tom, but also Mrs Whitehouse. Kevin Trainor, Ryan Sampson and Ben Allen give Billy, Russell and Mickey a freshness in the early scenes of their love affairs that is very affecting. The ever-reliable Paula Wilcox plays Tom's Liverpudlian wife and Jodie McNee his cokehead daughter, and also a younger incarnation of her own mother. Delightful.
Canary is a funny, touching and informative play. But although it offers a great panoramic view, and comes across as both hungry for laughs and committed in its politics, it is not free of blemish. Amid all the high jinks, which include ghosts, time travel and flying, Harvey never really gives us enough depth in his outline of the relationship between Tom and Billy, nor about Tom's marriage. The use of music from Evita and Les Mis is frankly sentimental. But the evening is gay and loud and proud. However flawed, it is powered by a big, warmly beating heart.
This review first appeared on The Arts Desk