Biblical Tales, New End Theatre
Monday 9th August 2010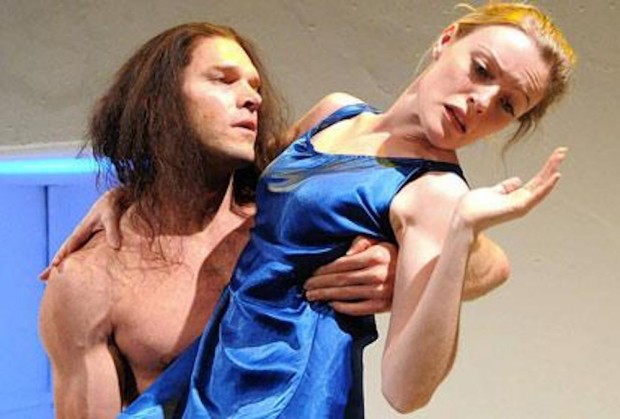 What is it with Steven Berkoff and the Bible? This is not the first time that the in-yer-face pioneer and total-theatre guru has been inspired by the Bible (in 2003 he staged the Messiah: Scenes from a Crucifixion) but in this two-hour show he turns his attention to the Old Testament. In a play made up of four parts, he explores imaginary conversations between four sets of protagonists.
First off is Adam and Eve, who discuss life in paradise until she is tempted by a sinuous serpent. Then there is David and Goliath, a scene in which Saul persuades David to take on the champion of the Philistines. This is followed by episodes which deal with Samson and Delilah, and Moses and Pharaoh. Basically, all the stuff that you remember from Sunday school. No surprises here.
Written in a contemporary idiom, which means that Adam and Eve speak like cockneys and the vocabulary of the encounter between Moses and the supreme ruler of Egypt is peppered with the expressions "cool", "hey" and "listen up", the play offers not only an exploration of biblical themes but also contemporary subtextual references to the relationship between Israel and Palestine. This is quite provocative, but also quite predictable.
Directed by Berkoff himself, in a production whose white box set is designed by Lotte Collett and enhanced by music from John Chambers, this is an evening that is characterised by slow movement and vivid light changes. The hard-working cast is Mark Frost as Adam and Pharaoh, Sarah Chamberlain as Eve and Delilah, Anthony Barclay as Serpent and David, Alex Giannini as Saul and Moses, and Matthew Clancy as Samson.
The problem here is that much of the contemporary dialogue clashes bathetically with the biblical subject matter, and the slow-motion, cartoonish acting style is rather ponderous. The Old Testament has never been very kind to women, and it is sad that its view of females as manipulative betrayers remains uncontested. God only knows why.
© Aleks Sierz