And Then Come the Nightjars, Theatre 503
Monday 7th September 2015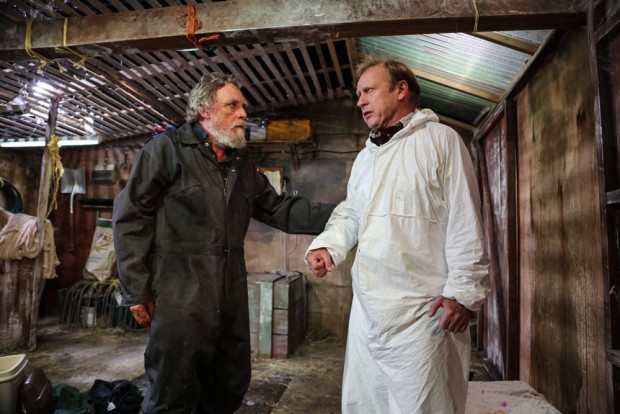 British new writing has an inherent bias in favour of urban stories, so it is good to watch a play that is unashamedly about rural life. Bea Roberts's And Then Come the Nightjars, staged as an excellent co-production between Theatre 503 and the Bristol Old Vic, is joint winner of the inaugural Theatre 503 Playwriting Award, and it is an immediately impressive piece. Set in Devon, and spanning the years between 2001 and 2013, this two-hander is both a highly emotional account of one dairy farmer's love for his livestock and a bruised requiem for a whole way of life.
The story takes place in Michael's cattle shed on his farm in the small south Devon village of Ashwalden. This is an old barn which, in Max Dorey's meticulous design, is so realistic that you can almost see the spiders capering across the beams and hear the mice scuttling behind the wainscotting. It's late at night and Michael, a 62-year-old farmer, is up waiting for one of his cows to give birth. He is joined by Jeff, a fortysomething local vet, who is not there to tend the animals, but to escape his home life. Although he is married to Helen, "a proper tasty bit" (according to the older man), Jeff is having marital problems. Gradually, Roberts fills us in on the relationship of this odd couple, which is based on trust and on a mutually jokey attitude to pub quizes. Michael has recently lost his own wife, the 58-year-old Sheila, to cancer, and the two men share the experience of loneliness as well as love for the life of the farm.
But the sound of the nightjar, a quiet-flying bird that's more often heard than seen, alerts us to impending tragedy: it is, says Michael, "a bird o'death". So as the Foot and Mouth epidemic spreads across the county, the relationship between farmer and vet comes under almost intolerable strain. For although Michael has taken every precaution to keep his small herd healthy, the government has issued instructions to slaughter all animals in farms that are adjacent to ones which have been infected, and the beasts of Michael's neighbours have been affected by the disease. The twist is that Jeff, as the local vet, has the job of killing his friend's cattle. So while Michael gets a shotgun and vows to resist the men from the ministry, Jeff has to persuade him to stay within the law.
Roberts's portrait of a dairy farmer is beautifully observed, and wonderfully detailed. From his habit of naming newborn calves after members of the royal family to his love of crisps ("They're beef flavour so it's a bit like dinner"), Michael is a fully rounded character whose relationship with Jeff, the younger, better educated and more worldly individual, can be best described as tough love. Their friendship is subtly and compassionately evoked. But it's also clear that, apart from Sheila and his absent son, Michael only has his farm animals — they are the centre of his life. As he faces the grim reality of their slaughter, he also experiences the end of an entire way of life.
There is a tenderness and a hilarious frankness to Roberts's writing that compels attention and interest. In the background, we hear of the millions of animals that have been killed, and Paul Robinson's atmospheric staging — in which Dorey's design, music and lights help to push the story forward — reminds us of the ghastly nature of the animal culls and of the pyres of burning flesh that became such an emblematic symbol of the trauma of Foot and Mouth. On a personal level, Jeff experiences his own collapse due to alcohol abuse and for one scene it seems as if his self-destructive instincts will lead to his own death. It's no spoiler to say that he survives, and that the later episodes of the story show how the landscape of traditional England is changing.
Like the New Estate in Jez Butterworth's Jerusalem, here too there is house building and fake rural traditions, and traditional farm owners are being tempted to convert their barns into conference centres, spas or hotels. Between Grand Designs and new branches of Tesco, a little bit of country life has died, and Roberts writes its obituary with striking sincerity, humour and integrity. She is well served not only by her director, but also by her cast, with David Fielder's gruff and earthy Michael contrasting brilliantly with Nigel Hastings's more emollient, if flighty and troubled, Jeff. At 70 minutes in length, this is a short play (and I would have happily stayed with these men for longer), but it is also an undeniably profound one.
© Aleks Sierz