American Trade, Hampstead Theatre
Wednesday 8th June 2011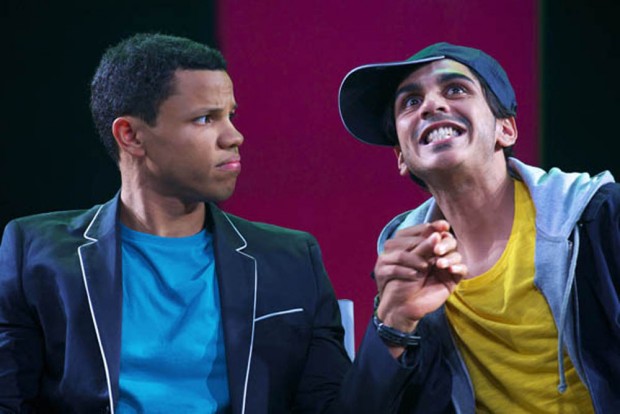 Some theatre genres seem indestructible. One of these is the satirical city comedy, for which playwrights dip their pens in poison and spray their venom over the teeming mass of the shallow, the stupid and the successful. When they do this today, they inevitably recall all manner of past plays from Jacobean and Restoration times to Richard Brinsley Sheridan's The School for Scandal, and beyond. In American Trade, a new play from the immensely talented American playwright Tarell Alvin McCraney, which opened tonight, we revisit precisely this familiar territory.
Things start well. Pharus, a gay American hustler, gets into trouble with a heavy rapper in New York and leaves for London, where he takes up the offer of a job from his great-aunt Marian, a PR agent who is locked into a psychological grapple with her daughter Valentina and whose chief asset is a self-destructive celebrity, Sylvia. Pharus's employment involves setting up a modelling agency, but he has no experience and he assembles a hilarious crew of misfits. Then, as his past catches up with him, he finds that London might be a small pond, but its piranhas can still be lethal.
McCraney's language is every bit as impressive as the genre originals that have clearly inspired him. It is light-footed and nimble, and can make smooth waltz moves as well as sharp hip-hop flips. In his text, tough New York street chat slams into baroque elaboration, waspish one-liners mix with therapy speak, and seductive entreaties turn into snarls of fury. The pace is hot, and the play soon starts to feel like a cocktail party on coke. As with most city comedies, such verbal extravaganza spray-paints a panoramic view of urban life. This is a society peopled by strutting rappers, hormonal talent agents, hysterical cabin crew, corrupt border officers, happy chancers, illegal immigrants, suicidal minor celebs, crazy taxi drivers, and genial, randy greyhairs — all of whom go about their business at a rush under a glowering sky lit up by the livid lights of the metropolis.
On Soutra Gilmore's glorious graffiti-daubed set, with its pulsing light bulbs, rainbow neons and glow-in-the-dark surface, the objects of McCraney's satire are instantly illuminated and quickly dispatched. First, celebrity culture gets it in the neck; then the sexual marketplace receives a kicking; next, family relationships are throttled, and finally the loyalties of friendship are chased around the block. The city is a frantic talent exchange, a job market on skates, with sexual identities in flux and national borders porous. But while the story fizzes with flashes of wit, its sharp one-liners like little slivers of ice in a party drink, it's hard not to feel a surfeit of energy in Jamie Lloyd's hectic production. He certainly keeps up a cracking tempo for the whole of this 80-minute rush, and more than once I longed for a change of pace. Still, his cast do him proud: Tunji Kasim makes an attractive, boyish Pharus, a lovely mix of the naive and the desperate, while Dharmesh Patel is good fun as his sidekick Ragiv. Out of a large cast, I also enjoyed Sheila Reid's performance as Aunt Marian as well as Sophie Russell as Valentina and Simone Saunders as Sylvia.
But despite the foam of contemporary references, and a couple of good jokes about Obama, there is little to connect with in this play. It's hard to really feel for Pharus and, sadly, the world of the play is one in which the manipulators triumph over the newcomers, the powerful over the weak and the monied over the poor. In this big city, under these bright lights, there is plenty to enjoy in the glitter of the words, but there are precious few new insights. Superficiality rules. Predictability reigns. It feels as if McCraney has been better at parodying a genre than at reinventing it.
This review first appeared on The Arts Desk