A History of Water in the Middle East, Royal Court
Monday 14th October 2019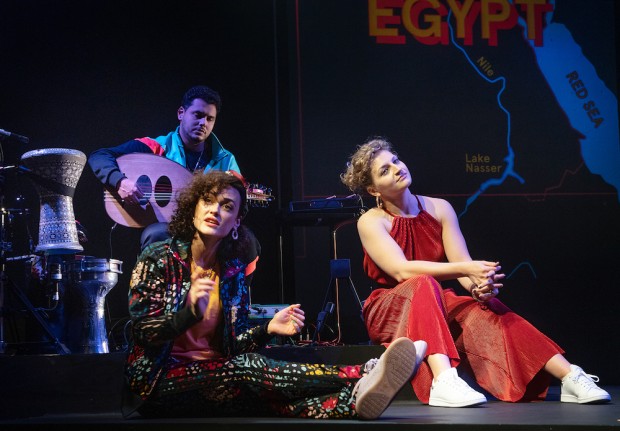 Sabrina Mahfouz is a British-Egyptian writer who has explored issues of Muslim and British identity in various formats. Her work includes poetry, fiction, anthologies and performances, as well as plays. And she's pretty prolific. Since her Dry Ice was staged at the Bush in 2011, she has written some 18 other plays, of various lengths. Now she makes her debut at the Royal Court, the capital's premiere new writing theatre, with a short play that boasts an intriguing title, A History of Water in the Middle East, and which features Mahfouz in the cast. It is also part of the recent trend for gig theatre.
Mildly autobiographical, the 70-minute piece is both a lecture about Britain's colonial role in the Middle East, and apparently an account of Mahfouz's interview for a job in the UK's secret services (she was headhunted!). The lecture, complete with powerpoint slides and projected graphics, focuses on the vital importance of water in Middle Eastern countries. The format is historical, starting with jokes about Elizabeth Taylor playing Cleopatra and then moving onto the Sumerian myth of Ninhursag and Enki (the educational aspect of the evening is not neglected). As Mahfouz enlists the help of performer Laura Hanna and musician Kareem Samara, their gallop through time and space has a undeniable warmth and charm.
As we approach the present day, by means of episodes set in Iraq in the 1920s, Jordan in a 2050 future, and Dubai this year, Mahfouz humanizes the grim facts and figures of conquest and exploitation by using representative women to talk us through the issues. So Iraqi freedom-fighter Zakiya rubs shoulders with Jordanian plumber Miriam, and with Dubai resident Amalah, who has created an app for "Shagging in the Shower" (SIS, the reference to British intelligence is typical of the clever script). When the lecture reaches the Suez Canal, the question of Palestine and the present horror of Yemen the mood darkens, and the light touch of the presentation suddenly feels inadequate to encompass the seriousness of the subject.
Each episode of this historical sweep is punctuated by Mahfouz's interview with a character simply known as Spy. As he cross-examines her about her identity, mixed parentage, numerous debts and opinions about Britain and Britishness, the air becomes thick with a mix of absurdity and sinister prying. Spy, played with nice touches of creepiness by David Mumeni, asks leading questions, asks her about her father and questions what she feels when she sees a Union Jack. As he does so, Mahfouz gradually realizes that her sense of identity is as fluid as some of the great rivers, such as the Nile and the Euphrates, which flow through history. It's a neat match.
Mahfouz writes with poetic vigour and concision, and some passages are positively word-drunk and roaring with passion. What she offers is the gift of a feminist version of the Middle East that makes no pretence of objectivity, nor of complexity. It's a kind of Horrid History in which the villains are the ghastly Brits and the heroes are all women. The result is not only energetically passionate, but has its exciting highpoints: I loved the karaoke song sung by the Spy which hilariously mashes Egyptian history up with Neil Diamond's "Sweet Caroline", and the final foot-tapping rave. The play's hedonistic conclusion has a nice ironic sensibility.
Stef O'Driscoll directs a rather dreamy production that is full of verbal imagery, haze effects, flashing lights and great music (thanks Samara). Designer Khadija Raza and video-maker Charli Davis help create the atmosphere of a satirical lecture that is both informative and humorous, while the one-liners come thick and fast. The two main actors — Mahfouz and Hanna — have a good onstage rapport, but I did wonder if the show could have benefitted from a larger cast. And although the metaphor of water is a powerful one, I left the theatre only partially nourished: I wanted much more of everything. This is a very slender piece of theatre. Still, if you pay this suitably sweaty studio space a visit, don't forget to bring a bottle of refreshingly cool water with you.
This review first appeared on The Arts Desk