Written on Skin, Royal Opera House
Monday 11th March 2013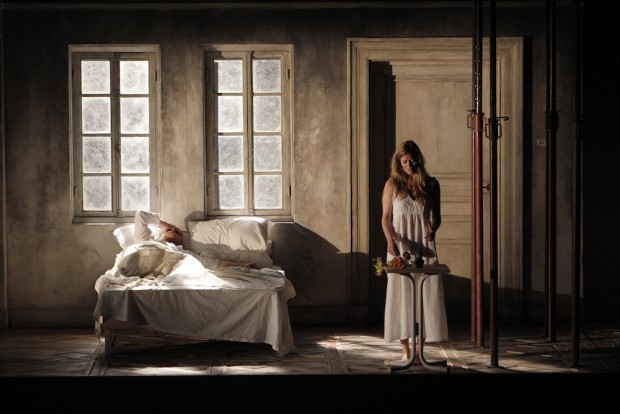 An outstanding development in playwright Martin Crimp's later career is his writing of texts for contemporary operas by George Benjamin, one of the leading composers of his generation: Written on Skin, a full-length opera, opened at the Festival d'Aix-en-Provence in 2012 in a superb production directed by Katie Mitchell. Now it is visiting London.
Based on a 13th-century Occitan legend, Guillem de Cabestaing's Le Coeur Mangé, the story begins with 21st-century angels, who sing "Fade out the living: snap back the dead to life". Like archaeologists, they excavate a contemporary car park, transporting us back 800 years, and breathing life into the Protector, a powerful lord, and his obedient wife Agnès.
One of the angels then becomes the Boy, an illuminator of manuscripts at a time when all books were written on vellum (skin). The Protector welcomes the Boy into his house, hoping he will celebrate his political power and domestic order. At first suspicious of the newcomer, the illiterate Agnès gradually becomes fascinated by his paintings. After they become lovers, she provokes him into recording their affair on a "secret page". When her husband calls her childish, she shows him the written page, which she herself can't read. The Protector then exacts his hideous revenge.
Written on Skin is an exceptionally rich text, and its exploration of heightened feelings and erotic obsession is brilliantly achieved. Not only is this a cruel tale, but a wild and passionate one too. By using the distancing device of characters narrating their own stories — for example, "A book costs money, says the Boy" — Crimp mixes coolness with the emotional heat.
But there is passion everywhere: Agnès asks her husband: "Put your fingers into my mouth" and Marie, her sister, becomes part of the Boy's fantasy, saying "Feed me pomegranates and soft-cooked eggs — roast meat for me and drown me in wine and cream — wash me in goat-milk — strip me." Where necessary, the text, and narrative, is compressed: "Woman — alone — night" or "TIME — CORN — RENT" — symbols of the wealth consumed by the laborious making of the book. Agnès's final words during the seduction scene — "Love's not a picture: love is an act" — are thrillingly apt.
The text also throbs with typically Crimpian images: when the suspicious Protector knows that Agnès is pretending to be asleep it is because "I hear her eyelashes scrape the pillow/ click/ click/ like an insect". And Agnès demands that the Boy "Push our love into that man's eye/ like a hot needle./ Blind him with it. Make him cry blood". At the same time, the atrocities of the medieval world echo those of our own — the artist draws boys waiting to be shot — and Crimp even alludes to his recent play in the punning line "Play house with her". In a text for opera, the trick is to allow plenty of room for the music while respecting the integrity of the storytelling and Written on Skin is a superb example of this.
Mitchell's thrilling production, designed by Vicki Mortimer, has a split-level set whose four areas contrasted the rough floors and dark forest of medieval France with a present-day office where angel archivists preserved the manuscripts of the past. With its gradual climaxes, what is especially memorable is the slow-motion finale of Agnès climbing the stairs. Everywhere this production goes the verdict is the same: it is a triumph.
© Aleks Sierz