Play House and Definitely the Bahamas, Orange Tree Theatre
Friday 16th March 2012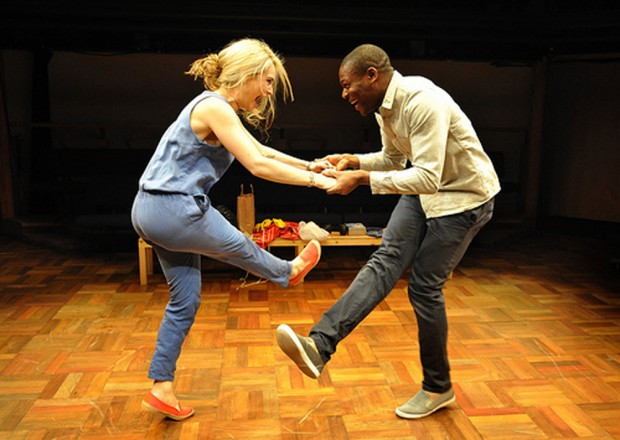 Playwright Martin Crimp returns to the Orange Tree Theatre, the venue which staged his first six plays in the 1980s, with his new short play, Play House, in a double bill with a revival of his 1987 piece, Definitely the Bahamas, which was originally written for BBC radio. The two short plays make a harmonious pair: the first is about a couple of thirtysomethings written by a fiftysomething, and the second is about a pair of fiftysomethings written by a thirtysomething. For the first time, Crimp also directs.
Both plays are complementary. In Play House, Crimp shows us the developing relationship of a young couple, Simon and Katrina, in 13 rapid scenes, some of which last barely a couple of minutes. The play's domestic incidents include the gift of "dog shit" from her to him, cleaning the fridge, brushing teeth, dancing to music, fussing over a mobile phone, assembling a table and so on. During these activities, the couple discuss their love, a previous relationship of hers, her father, their neighbour Jan, having a child, his promotion and an unspecified act of humiliation.
The random, disconnected scenes mirror the feeling of the couple's uncertain rapport. Simon's opening declaration of love is reiterated in the final scene, which offers qualified hope along with the sense that Katrina might suffer from similar mental problems to those of her father. Is she capable of snatching a baby? The mist of ambiguity thickens around the deliberate anti-naturalism of some of the key passages. Play House is, in Crimp's words, open-ended, "perhaps appropriately for a young couple who have none of the certainties available to Frank and Milly's generation".
Crimp explores the fragility and above all volatility of a relationship. And the extent to which, in the world now, individuals are prepared to accommodate to each other in the name of love. In most of the scenes, there's a sense that the couple are testing each other. For the new play, his direction benefits from collaboration with movement director Joseph Alford, who helps the actors achieve a thrilling fluidity in performance.
By contrast, Definitely the Bahamas takes a more leisurely look at a much older couple, Frank and Milly, who are proud of the achievements of their offstage son Michael, although it gradually emerges that he is not a very nice man at all. It is finally left to Marijke, the Dutch language student who is staying with them, to tell us just how vile Michael is. In both plays, Crimp's language is deployed with its characteristic precision and satirical flair, casting ironical glances at suburban life and marriage. The wider world, which includes Apartheid South Africa, drugs, crime and high finance, occasionally peeks in, but these are mainly dramas about how couples communicate, or fail to communicate. In terms of atmosphere, Definitely the Bahamas has a circular structure, starting in silence and returning to silence, and Play House alludes to that circularity because the first and last scenes are both declarations of love.
One formal link between the two plays is that the two actors of Play House appear as different characters in the other play. Crimp's cast is excellent, with Obi Abili and Lily James as the charismatic and appealing young couple, sparking off each other and convincingly delivering the subtle role play that the text demands. As a nod to its origins as a radio play, Crimp directs Definitely the Bahamas as if it was a live outside broadcast and this works well, with Ian Gelder and Kate Fahy perfect as the older couple, and James and Abili returning as Marijke and a sound technician. Crimp's writing and directing are both spot on, and artistic director Sam Walters must be congratulated for producing this experimental and enjoyable double bill.
© Aleks Sierz