WINK, Theatre 503
Thursday 12th March 2015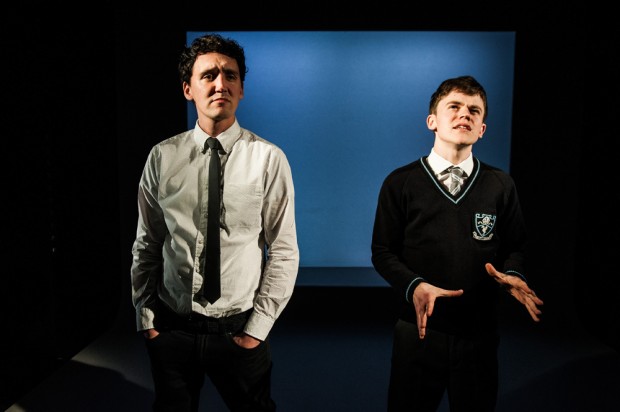 Fringe venues in London offer the greatest risks for new writing — and the biggest rewards. The risks come from the fact that London's small fringe theatres are all completely unfunded, and so their shows are often crudely produced, and poorly cast. These venues simply don't have the cash to put on high-quality productions. The rewards come from the intensity of tiny venues, where the stage can become a cauldron, and because poor theatre can sometimes be just as thrilling as richly resourced entertainments.
Mike Stone's Lardo at the Old Red Lion theatre is a good example of theatre as cauldron — one where the heat is up and the sweats are on. Likewise, Phoebe Eclair-Powell's WINK is a good example of how a fringe venue can produce a really high-quality show (as Theatre 503 so often does). WINK is a fine debut play. It is a two-hander about John, a 27-year-old language teacher who lives with Claire but is having an affair with Anna, and Mark, who is one of his 16-year-old pupils. While John attempts to teach his class French, Mark is doing what most teenage boys have always done: fantasising about girls.
Written as two interlinking and interacting monologues, the play tells the story of what happens when Mark, who is attracted to the older man's lifestyle, looks up John and Claire's Facebook pages, and then invents a new online identity for himself. Fascinated by images of Claire on the internet, he begins to think about making contact with her. The result is a tangle that ends in a catastrophe. Although the two males only meet as teacher and pupil in class, their internet interactions — slightly reminiscent of one scene in Patrick Marber's Closer — rapidly develop into something more intimate, a situation which enables Eclair-Powell to explore the themes of personal identity, masculinity and the clash between image and reality in contemporary society. Although this is an often-clicked pathway in new writing, she brings a thrilling freshness and youthful spirit to it.
The effect is both humorous and disturbing, with the playwriting being remarkably assured, well observed and emotionally convincing. Eclair-Powell brightly sketches out the contrasting characters of the older man and the younger teen, while at the same time clearly showing how they are both troubled males. All this takes place in the recognisably contemporary world of online porn, games and connections, Snapchat and Tumblr, films and TV programmes, sex texts and emoticons, social media and smartphones, with their photos and details of private lives on view. Despite the cool unreality of this digital environment, Eclair-Powell stresses the more down-to-earth sides of the teenage school environment, such as smells, which she describes at one point as "the stench of Lynx and hormones".
Jamie Jackson's high-energy production has excellent performances from Leon Williams as the faithless John and Sam Clemmett as the awkward teen. Movement work by Isla Jackson-Ritchie ensures that the staging is never static and creates a physical impression of the online world, where slow dance moves give a sense of connection between the two lonely males. Yes, like Lardo, all this makes a really exciting evening, a fringe triumph.
© Aleks Sierz