White Pearl, Royal Court
Thursday 16th May 2019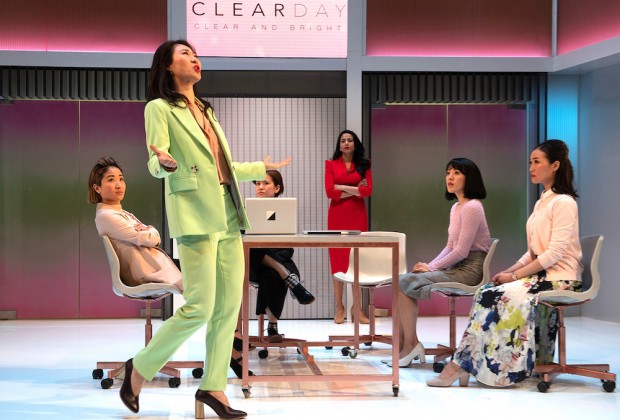 Artistic Director Vicky Featherstone's commitment to staging a diversity of new voices is very laudable, and with White Pearl she has found a show that is original in setting, if not in theme. Written by Anchuli Felicia King, a New York-based, multidisciplinary artist of Thai-Australian descent, this international playwriting debut is a comic satire on the cosmetics industry and race in a South-East Asian setting. Part of the Royal Court's promotion of previously unstaged writers, the show has a freshness and clarity even if it is not entirely successful.
In the Singapore office of Clearday, a new global cosmetic brand that aims to whiten women's skin, there is panic when an early version of the company's latest skin cream video advert is stolen and uploaded on YouTube. Priya, the founding director, is planning a response with Sunny, her assistant, and there's a sense that they are desperately slamming the stable door after the horse has long bolted. As the video, which is clearly racist in its depiction of the effects of White Pearl whitening cream, goes viral, help comes from the company chemicals expert, Soo-Jin, who demonstrates that its content might actually help sales of their product.
At first, King tells the story of this PR disaster by focusing on three pairs of characters: Priya and Sunny; Soo-Jin and Xiao, who is responsible for the advert; and office comedian Built and her ex-lover Marcel, a Frenchman who has engineered the hack. But it soon becomes clear that the location and the story is really just an excuse to bring together a group of different Pan Asians, and explore their racial prejudices. So Priya is Indian-Singaporean, Sunny is Chinese-Singaporean and speaks dudebro American, Soo-Jin is South Korean, Xiao is Chinese and Built Thai-American, Californian even. And they are joined by Japanese Ruki.
As the tensions in the Clearday office rise, with mutual recriminations burning everybody's eardrums, the air is soon thick with racial epithets. Each character comically represents their nation of origin, and a lot of the play's humour comes from cultural misunderstandings and clashing stereotypes. So Xiao's father is a corrupt Chinese official while Japanese Ruki is shown as painfully modest; there is a long passage all about the anti-black prejudice of some Asians; by the end, Priya's Mumbai pride goes head-to-head with Soo-Jin's Korean intelligence. The trouble is that this satirical game of stereotypes sits uneasily with the dumb female jokes, and that the sitcom-style comedy tends to overwhelm the darker themes of racism, cosmetics and female self-esteem.
At its best, the play illuminates the complexity of people's ideas about skin colour and about racial and cultural characteristics. It challenges the Western idea that Asians and South-East Asians are all the same, and it articulates several different notions of prejudice — and it does this without being overtly preachy or overly explicit. The notion that whiter skin colour is better than darker gets a sharp criticism, and the manipulative activities of advertising in the cosmetics industry is also parodied and condemned. Likewise, the craziness of the digital world, with its tyranny of likes, and the hilarious mix of comments that viral videos attract is well represented. And the mostly light-hearted ambiance of the play is itself a comment on the politics of humour.
Although there are some fun exchanges, such as the toilet scene in which Soo-Jin teaches Xiao to call the "American British schoolgirls" in the office "bitches", and the scenes between Built and Marcel have a sharply realized sense of gender politics, the best adjective to describe White Pearl is "mild", rather than, say, ferocious. It is mildly interesting, mildly well written and mildly amusing. The plot of the 85-minute piece is quite slight and unconvincing, and the joy of the transgressive jokes soon begins to pall. Yes, the whole play does have a brightness of dialogue and vigourous humour, but none of the characters are explored deeply enough to be compelling. It's hard to care about anyone.
American director Nana Dakin's production is entertainingly shiny, with a well-lit office set designed by Moi Tran and Ian William Galloway's projections of internet comments and rapidly escalating YouTube views livening up the action. The ensemble cast is confidently led by Farzana Dua Elahe (Priya) and Minhee Yeo (Soo-Jin), with vivid contributions from Kae Alexander (Built) and Harry Potter and Chimerica star Katie Leung (Sunny), and solid work from Momo Yeung (Xiao) and Kanako Nakano (Ruki). Television and film actor Arty Froushan makes an excellent stage debut as Marcel. But despite the attractive sheen of this office sitcom, and the glancing insights that occur along the way, the play can't quite shake off its superficial feel. As Sunny says, "ai-ya!"
This review first appeared on The Arts Desk