The Whisky Taster, Bush Theatre
Tuesday 26th January 2010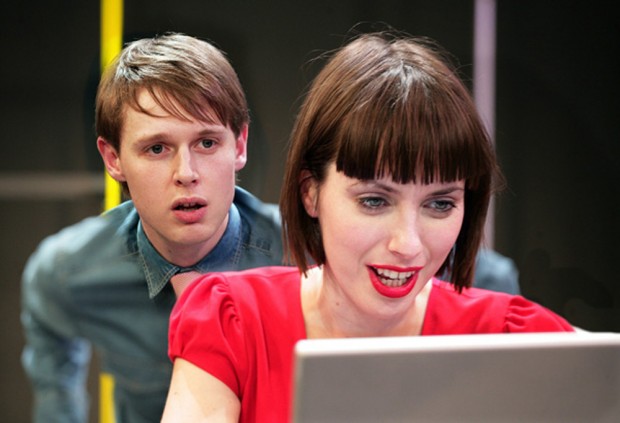 Synaesthesia is an odd beast. It's basically a neurological condition which condemns those afflicted with it to a life in which words evoke colours, and emotions can be experienced as if they are different tones. Sometimes it is almost playful, with the mere names of the days of the week evoking shady sensations; at other times it is intensely painful, with the mere glimpse of a buzzy pattern causing dizziness or strong feelings conjuring up great blasts of colour, an unbearable onslaught of confusion and derangement.
In James Graham's empathetic and engaging new play, which opened tonight, twentysomething whizkid Barney suffers from synaesthesia, but he also manages to use it to good account at his job in a top advertising agency. Together with Croydon motormouth Nicola, Barney is part of a dream team, and his ability to free-associate colours with products is a vital part of their success. This dynamic duo work well together, and their chatter is punctuated with in-jokes and funny voices.
But when Barney and Nicola embark on a pitch for a new vodka campaign, they decide to invite a Scottish whisky taster to help them brand what they think is an upmarket firewater. After all, isn't a sensitive palate all that's needed to create a slogan for a new product? Not so. The arrival of the whisky taster, a tall, bearded fellow with a penchant not only for single malts but also for homespun philosophy, calls into question not only Barney and Nicola's campaign ideas, but their frantic workaholic lifestyle as well.
Written with enormous charm, psychological depth and satirical bite, The Whisky Taster is a bitter-sweet story of contemporary London youth which blooms, in director James Grieve and designer Lucy Osborne's attractive production, from a muted monochrome beginning into a zappy, Technicolor lightshow, a thrilling display by lighting designer James Farncombe.
With the relationship of Barney and Nicola taking centre-stage, this is both a tale of ambition at work and a tender account of the confusions wrought by love and desire. Since Barney can feel emotions as an kaleidoscopic splash of visual fragmentation, there is great scope here for furious overacting, a temptation resisted by ex-History Boy Samuel Barnett, who brings restraint as well as energy to his portrayal of the slightly nerdy youngster.
At the start, Barnett, with Kate O'Flynn as the zesty Nicola, together bring a lovable, sparky quality to their playful portrayal of the couple, and then add layers of pain and vulnerability when their relationship develops. As the whisky taster, John Stahl is a disarmingly wise, enigmatic presence, and there is great support from Simon Merrells as the ad-boss Malcolm and Chris Larkin as Chris the vodka company client.
One of the best scenes is the confrontation between Malcolm and Barney, in which two generations of ambition clash in a telling account of our current political apathy. For while Malcolm is a baby boomer who has everything (great job, paid-off mortgage and a pension), young Barney has nothing: poor pay, student loan and no chance of a mortgage. No wonder his generation likes to binge drink! At moments like this, you feel that theatre is the ideal art form for engaging seriously with contemporary life. Thought-provoking and emotionally intelligent, with a moving ending that grabs you by the gut, this is a superb piece of new writing given a distinctive, high-quality production at one of London's best Off-West-End venues.
This review first appeared on The Arts Desk