Where Do Little Birds Go?, Old Red Lion Theatre
Wednesday 2nd November 2016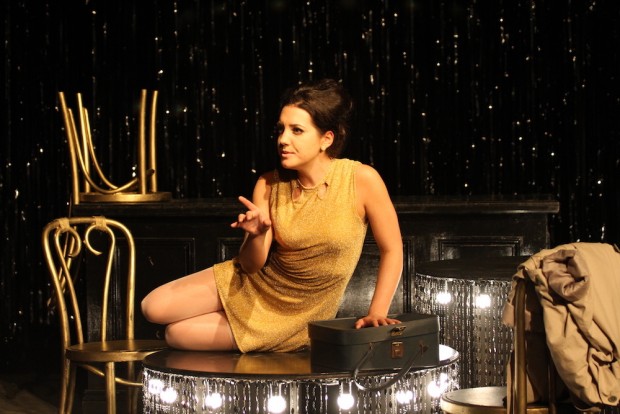 While everyone has heard of the Kray twins, the most notorious East End gangsters of the 1960s, who knows about Lisa Prescott? She was the young woman kidnapped by Reggie and Ronnie Kray, and kept locked up for four days in a flat with Frank "Mad Axeman" Mitchell, one the gangsters' associates. He'd been sprung from Dartmoor high-security prison and was holed up in a safe place in Barking. Playwright Camilla Whitehill, in her debut play, aims to rescue Prescott's story from oblivion by recounting the events of this kidnap, and imaginatively recreating the life of the victim, here renamed Lucy Fuller.
First seen at at Camden People's Theatre in 2014, and then at the Vaults and Edinburgh last year, Where Do Little Birds Go? is a 60-minute monologue by 24-year-old Fuller, which starts with her looking back at her youthful aspirations to become a West End musical star. She belts out "Bells Will Ring" from Charlie Girl as she strides around Winston's nightclub in Mayfair, before filling us in about her early life. Brought up in Hastings, she moves to London as a 17-year-old, living with her uncle Keith and working as a barmaid in the Blind Beggar. Here she first comes across the Krays, and then gets a job as a hostess at Winston's.
Fuller has been created as a naive greenhorn, which enables Whitehill to introduce the audience to the social conditions of 1960s London. Fuller is shocked that the other girls at the nightclub supplement their meagre wages by occasional nights of prostitution, known as "afters", and the gangster climate of the East End is shown as one of the ways in which working-class men rise up the social scale. This is a play about class and gender, and Fuller comes across as refreshingly free of clichés about both subjects. When she is kidnapped in order to provide a "companion" for Mitchell, who is on the run, the play shows how his incarceration in a safe flat is just as much an imprisonment as his previous accommodation at Her Majesty's pleasure.
Whitehill builds up the tension by postponing the kidnap episode, which took place in 1966, and by dwelling on Fuller's youthful dreams of stage success. The play's title comes from one bitter-sweet song in Frank Norman and Lionel Bart's Fings Ain't Wot They Used T'Be, a hit for Joan Littlewood's Theatre Royal Stratford East in 1959. Other pop songs are also used to add resonance and a touch of magic to the show, which is beautifully and tactfully directed by Sarah Meadows for Longsight Theatre. Designer Justin Nardella turns the venue into a glittering nightclub, a place where spangles suggest glamour while never quite shaking off the tacky feel of sexual predation.
The story is vividly imagined, and Whitehill's writing is fueled by a cold anger, mixed with a streak of despair, that so little has changed for young women since the 1960s. As she says in her Foreword to the play text: "Women are equal now, we're told. We're equal, but a presidential candidate can grab us by the pussy. Men can rape unconscious women as long as they are at a good university." Yet, overall, the tone of the play has joyful moments mixed in with the grim realities of growing up poor, and Fuller is a young women whose resilience and courage prevents her from becoming just a helpless victim. She is traumatized by her experiences, and it is clear that the sex she endures with Mitchell is a form of rape, but she is also a survivor. And, as such, perhaps an inspiration.
As played by Jessica Butcher, Fuller is an energetic and attractive young woman, whose initial innocence soon turns into a deeper understanding of the realities of power and sex. During her character's kidnap the actress strongly conveys both the boredom and the soullessness of prostitution, as well as the danger of mixing with underworld criminals. It's a detailed and engaging performance, conveying not only Fuller's charm but also her lack of power, and it's power after all that the men in this situation want, and wield. Where Do Little Birds Go? is a small play, not much more than a sketch really, but it often shines like a bright little diamond.
© Aleks Sierz