Waiting for Godot, Haymarket Theatre
Wednesday 27th January 2010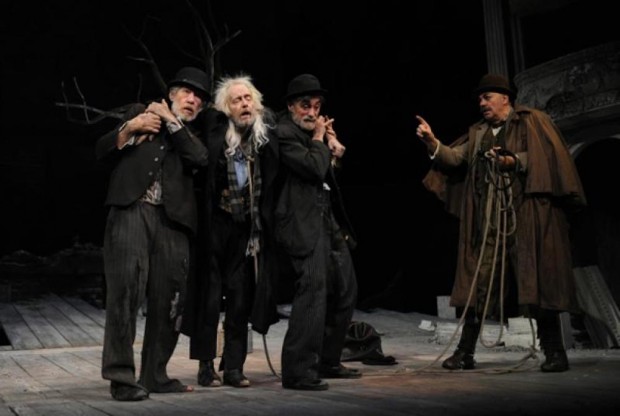 I love the modern classics of postwar British theatre so I jump at the chance of seeing Samuel Beckett's 1953 debut, Waiting for Godot, often voted the most influential play of the twentieth century. It's a play that began as a scandalously incomprehensible experience and has slowly matured into a popular classic. This production, which began life last year, has been recast, with Roger Rees replacing Patrick Stewart and Matthew Kelly taking the Simon Callow role.
Set in a ghostly, decaying theatre, in which designer Stephen Brimson Lewis has positioned the single tree which, according to Beckett's instructions, sprouts a handful of leaves after the interval, the play takes place in what feels like the rubble and ruins of civilization. Pretty meta-theatrical and portentous, huh? But if that seems to load too much significance on the characters, two tramps named Vladimir and Estragon, Sean Mathias's production soon settles into a more light-hearted entertainment.
Ian McKellen's Estragon is a depressed northerner whose trademark lament of being tired blends nicely with a suggestion that his befuddled mind is due to early onset Alzheimer's rather than being trapped in an absurd world. By contrast, Roger Rees's Vladimir comes across as a Shakespearean Londoner, energetic and desperately holding things together. Although Godot never arrives, two visits from Pozzo and his slave introduce Matthew Kelly as the brash master, loud, big and bold, while Ronald Pickup's Lucky is a dessicated and exhausted character whose gibbering Act One monologue earns deserved audience applause. The angelic boy is played in turn by Tom Barker, George Sear or Sam Walton.
This is a very atmospheric production, with strange changes of light from rosy sunsets to moonlit spots, as well as eerie music. Both McKellen and Rees excel in the slapstick and vaudeville routines, and both strongly convey the heroic struggles of old age against the fading of the light. What's missing is a sense of high seriousness, and poetry: this is for those who like their Beckett lite.
© Aleks Sierz