Twelfth Night, Duke of York's Theatre
Monday 21st December 2009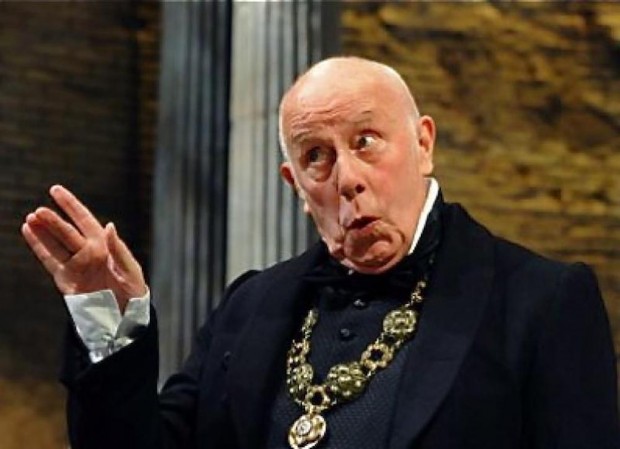 Shakespeare's Twelfth Night has often been hyped as one of the best comedies ever written. So how come so few productions succeed in making me laugh? That said, I had high hopes for Greg Doran's Royal Shakespeare Company version, transferring to the West End from Stratford-upon-Avon and starring Richard Wilson, Mr Grumpy himself. But although this is a perfectly enjoyable night at the theatre, it simply isn't very funny.
Set in Illyria, a magic kingdom located this time in the Levant, the stage is littered with Ottoman cushions, Turkish carpets and the lighting suggests the sun of the Middle East. In this hot and dusty paradise, the nobility have little to do but fall in love, as Duke Orsino has — with Olivia, another aristocrat. When a young page arrives at his court, Orsino sends him to help woo Olivia. But when she falls in love with him there's a problem: he's actually a woman, Viola, disguised as a man!
Meanwhile, much of the comedy is provided by Olivia's servants and hangers-on. Policed by the stern Puritan Malvolio (Richard Wilson), these include a farting Toby Belch, a silly Andrew Aguecheek and a mischievous maid, Maria. Add to this Feste, a verbally dexterous Fool, and the subplots creek into action.
But while setting the play in an obscure corner of the Islamic Ottoman Empire is a bit of a provocation, it makes sense of Malvolio's killjoy attitude, and adds a subversive twist to the fun and frolics of the comic characters. It also suggests that laughter is an uncontrollable force that always undermines pompous authority. Maybe it's our best defence against religious rigidity.
At the same time, the other uncontrollable force in this play is erotic desire, and the chief delights of Doran's production include the marvelous moment when Olivia falls in love with Viola, thinking that she's a he. In fact, watching Alexandra Gilbreath's Olivia is a thoroughly satisfying experience. You get a real sense of her emotional journey, and there is plenty of comedy too in her roaring contribution to the final scene.
Equally enchanting is Nancy Carroll's Viola. She looks convincingly like a young man when in disguise, and her emotional confusion is perfectly pitched. Much less convincing is Jo Stone-Fewings's Orsino, but the main problem with the acting lies in the world of the servants. While Richard McCabe's Belch, James Fleet's Aguecheek and Pamela Nomvete's Maria are fine, if uninspiring, Wilson is a real disappointment.
Making his RSC debut, Wilson has the advantage of a great reputation as Victor Meldrew, with a rasping voice and grimaces that would do credit to Disgusted of Tunbridge Wells. However, he's not very funny in the role of Malvolio, and you never really feel sorry for him when he is the object of a nasty, but potentially hilarious, vengeful prank played by the servants. His final curse on the whole pack of his tormentors signally fails to chill the blood.
Still, Miltos Yerolemou's Feste is light on his feet and clear in his speech, although the best thing about the production remains the female leads. The joy of watching them balances the disappointment of some of the male actors. So as we stumble into a new decade, it is love that proves more subversive than laughter in this example of the bard's genius for thought-provoking comedy.
© Aleks Sierz