A Thousand Stars Explode in the Sky, Lyric Hammersmith
Wednesday 12th May 2010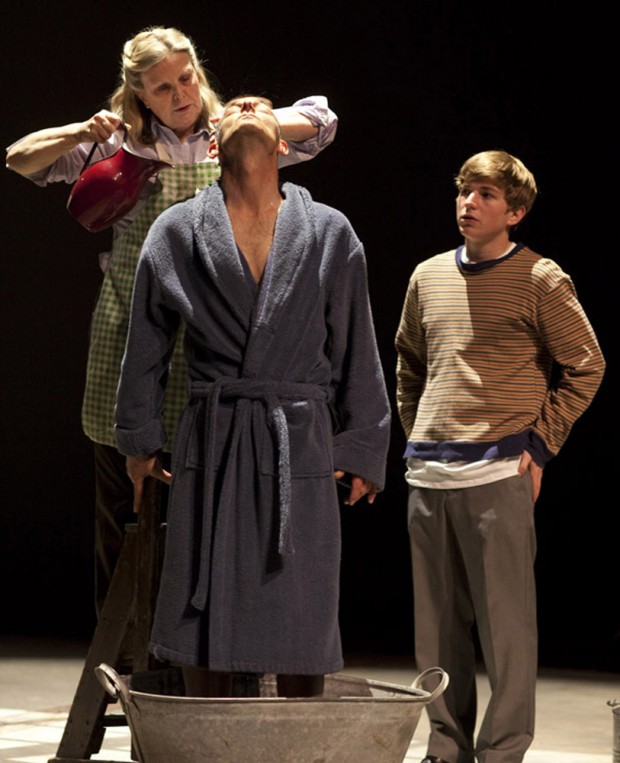 During the past week, as the first coalition government for 70 years has been formed in the UK, we were frequently warned that failure to find a solution might be the end of the world. It's a solid, if usually over-used, metaphor. But what would happen if we really did face the end of life on Earth? You know, the real thing: a total catastrophe — the implosion of the universe — which we could predict, but not prevent? That is the premise of this unusual new play, a joint effort by playwrights David Eldridge, Robert Holman and Simon Stephens.
In defiance of the tabloid view that knowing that we are all going to die in three weeks' time would lead inevitably to an orgy of looting, raping and all the other nastiness that human beings are surely capable of, this play takes a close look at one family which is not made up of psychopaths. The Bentons react to the idea of imminent death and the destruction of the entire universe with a very reasonable desire to be together when the end comes. It's a big and complex family, so please pay attention. Margaret is the seventysomething mum who has had five sons: William, Jake, James, Edward and Philip. William is dying of cancer, Jake has a junkie daughter Nicola and looks after her son Roy, James is married to Harriet, Edward is the missing black sheep, and Philip looks much too young to be Roy's uncle. Just like meeting any new family, it takes a while to orientate yourself so the start of the play is a bit slow.
As these characters head for the hills, in this case the family home at Mill Farm, somewhere near Stockport, buried tensions begin to emerge. When they were young men, William tried to kill Jake, and Jake managed to get a girl pregnant when he was still a teen. There's a sense of family secrets, some dried out skeletons which lurk, if not in the cupboard then somewhere behind the pig pens. Way back when, Grandma Dorrity apparently had a love affair with Karl, a German-Jewish refugee, and Margaret's brood seems cursed by that romance.
So far so ordinary. But the end of the universe is not just an event, it's also a process. Whatever is happening with cosmic strings and black holes is also having an effect on time and sense in the here and then. Ghosts appear, people read each other's thoughts, a woman has a baby at the age of 58, a suppurating leg is cured, dead birds come back to life. What appears to be an ordinary family reunion play is actually also a gentle science-fiction piece. If this sounds a bit, well, strange, that is exactly right — it is. This play is a weird mix of the domestic and the mind-blasting.
Much of the dialogue is obstinately ordinary, with a deliberately insistent quotidian feel, but then there are lines and scenes which seem to have put down deep roots into the soil of a tragic rural history. To me, the most appealing thing was the play's vision of Englishness, of a family of ordinary and not particularly attractive northerners who are stoic in the face of adversity. The deep resentments of a troubled family upbringing here comes across as fortitude. This makes the small moments of passion, a cigarette stubbed out on a carpet or a fainting fit, twice as powerful.
There's something very human about the sight of human beings who are both completely aware of what is happening to them (the end of the world) and at the same time blanking out whole areas of their own experience (family guilt and unspoken anger). There's an immensely tender scene in which the dying William is given a hip bath by his mother and brother; and another when a couple make love awkwardly; there is a sense that redemption can be achieved through reunion; there are jokes about pigs, dogs and snails.
Of course, knowing that the play has three authors means that you spend a fair bit of the evening looking for the joins: who wrote what? It's not difficult to find incoherence, moments that don't seem to mesh, odd trails that lead over the brow of an adjacent hilltop. But, oddly enough, this doesn't seem to matter all that much because, very gradually, the fantasy aspect of the play begins to take over and weave its own peculiar magic. As an account of the quiet courage (or is it emotional blindness?) needed to endure everyday life, Sean Holmes's production — designed by Jon Bausor — enjoys performances of great integrity from Ann Mitchell (Margaret), Alan Williams (Jake), Nigel Cooke (William), Tanya Moodie (Harriet) and Harry McEntire (Philip). It takes a while to get to know this family, who are hard to love, but the effort is worth it in the end.
This review first appeared on The Arts Desk