The Red Lion, National Theatre
Wednesday 10th June 2015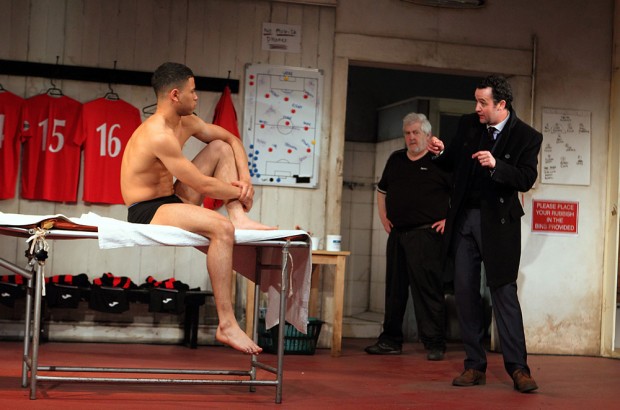 Patrick Marber is one of handful of British playwrights who arrived with a bang in the mid-1990s. And then fell silent. His first two (brilliant) plays — Dealer's Choice (1995) and Closer (1997) — were followed by the lackluster Howard Katz (2001) and then any number of adaptations of the classics. (Always a bad sign.) Of his films, only Closer (again) and Notes on a Scandal (2006) are remembered. With his writing career stalling, Marber became involved with Lewes FC, a non-league club.
Inspired by this activity, Marber has written a play about a struggling non-league club whose flag is a red lion rampant, a proud symbol of its Victorian aspirations. Set up in the pub of the same name in 1892, the team is now barely surviving. Within a couple of minutes of the play's opening, its manager, Kidd, gets a phone message that one of it best players has been poached by a rival team. As the story unfolds over three wintery Saturdays, Kidd and two other characters — Yates the veteran kit man and Jordan the new and talented player — all wrestle over the future of the club.
On Anthony Ward's battered changing-room set, with the red lion flag looking particularly sad and droopy, Kidd — an energetic thirtysomething man with a failed marriage — and Yates — an old man who was once the glory boy of the team — come into conflict over Jordan, a young player who sparkles with talent. There is only one problem: he has a dodgy knee. But while Kidd sees in Jordan his chance of managing a footballer with real class, Yates adopts a protective, parental approach to the young man. Who will win this battle? Either, or neither?
At first, it has to be admitted that this feels like a very disappointing play. Its theme is masculinity in three shades of crisis, and in Ian Rickson's drearily naturalistic production it is reminiscent of all those other 1990s plays, such as Simon Block's Not a Game for Boys (currently being revived at the King's Head Theatre). It is slow; it is linear. Worse than that, it simply doesn't have the flair of Marber's own best work. But, if you have the patience to stick with it, The Red Lion does repay your interest.
Its theme of loyalty may be as old as the changing room decor, but Marber gives it a fresh tang with his flights of fancy. There are lovely speeches about the hopes and highs of this beautiful game. And then there is the acting: Peter Wight's depressed and withdrawn Yates contrasts vividly with Daniel Mays's flamboyant and excitably speedy Kidd, while Calvin Demba's cocky Jordan is similarly convincing. Gradually, you become aware of waves of feeling — inspiration, quiet confidence, euphoria, then despair — emanating from the Dorfman stage. Marber has found a language that reflects the variety of emotions that anyone watching a match experiences: the ups and downs, the suddn highs and the wonky lows.
And then another theme arrives on the pitch: the contrast between illusion and reality. Marber might not have much to say that is new about men, but he has the words to make Kidd's rhetoric glow in the half-light of this bunch of losers. Okay, the bigger picture — of a country where business is rewarded more than passion — has the expected resonance, but the essence of the story is its portrait of failure, a quintessentially English condition. All the lust to win, the urge for greatness and the longing for glory is undercut by the loneliness of the three men, and their consciousness of their own lack of success.
In the second half of the evening, the stakes are gratifying higher. As Mays rifs beautifully on the lyricism of the set-piece speeches, Wight prowls the stage like a wounded bear. Caught in between these two older men, Demba's Jordan — a religious boy who refuses to cheat and can't understand the underhand Machiavellianism of maverick management — seems to symbolise a young man's desire to cleanse the game. If only. But, shades of the FIFA scandal apart, this is a deeply felt play which has no heroes. As ever with football, the contradictions are ethical as well as personal.
© Aleks Sierz