The Recruiting Officer, Donmar Warehouse
Tuesday 14th February 2012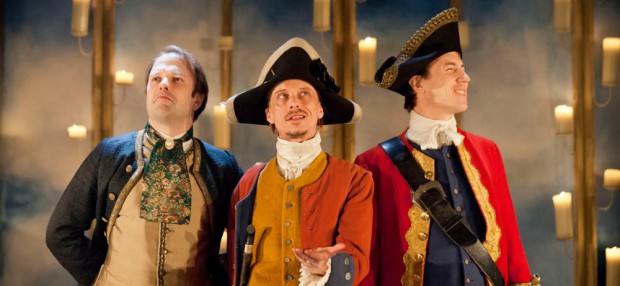 The current taste for modern-dress productions seems to me like an example of total cultural domination. William Shakespeare's The Taming of the Shrew at the RSC is in modern dress and so is John Webster's The Duchess of Malfi, with Eve Best, that is coming to the Old Vic in March. Likewise, Cheek by Jowl's new production of John Ford's 'Tis Pity She's a Whore is decked out in suits and skimpy skirts. So pervasive is this tendency that seeing a revival in period costume is almost a relief.
Hence, as you enter the Donmar Warehouse for George Farquhar's 1706 Restoration comedy The Recruiting Officer, you're greeted with the sight of a country barn and the sound of jigs and reels from a musical cast wearing period dress. Set in Shrewsbury, it tells the story of the randy Captain Plume and his devious Sergeant Kite, who tries to raise soldiers for Queen Anne's army by any means necessary. While Plume's love, Silvia, disguises herself as a man in order to watch him, her cousin Melinda — whose posh accent gets a hilarious make-over from Rachael Stirling — is involved with Captain Brazen, here a wonderfully caricatured fop played by the ever-inventive Mark Gatiss.
The mixture of farcical elements and serious romance are just right for this warmhearted comedy. Director Josie Rourke, in her first production as the new commander of this venue, creates a delicious atmosphere in which dozens of candles illuminate the stage. Her excellent is led by Tobia Menzies as Plume and the marvellous Nancy Carroll as Silvia, and includes Mackenzie Crook as the cunning Kite. But although she artfully brings an anti-war message to the play, which resonates with our own doubts about foreign wars, this is more of a fun evening than a challenging one.
A couple of years ago, as the Coalition's age of austerity was being trumpeted, Arts Professional magazine conducted a survey of leaders of arts organisations in which 41 per cent said they would programme more popular work as a result of the recession, while 37 per cent anticipated reducing the amount of challenging work they commissioned. On the evidence of the Donmar Warehouse, the simple joys of fun are now everywhere on tap.
© Aleks Sierz