The Motherfucker with the Hat, National Theatre
Friday 26th June 2015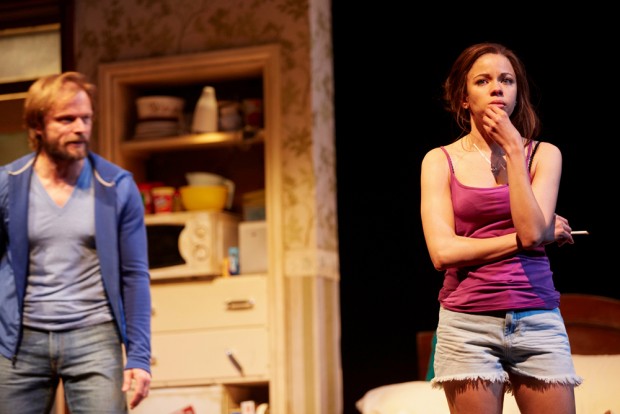 In the week when the best five-star public performance was President Obama's rendition of 'Amazing Grace', I was catching up with another American drama. And what a play! Stephen Adly Guirgis's exciting piece, which premiered in New York in 2011, rushes into the National Theatre's Lyttelton space with a roar in its voice and a spring in its tightly coiled step. Like Rebecca Gilman's Luna Gale, it is about drugs and faith; unlike Luna Gale, it is a cracking good play which mixes supremely confident storytelling with verbal fireworks.
Jackie, a New Yorker with Puerto-Rican heritage, is a recovering alcoholic just out of jail for drug dealing. When he visits his girlfriend Veronica, who is addicted to coke and booze, he spots an unfamiliar hat in her apartment. This sends him into a frenzy of jealousy, as he is convinced that the motherfucker with the hat lives in the same block and has been having sex with Veronica, who everyone agrees is pretty hot. For help, Jackie turns to both his Alcoholics Anonymous sponsor, Ralph, and to his cousin Julio, whose interest in martial-arts obsessive Jean-Claude Van Damme results in some of the best laughs of the evening.
Taking place in three New York apartments, which in Robert Jones's delightful design move through the air, arriving in front of the audience with an impressively smooth landing (while red fire escapes hover above, suggesting escape routes and illegal deals), the story paints a vivid picture of New York. Veronica's seedy Times Square apartment looks like a doss house; it's a residential hotel whose corridors reek of dope. Ralph's apartment is in the slightly grim Hell's Kitchen, but it has been made to look nice, a place where he and his wife Victoria can pursue their interest in self-help therapy, food fads and veggie drinks. Finally, Julio's clean and well-kept abode is in Washington Heights, a mostly Puerto-Rican and Dominican neighbourhood.
This is a play not only about addiction, and especially about how drink or drug addicts think only about themselves and never about their nearest and dearest, but also about morality. All of the characters try, at one point or another, to do the right thing. Sometimes they succeed; mostly they fail. Yet like Tennessee Williams, Guirgis presents a highly sympathetic picture of these two-bit losers, elevating ordinary junkies into symbols of our common humanity, being equally empathetic to people who can't kick their habits as to those that have moved on. He also asks the question: how many betrayals can love survive?
In this atmosphere of precarious jobs and easily available drugs, sex is used as a bargaining tool or a move to gain more power in a relationship. Yet faithless coupling makes no one happy and the genial air of promiscuity is a gloss over the emotional aridity that all the characters feel. Still, each of them is trying to improve: even the sexually ambiguous Julio decides to support his cousin Jackie not because he likes him, but because he remembers an act of kindness that happened during their childhood. It's a story about duty as well as betrayal.
Guirgis's text flares with the anger of street language, and is heavy with the stink of the gutter and the garbage pail. But this is a play, not a documentary, so it is vividly poetic, sparking constantly into beautiful life. Religious imagery — the cross, the halo and the tramp into eternity of sinners and saints — soaks through the text like spilt alcohol on a drunk's carpet. The smell is intoxicating; it can turn your head. When I saw the play on an ordinary night during its run, there was a very appreciative and mainly young audience, unusual but welcome to this venue. They whooped and cheered during the scene changes.
Indhu Rubasingham's excellent production runs for about 105 minutes without an interval so there is no loss of focus. Her Anglo-American cast is perfect: Ricardo Chavira, familiar to watchers of Desperate Housewives, has a muscular masculinity, strong but not very bright, that contrasts well with Flor De Liz Perez, his quick-thinking and sharp-speaking junkie girlfriend. What a tongue she's got! British actors Alec Newman and Nathalie Armin portray the venomous marriage of Jackie's sponsor and his wife with complete conviction. Best of all, in terms of comedy, is Yul Vázquez, who was in the original New York cast, as Julio, as health-food hipster with pansexual tastes. Verbally vivid, but emotionally true, this is a good story well told.
© Aleks Sierz