The Greatest Play in the History of the World, Trafalgar Studios
Thursday 28th November 2019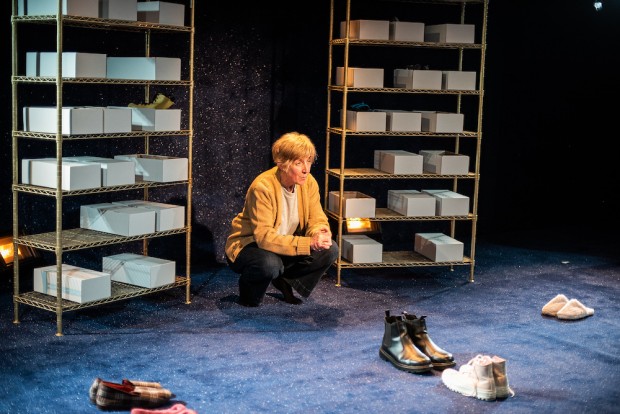 Naturalism is both the best thing about British theatre, being democratic and comprehensible to all, and the worst, being boringly unimaginative and frankly banal. The hegemony of this aesthetic approach does mean, however, that plays that challenge its worldview tend to have a refreshingly welcome feel. And this is certainly true of Ian Kershaw's beguilingly warm monologue, The Greatest Play in the History of the World, a hymn to the joys of love and science fantasy. Having enjoyed an award-winning run at Traverse Theatre during the Edinburgh Fringe Festival in 2018, with the playwright's wife Julie Hesmondhalgh as the narrator, it now comes to London's West End. And it's great.
The 70-minute narrative begins in Preston Road, Manchester, one December night. Having a science fantasy sensibility means that anything is possible. So time literally stands still as the only two people still awake at 4.04 at night peek through their bedroom curtains at each other across the street: Tom, at number 28, and Sara, at number 27. Tom is a 31-year-old writer (working on a drama called The Greatest Play in the History of the World) on his way to becoming a poet and university lecturer, and Sara, wearing an over-sized Bowie T-shirt (souvenir from an unhappy love affair), is 26 and recently back from a trip overseas. Both feel lost: maybe they are looking for love. Or maybe not?
But before we can answer that question, we are introduced to Tom's neighbours, the Forshaws. Now seriously ill, 76-year-old Mrs Forshaw was once a science teacher who enjoyed telling her pupils about the Voyager space probes of 1977, and especially about the golden record, which is a disc that holds images and sounds of life on Earth, inspired by rock star physicist Carl Sagan. This was intended to communicate the sheer variety of our civilizations and cultures to any extra-terrestrial that the space ship happen to meet. Idealistic, or what? When Mrs Forshaw's condition deteriorates in the middle of the night, can the two young people do anything to help the old couple? And what does it mean to say that time has stopped?
Kershaw's narrative is beautifully paced, and told with a wonderful warm blend of wry humour and heartfelt feeling. In one way, the play is joyful fantasy story; in another, it is a love letter from a playwright to his actor wife. At one point there is a paen to love that reminds me of a similarly beautiful passage in Sarah Kane's classic Crave. What gives it such a wonderful glow is both the quirky, eccentric detail and the depth of its emotional content. There are lovely jokes about the local Neighbourhood Watch, the "unruly kids at number 58", and the way that couples are initially drawn to each other because of the attraction of opposites. In this case, Tom is a words man and Sara is a numbers woman. The lightness of touch that comes from these kinds of comparisons, illustrated with jokes about iambic pentameter and mathematics, is typical of the writing.
In between the story of Tom, Sara and the Forshaws are brief informative voiceovers about the Voyager space probes and the immensity of outer space. The cold indifference of the light years of the various universes out there are equated with the lonely feelings of humans who are getting over unhappy love affairs. The cold lonesomeness of isolation aches for a metaphorical ray of earthly sunshine. At the same time, the sheer human adventure of space exploration, and the imaginative reach of the genre of science fantasy, are thrillingly inspiring here. If only I too could build a space ship in my back garden.
There is also something deliciously special in Hesmondhalgh's performance. Not only is it clear that she has a powerful commitment to the show, but also that the simple theatre techniques used to animate the story are superbly effective. The actor uses pairs of slippers and shoes to stand in for the main characters of the narrative, and then asks audience members for the loan of their footwear for all of the incidental characters. In performance, this results in a lot of hilarity, and also in the perception that pairs of shoes can have, when placed on stage, a surprisingly distinct character and eloquence. They really have personalities. Likewise, Naomi Kuyck-Cohen's design — simple shelves with shoe boxes — is both easy and effective.
Originally produced in association with Manchester's Royal Exchange Theatre, director Raz Shaw's production is one of the most charming and dopamine-rich shows you could ever hope to see. Hesmondhalgh greets us as we arrive in this studio space and her relaxed attitude gives the show a perfect sense of intimacy. Like a bedtime story, she tells the tall tale with precision and complete control. Gradually building up a really warm rapport with the audience, she radiates a quiet undemonstrative love that is both very British and exactly right for the emotional depth of this story. In this case, anti-naturalism has plenty of warmth. You leave the theatre enriched by the experience, and with a smile creasing your face.
This review first appeared on The Theatre Times