Shraddha, Soho Theatre
Wednesday 4th November 2009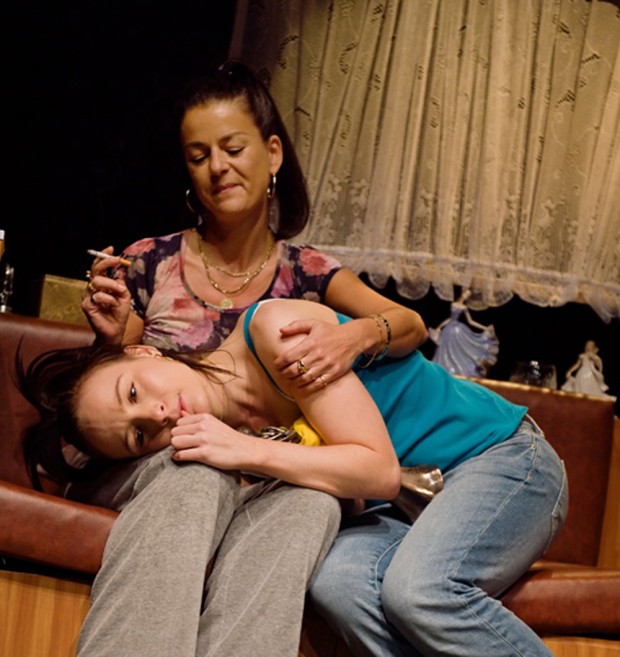 Oh dear, poor Pearl is in a bit of pickle. She's 17, and her mum wants to know what she's doing talkin' to Joe, a young lad from the local estate. After all, Pearl is meant to be engaged to Clive, her childhood sweetheart. And he'd come running if only Pearl would whistle. But she ain't interest'd. Anyhow, Pearl's mum knows what's what, and she reckons that mixed marriages never work. You see, Pearl is a Romany and Joe is just a "Gorger" boy — that's Romany for anyone who isn't "one of us".
Set a couple of years ago in East London, Shraddha (Romany for "You are what's in your heart") tells the story of what happens to Pearl and Joe when her family is evicted from their site to make way for the 2012 Olympic Games. As the young hearts plot to run away together, the clash between the Romany lifestyle and the straight world intensifies. And there's nothing that the grown ups — Joe's dad or Pearl's mum or her granny — can do to help smooth the rocky path of true love.
It would be so easy to parody and dismiss Natasha Langridge's retelling of the Romeo and Juliet story, which opened tonight at the Soho Theatre. After all, she is no traveller and this is an evocation of segregated world told by an outsider, and one who is disarmingly frank — in her programme note — about how difficult it really is to research the subject. Yet the result never feels as if it's a docu-drama, and the writing is much more textured than you'd expect.
For while this is a loving account of the Romanies, full of poetic tales and sparkling images, suffused with the wild romance of freedom and magic, it is also painfully aware of the sharp cultural differences which make it unlikely that Joe and Pearl will enjoy a happy future. Despite this, the play is idealised in that the really bad people, the ignorant locals or the criminal gypsies, are kept offstage, so that the people we actually see — Joe, his dad, and the three generations of Romany women — are basically the goodies.
The highpoints of the evening are Pearl's parody of the traditional gypsy fortune-teller and the young lovers' happy dance, which seems in Lisa Goldman's spirited and highly enjoyable production, designed by Jon Bausor, to mix the best of Romany and acid house. What also comes across is the fierce pride of the travellers, as well as their contempt for the routine lifestyle of ordinary folk. With a text that is spattered with Romany language, this is a feelgood evocation of a normally invisible world.
The two young leads have an excellent onstage chemistry. Jade Williams lends Pearl a feisty flirtatiousness, radiating a powerful lust for life, while Alex Waldmann's Joe has the bright countenance of someone who believes he has found the light of his life. Solid support comes from Miranda Foster as Pearl's mum and Anna Carteret as her granny, while Jim Pope is good as Joe's puzzled dad.
What lifts Langridge's play above the run-of-the-mill dirty realism of much contemporary new writing are the great monologues which give voice to the thoughts of the characters, fountains of verbal glitter which conjure up a romantic world of stomping horses, story belts, ancient charms and the freedom of the road. If you really are what's in your heart then it has to be admitted that Shraddha's heart, for all the play's faults, is in the right place.
This review first appeared on The Arts Desk