Promises Promises, Soho Theatre
Wednesday 10th March 2010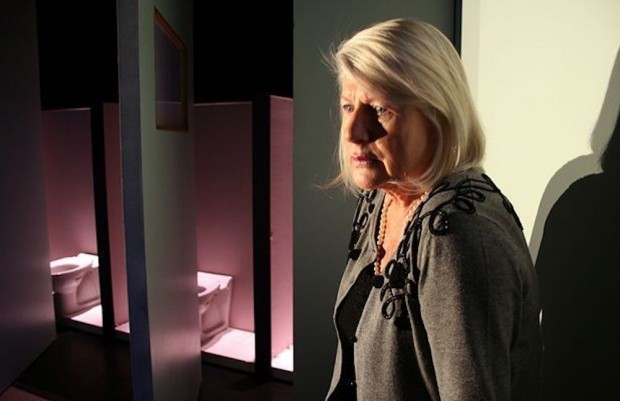 Why is political correctness still such an issue? One answer, given by Scottish playwright Douglas Maxwell in his new drama, Promises Promises (which was first seen at the Tron in Glasgow last month) is that the realities of life in a multicultural society bring inevitable confrontations between different views of what is right and wrong.
The schoolteacher who tells the story of the play is Miss Margaret Anne Brodie, or Maggie for short, a retired Scottish schoolteacher who lives in London, alone with her drink problem and her memories of the past. When she is asked to do some supply teaching, she is angered by the fact that Rosie, a six-year-old Somali girl, is being subjected to a horrifying exorcism in front of her little classmates.
Rosie's crime? She refuses to speak. But what might at first appear to be an attack on the political correctness that allows so-called community leaders to impose their cultural ideas, however demented, on kids in this country (and you have to admit that exorcism is pretty crazy) soon slides into a much more disturbing world. Gradually, Maggie finds herself thinking about her own childhood, and the dark demons that linger there.
At first, the political conflict between the religious beliefs of one part of the community and the liberal values of the host nation is well focused and developed. But the questioning of cultural taboos soon leads into an exploration of Christian fundamentalism and child abuse, with silence emerging as both a strategy of resistance, and a path to redemption.
The play is an account of an individual's failure: Maggie consoles herself with alcohol for a life in which she regularly self-destructs. But despite the sadness of this portrayal, there is something hopeful about her decision to take a stand against an abusive priest. However old you are, it's never too late to protest.
Literature buffs will soon pick up the reference to Muriel Spark's The Prime of Miss Jean Brodie, another story in which a schoolteacher made a catastrophic error of judgment. In the Spark version, Miss Brodie muddles up the politics of the Spanish Civil War, and ends up on the side of the fascists. By contrast, Maxwell's Brodie is on the right side, however unattractive her character.
This powerful 90-minute monologue, preformed with enormous courage and energy by Joanna Tope, not only explores the issue of political correctness, but also dips into that murky territory where the victim of abuse is complicit in their own victimization. Maxwell uses a fragmented form, telling the story in a complex mosaic of pieces. The shifts of tone, from sassy humour to excruciating ghastliness, work really well, and his writing is both down-to-earth and lyrical, heightened to intensify the atmosphere of the story.
As directed by Johnny McKnight for Random Accomplice theatre company, the staging of Promises Promises is a bit too rich, with lots of doomy or dramatic music and some unnecessary silhouette projections. In fact, the most eloquent part of the stage picture is the tiny chair which seems as lost on the stage as any six-year-old new to school. When political correctness means keeping silent about crimes, it is wrong, but sometimes speaking out can also have a terrible personal cost.
© Aleks Sierz