The Priory, Royal Court
Thursday 26th November 2009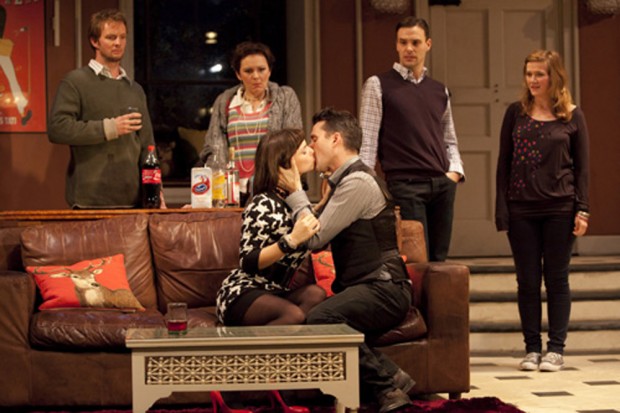 If it's not quite the time of year to start making New Year resolutions, then it's not far off. Everywhere, you can read the signs: bright lights on the main shopping streets, merry cash registers ringing and the sound of yule logs being felled in empty forests. Plus chronic gift anxieties and a grim foreboding about the coming Election Year. In Michael Wynne's new comedy, The Priory, which opened tonight at the Royal Court, a New Year's Eve party gives us a taste of what's to come.
And that taste is pretty astringent, a bit like Bombay gin laced with cranberry juice and topped off with the bitter aftertaste of impure coke. So here's the recipe: take one secluded former priory, all gothic arches and brash elegance, and hire it for a New Year's Eve party. Which is exactly what Kate, a thirtysomething writer who's had a bad year, has done. As she waits for the arrival of some old friends in order to see out the old and toast in the new, there's a definite sense of foreboding.
At first her friends seem to be a typically bright collection of shiny, happy, smiley people. So there's Daniel, the gay architect, young trendy Ben and his new fiancée Laura, plus actor Carl and his wife Rebecca, a programme-maker. Yes, we are among the status-conscious middle classes, power couples with their loud voices, successful careers and smug satisfaction instantly visible, like a pair of brightly coloured earrings catching the bright lights of mediaworld.
Yet, it soon becomes apparent, Kate doesn't quite fit in. Surrounded by her old friends, she seems distracted and lonesome. Amid all the ping-pong of Wynne's sharp satire and comic one-liners, she embodies a sad but profound sense of solitude. Gradually, as we find out why, we are reminded that it is among other people that we often feel the deepest loneliness, and how rarely this condition, which is as contemporary as an iPhone, is the subject of drama.
In the second half of The Priory, as the revellers discover the dressing up box and the set's surfaces become littered with empty bottles, the punchy jokes can't quite distract you from the play's bigger themes. For standing sober in the corner are all those ponderous questions about the nature of happiness, the definition of a good life, the search for love, all topped off by a sense of existential solitude. Suddenly, you don't feel like laughing any more. And, offstage, lurk the secret tyrants of the modern couple — the kids. Bigmouth Rebecca and diffident Carl's children are often referred to; Kate's ticking biological clock is nodded at; and even Daniel feels the social pressure to conform. Success cannot be complete unless you have kids; no kids means failure. Social suicide.
The play's inevitable revelations, deftly handled by director Jeremy Herrin, eventually pit Jessica Hynes's desperate Kate against Rachael Stirling's bossy Rebecca, with Rupert Penry-Jones's weak-willed Carl watching on the sidelines. As Ben and Laura, Alastair Mackenzie and Charlotte Riley deliver a shrill, up-tempo double act, while Joseph Millson gives Daniel a strong dose of dry wit. Yes, cheering in the New Year involves a lot of laughs, but when the fun is this hectic, can a hangover be far behind?
This review first appeared on The Arts Desk