Othello, Lyric Hammersmith
Wednesday 14th January 2015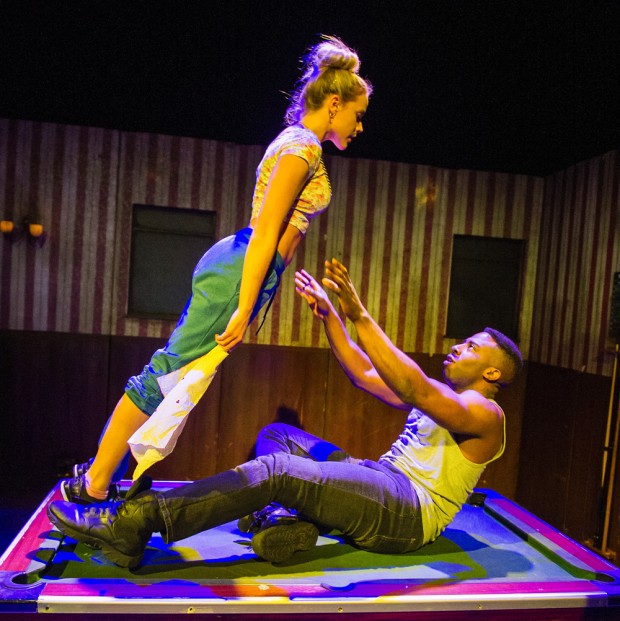 Shakespeare is a tricky sod. Some of the most excruciatingly boring evenings of my life have been wasted watching deadly performances of his plays, yet he is also the source of some of the most exciting theatre on the planet. So when I arrive in the comfortable Victorian plush of the Lyric Hammersmith's main auditorium and hear the thump, thump, thump of contemporary dance music I just know I'm in for a treat. The show is being staged by Frantic Assembly so you don't have to be a genius to expect it to make your heart race. And mine does, and sweat begins to gather in my hair. Yes, I'm a real sucker for sensation.
Of course, when a Shakespearean production hits the right spot the trick is to maximise the amount of people that can see it. Frantic Assembly's dance-theatre version of Othello was first seen in 2008 and is now revived, completing a long nationwide tour at in West London. Director Scott Graham originally adapted this version in collaboration with Steven Hoggett by eviscerating Shakespeare's original to create a 100-minute dash through the plot. By adding a banging music intro by Hybrid, and some superb dance moves, they have put together a typically exciting evening. I think that most directors are much too respectful of Shakespeare's words so I welcome this pruned-down version, which could have gone even further by updating some of the words to be even clearer than it is.
Set in a cheap and dirty pub called Cyprus in some decayed corner of Yorkshire, with a board advertising a karaoke night on the wall and a riot breaking out in the streets beyond, this account of the Othello story is a thrilling creature, which dances, downs shorts and is always just a milli-second away from a violent punch-up. This is a play about an underclass tribe, poor white working-class youth — and it pulses with their resentments and their social, sexual and racial tensions. It is of our world now.
Hard man Othello dominates the scene, while his Desdemona is a chavvy northern lass, who chats with Emilia or Bianca in the ladies loo of the pub. A pool table takes centre stage while Iago prowls around, expertly manipulating the envies of the other men and gradually stage-managing Othello's downfall. What works very well with Shakespeare is speaking his verse with a northern accent and the flat Yorkshire vowels sound much better than the usual southern tones. Steven Miller's Iago and Kirsty Oswald's Desdemona are particularly thrilling, but Mark Ebulue's Othello is much less clear. Never mind, this former kick boxer not only moves with grace, he also exudes menace. I also liked Leila Crerar's Emilia and Richard James-Neale's Roderigo.
There's a lot of macho swagger in this production, which surely owes some part of its vision to DV8's now classic piece of pub-set dance-theatre Enter Achilles from 1995, but although the setting convincingly conveys the bruised hierarchies of white working-class life, the idea that Desdemona has a maid rather than a mate feels wrong. Maybe the text should have been mugged some more. Oh well. With its cinematic soundscape, testosterone-heavy bullishness and moments of acute sexual desire, Frantic Assembly's Othello still feels fresh and contemporary. If it doesn't all quite make sense, and is a tad too long, this is pardonable in a production that thrillingly shows what can be achieved when you update the bard.
© Aleks Sierz