Orphans, Soho Theatre
Friday 2nd October 2009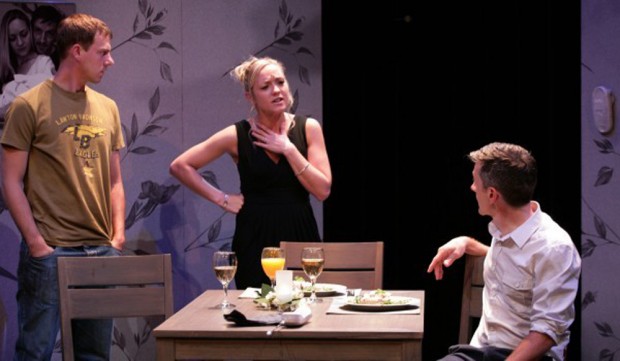 Theatre is the art of storytelling, and the best stories are those that constantly change their shape. In Dennis Kelly's storming new play, Orphans, which wowed critics and audiences when it opened in Edinburgh in August, the narrative morphs and flips like a bad conscience. And for good reason. Long before the final climax, you just know that something isn't right.
The evening starts innocuously enough. Danny and Helen are a nice couple. If not exactly shiny, happy people, they at least exude an air of comfort as they settle down to enjoy a quiet night at home. Nice room, nice furnishings, nice dinner. Then the outside world crashes in as Helen's brother, Liam, arrives, blood all over his T-shirt. Adrenaline pumping through his veins. Not so nice.
His story is plausible enough. It's not his own blood; he found a young lad, just a boy really, lying in the street; he'd been attacked; blood everywhere; he tried to help him. Naturally, Danny wants to call the police, but Helen stops him. There is a problem. Liam has a criminal record. Would the police believe him? How would his story stand up? Who is the victim anyway?
The play asks uncomfortable questions about our willingness to help strangers, and generally about our belief in the tales their tellers tell us. It also paints a vivid picture, as ugly and as bright as any street graffiti, of our current malaise. In a culture of fear, monstrous others lurk in every darkened street. We not only worry about our own problems, but we also worry about what other people will think about us and the way we behave.
Kelly expertly leads us through the psychological twists and turns of this cracking 110-minute drama, superbly directed by Roxana Silbert and designed by Garance Marneur. Like a wine glass hurled at a wall, the dialogue seems to have been fractured into dozens of shards, as communication is constantly broken into fragmentary exchanges and questions go unanswered. Yet each fragment also reflects our social fears, our sense of a world split between us and them.
Equally compelling is the psychology of the piece. Joe Armstrong and Claire-Louise Cordwell play the grown-up orphans Helen and Liam, and together suggest how blood is thicker than tears. Armstrong is especially terrifying in his convincing portrayal of the damaged Liam, a noxious mix of gormless gawkiness and edgy viciousness. This monster is human, all too human. As Danny, the conscience-striken good guy, Jonathan McGuinness clearly articulates ideas about social responsibility.
As well as raising urgent issues about our feelings about other members of society, Kelly also gives an acidic picture of the emotional power games typical of family life. This is a tense and unsettling drama that both scares you rigid and stabs ideas into your brain that then take on a life of their own and run around your mind for a long time after you've left the theatre.
This review first appeared on The Arts Desk