On the Record, Arcola Theatre
Wednesday 27th July 2011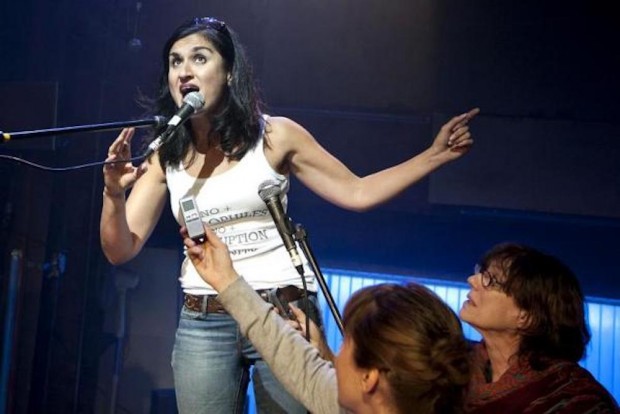 Political theatre is good at informing us, prodding us to outrage and sometimes even just patting us on the head. But it rarely packs a theatrical punch that combines mental stimulation with emotional truth. So On the Record, which tells the true stories of six very independent journalists from around the world, is that rare thing: political theatre with real heart.
First the facts: in Mexico, Lydia Cacho investigates a child porn ring that involves top politicians; in Israeli-occupied territories, Amira Hass examines the way the state twists language to cover up its crimes; in Moscow, Elena Kostyuchenko upsets the mafia; in Sri Lanka, brothers Lal and Lasantha Wickrematunge unmask political corruption. Last but not least, photographer Zoriah Miller reports from the real front line in Iraq.
On the Record mixes dramatic reconstruction with verbatim testimony, taken from hours of interviews with these journalists, who all come across as self-deprecating, candid about their fears and failures, and genuinely helpful and informative. They also put so many of our own journalists to shame simply because of their determination to write stories not about celebrity gossip, but about things that really matter — the abuse of power.
Inspired by Guardian journalist Nick Davies's latest book, Flat Earth News, writers Christine Bacon and Noah Birksted-Breen sought out what they describe as six journalists "who we considered had done something significant in the context of their profession". The stories the six tell are both inspiring and frightening. Their desire to publicise the truth gets them all into serious trouble, and puts our own worries about phone hacking well into the shade.
Most importantly, it's the kind of show that makes you think about your own life: about halfway though its 90 minutes, I couldn't help asking myself what I was doing scribbling in the dark when there are so many more important things to report on. But could I behave as bravely as these six people? Probably not. I felt a flush of shame when I realised that, and a real sense of gratitude that other journalists are so much braver than me. And boy are they courageous.
In the toughest scenes of the play, Cacho is abducted and held by police working for the abusers and Lasantha Wickrematunge is murdered in the street, on the way to work. Miller is also arrested by the US military for taking pictures of American dead and wounded after a suicide bombing. In Moscow, Kostyuchenko takes us around an exhibition at her office that commemorates her dead colleagues. None of this is sentimental; all of it is powerful.
Directed with great clarity and punch by Michael Longhurst, for theatre company iceandfire, On the Record makes the most of the rather dank and gloomy Arcola Theatre space, with its simple set of desks and hanging lightbulbs (designed by Chloe Lamford). An excellent cast includes Kika Markham as the dignified trouble-maker Hass and Paul Bhattacharjee as the often humorous Lal Wickrematunge. Equally impressive are Nathalie Armin as Cacho and Trevor White as Miller. This show represents not only the work of campaigning journalists, but also some of their moments of deepest darkness, yet there are numerous moments of laughter. In an age where most of the media aim only to seduce and entertain, it is great to be reminded in such an emotionally strong way that some news is there to trouble and to bring change. Now see the show, and read Flat Earth News.
© Aleks Sierz