My Eyes Went Dark, Finborough Theatre
Friday 28th August 2015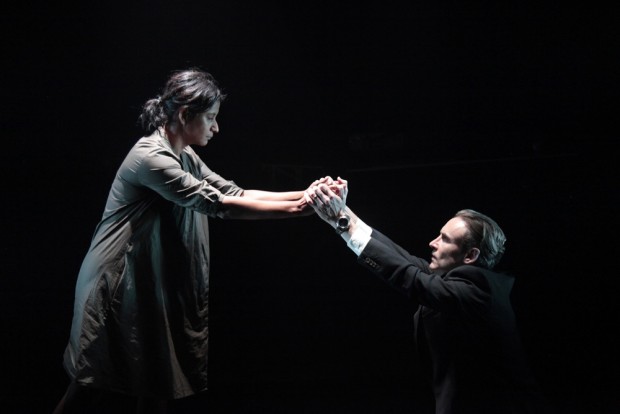 Rage can be ice cold as well as boiling hot. When Ossetian architect Nikolai Koslov loses his wife and two small children in a freak plane crash in Switzerland, he is devastated. And then enraged. He blames Thomas Olsen, the air-traffic controller, and, when the official channels prove unable to punish him, he decides to enact his own revenge. With a knife. Subsequently, he claims to have no memory of the incident and is released from prison after four years. On his return to Ossetia, Koslov is greeted as a national hero, but what about the darkness inside?
Matthew Wilkinson's compelling 90-minute two-hander, which is apparently based on a true story, is told with great pace and fascinating detail. Although it has a contemporary factual basis, My Eyes Went Dark feels more like an ancient Greek tragedy than a newspaper report. In its exploration of the feeling of rage as an archaic, almost tribal, form of loyalty to the dead, it shows both the agony of loss and raises a number of issues about grief, mourning and forgiveness.
The plot is fascinating, and troubling. Koslov is first shown talking to Geisinger, his Swiss therapist, as she attempts to get to the bottom of his claim to have no memory of having stabbed Olsen. What does forgetting actually feel like? she asks. "Some people envisage a wall. Some — bright, blinding sun. For others, it might be a hole. A space. A void." Koslov remains mute, and then the events of his tragedy begin to play out. And they are horrific.
After the accident, in which two aircraft collided in midair, Koslov joined the rescue teams that looked for bodies. And when he set out on his own he found the dead body of his four-year-old daughter, Anya. But after the official investigation into the crash becomes bogged down in legalistic and bureaucratic procedures, he decides to take the law into his own hands. When he does this, he seems to be connecting to an age-old Ossetian culture, in which family honour is more important than state structures. And where disputes are settled by feuds. "A man must defend himself," he says.
But, as Lizka, his dead wife's sister, points out: this sounds like "ancient old Ossetian bullshit". Just because you come from the Caucuses doesn't mean you have to behave like a mountain man. After all, Koslov is a successful architect; he went to university; he's a modern man. He's not some feuding primitive. And yet. Inside, the trauma of his loss has triggered some kind of deep desire to enact the ancient rituals of what he imagines is his people. At the same time, Koslov suffers something like post-traumatic stress disorder. He can't sleep; he has terrible headaches; he says he can't remember anything. Although his suffering shortens his jail sentence, Koslov eventually begins a victim of the logic of his own actions. Although he has revenged the death of his family, he is unprepared for being confronted by the family of his own victim, Olsen. And that, of course, is the logic of ancient feuds — they are never over.
Within this tragic scenario, contemporary ideas about guilt, punishment, forgiveness and redemption are played out. Wilkinson's text is gratifyingly dense in its detail. At one point, Geisinger describes the judicial system as a way of honouring the injuries that victims feel by punishing perpetrators, but this — she also points out — does not cure or ease the pain of loss, of trauma. Aptly enough, the play — which was originally developed with the support of the National Theatre Studio — is explicitly political in intent: 10 per cent of its profits go to the Forgiveness Project, a UK charity that promotes reconciliation between victims and offenders.
Wilkinson's own production, designed by Bethany Wells, has a bare, dark traverse staging, with a shiny black floor and only two chairs for props. Excellent performances by Cal MacAninch (Koslov) and Thusitha Jayasundera (playing a dozen other roles including Koslov's therapist and his dead wife's sister) make watching the play a powerful experience. MacAninch's Koslov is fascinatingly cold, calm and only occasionally passionately enraged, while Jayasundera offers a variety of warmer and more human responses. Intense, thought-provoking and intelligent, both give a very strong reading of an emotionally fraught story.
© Aleks Sierz