Mumburger, The Archivist's Gallery
Thursday 21st July 2016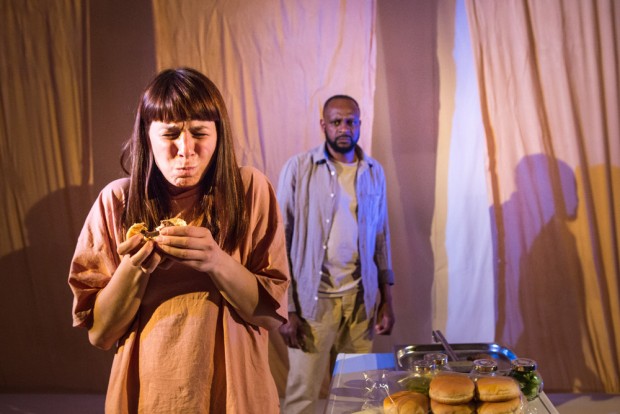 Once upon a time, I remember hearing an anthropological myth about a cannibal tribe which ate its dead relatives instead of burying them. And it makes sense doesn't it? I mean, if you really love somebody, why would you put them in the ground, or burn them to ashes? Much better to eat them, to make them part of you, to let them nourish you, to be together again. Whether this story is true or not, a taste of this kind of thinking permeates Sarah Kosar's new play, Mumburger, which is an imaginatively scripted and emotionally moving story about grief and family love.
When Andrea, mother of 25-year-old Tiffany and wife of Hugh, gets killed in an accident (her small car crushed by a Birdseye lorry on the M25), the rest of the family have to make all the usual arrangements: register her death, instruct the undertaker, invite friends and relatives, organise a ceremony. But the problem is that Hugh and Tiffany are not the closest of people, and they react in different ways to the shock of sudden loss — he is paralysed and frozen while she is galvanised into frenetic activity. The real test of their relationship, however, comes when — true to the title of this slightly surreal story — a large bag of burgers appears on their doorstep.
As the note attached to the bag explains, this is Mum's gift of her own dead body, lovingly prepared as easy-to-cook burgers. The twist is that Andrea was a militant vegan all her life, so her posthumous request that her similarly vegetarian husband and daughter consume her remains is a double transgression: breaking the taboo on cannibalism and betraying everything she stood for. Or is it? With typically imaginative flair, Kosar takes this central idea of a Digestive Memorial and runs with it for most of the 90-minute play, making several suggestive links to wider metaphors. Tiffany, for example, went to a Roman Catholic school so the theology of Holy Communion (literal absorption of the body and blood of Jesus Christ) is familiar to her.
But the main dynamic of this two-hander is the relationship between parent and child, which is developed through a couple of the classic stages of grief in a well observed and convincing way. At every point, the mildly surreal quality of the events is grounded in our common humanity. Added to this, Kosar uses a theatre form which is entertaining and perfectly suits this venue, the cramped back room of a bookstore by the canal in East London's Haggeston. Tiffany recites spoken word poetry, and Tommo Fowler's sympathetic production — which features video and music, a blowtorch for the cooking scenes and a series of still-life gestures that effectively suggest despair and depression — also strikes a good balance between heightened feelings and emotional restraint.
What's most impressive about Kosar is not only her insights into how families handle grief, but the discipline, economy and brightness of her writing. Her perceptions about how fraught communication within the family can be are exactly right. I also like the way that this is a memory play, in which the characters each have different views about the dear departed, as well as the resonances of its central theme: during the performance I kept thinking of The Smiths's "Meat Is Murder".  It also has its fair share of excruciating and challenging moments. Mumburger is both moving and entertaining, with good performances by Lindon Alexander as the traumatised Hugh, forever picking at a symbolic scab on his skull, and Rosie Wyatt — nominated for an Offie — as the energetic Tiffany. Together all these elements make a complex, stimulating and thoroughly delightful event!
©  Aleks Sierz