Long Day's Journey into Night, Apollo Theatre
Wednesday 11th April 2012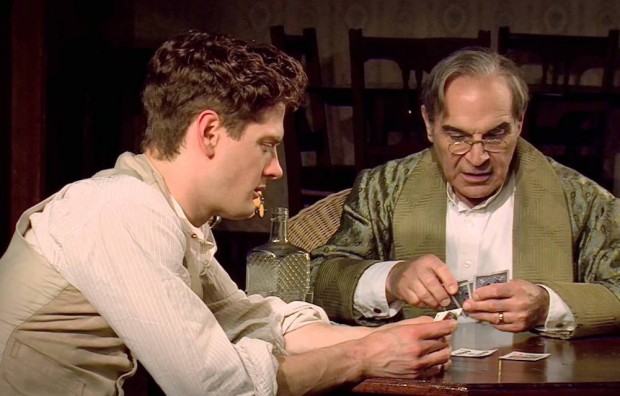 What are the differences between British and American playwriting styles? And what do such differences, if they exist, say about the national identities of both countries? Although one of the plays I saw this week is a world classic, and the other a more local phenomenon, they are both about family tensions, the past, the curse of drugs, and the effects of consumer society on individual relationships. But they tackle these subjects in different ways. Let's look at the American revival.
Set in 1912, Eugene O'Neill's Long Day's Journey into Night blends his own emotional experiences with the firm structure of a Classical Greek tragedy, in which the action takes place over a single day. James Tyrone is an Irish migrant to the United States. Because of his poverty, this actor has succumbed to commercial imperatives, playing a popular boulevard hero rather than developing his craft as a great Shakespearean actor.
Fear of poverty means that Tyrone is miserly in his attitude to money. It turns out that his character as a tightwad is responsible for his wife Mary's morphine addiction. The couple's two sons suffer the inheritance of misery: the older Jamie is a wastrel who loves drinks and whores; the younger Edmund has just been diagnosed with tuberculosis — and his father is unwilling to spend the money to send him to a good sanatorium.
Written in 1941, and first staged in 1956, the play is a masterpiece which explores the tensions of family life, its silences, evasions and lies. Unlike the British theatre of that time, there is no emotional reticence here and feelings are openly stated — so there is real thrill in seeing people talking about their experiences, both bad and good. In this family, quarrels are picked, lies are questioned and the grim truth stalks around the fog-bound house.
At the same time, O'Neil offers glimpses of the world outside. In the age of buccaneering capitalism, which predates most forms of welfare, the poorhouse is a real threat, and Tyrone explains his penny-pinching ways by evoking its horrors. But it is clear that this is also an excuse: he prefers to invest his money in land, even when most of his deals result in him being ripped off.
Similarly, Mary's morphine addiction is just one of the examples of compulsive behaviour on view. The three men are all heavy drinkers, and — most clearly in the case of the TB-ridden Edmund — this is also a death sentence. Drink in O'Neil offers both the lure of human company and provokes the terrible arguments that pulverise this family. At the same time, Mary's dope habit allows her to journey back into the past, getting lost in memory and avoiding the painful truths of the present. While the present is seen as fraught with problems — lack of a stable home and an uncertain future — the past has the nostalgic glow of stability and safety. Memory itself is a drug.
O'Neil exemplifies American playwriting at its thrilling best, and Anthony Page's brilliant and meticulous production, designed by Lez Brotherston, stars David Suchet (Tyrone) and Laurie Metcalf (Mary), with Trevor White as Jamie and Kyle Soller as Edmund. Suchet and Metcalf are particularly impressive, offering carefully modulated performances that are strikingly naturalistic and whose every gesture, from tying a shoelace to picking up a cup, is meaningful. On top of that, the individual family grows into a metaphor of society as a whole: America is a land where limitless possibility is crippled by greed and where the spirit is broken by the system. There is a size, a largeness, to this conception of drama which seems to leave little English plays way behind.
© Aleks Sierz