Holding the Man, Trafalgar Studios
Thursday 6th May 2010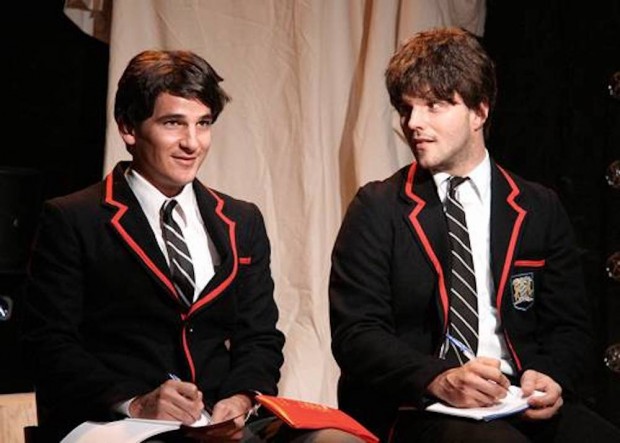 Crap happens — that's life. But crap happening doesn't necessarily make good theatre. Sometimes, a dire event simply leads to a dire play. A good example of this is Tommy Murphy's adaptation of Timothy Conigrave's autobiography, Holding the Man, which describes a gay relationship that ends in death. Because this is a true story, you can't help being moved. But this is not the same as saying that the resulting play is any good, despite its huge success in Conigrave's native Australia.
At first, the story is a gay fairy tale. It begins in a Jesuit school in Melbourne in the early 1970s, where the lively 16-year-old Tim meets the introvert 16-year-old John. There's a lot of sex in the air, and one hilarious scene shows a sleepover where a group of boys all have a wank at the same time (given that some of them are played by female actors, the effect is even funnier). But Tim and John are an odd couple: Tim is the arty one and John a popular school sporting hero.
The two teenagers fight battles for their sexual identity, fending off advances by female classmates and opposition from parents. Being gay is, quite rightly, simply seen as natural, and the early scenes of puppy love are charming, and warmhearted. But sexual identity is also seen as a struggle, and a political fight which involves changing language, and thinking about changing behaviour.
As the disco decade unfolds, punctuated by a pounding beat, Tim decides to go to drama school in Sydney and suggests a trial separation from John. The latter, who is more cautious and more conservative, accepts this, but finds it hard to put up with Tim's desire to experiment by having several sexual partners. Because it's the 1970s, this outpouring of desire is expressed in the rhetoric of sexual experiment and personal freedom. To have sex is to be a revolutionary.
By the second half of the evening, the HIV AIDS epidemic arrives in Australia, and Tim and John are affected by the fallout. The climax is an excruciating deathbed scene which is one of the most painful that I have ever seen on stage. The trouble is that none of this is very dramatic: the end is inevitable and the conflicts seem muted at the finish. Just because this story is sad, tragic even, doesn't make this a good play.
As an account of facing death with courage, and with stoical humour, Holding the Man is a testament to bravery. But, in David Berthold's theatrical production, whose cast includes Kath and Kim's Jane Turner, there's an odd mix of the flippantly larky and the devastatingly serious. Using a poor theatre aesthetic, the set is bare except for some make-up mirrors and electric lights, with chairs being brought on for each scene.
In the context of the 1980s, we see Guy Edmond's Tim mature from being a funloving and irresponsible youth into a rather didactic activist (the play becomes increasingly worthy as the evening progresses). By contrast, Matt Zeremes's John is a nice mix of shyness and loyalty. Turner tends to pump up the element of caricature in the show and the other actors do well in support.
In many ways, this play is a throwback to the gay theatre of the 1980s, with its coming out speeches and its determination to alert the public to the truth about HIV AIDS. Today, all this feels sadly dated, and the play tends to downplay the homophobia that surely must be a problem in Australia, as everywhere. This is a sunny, populistic account which seems nostalgic as well as sad. Many will enjoy it, but others may finally find it much too sweet.
© Aleks Sierz