Harm, Bush Theatre
Friday 21st May 2021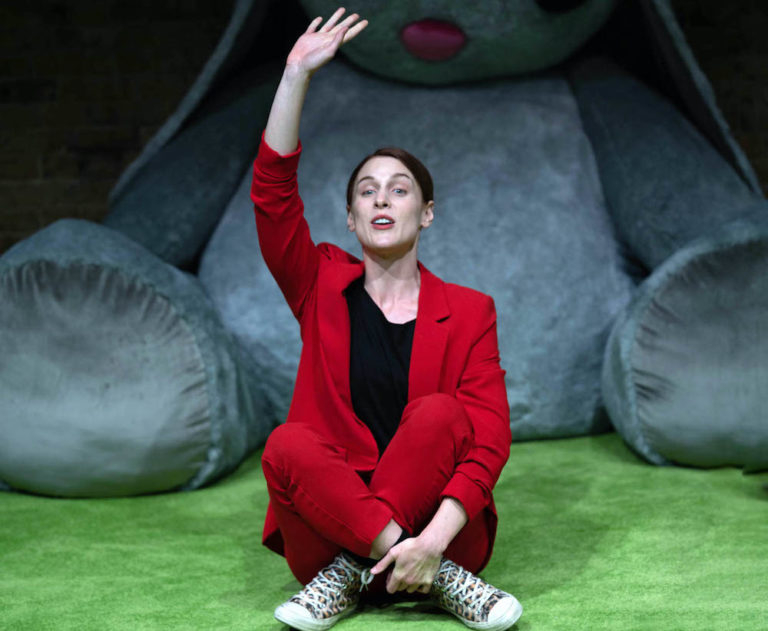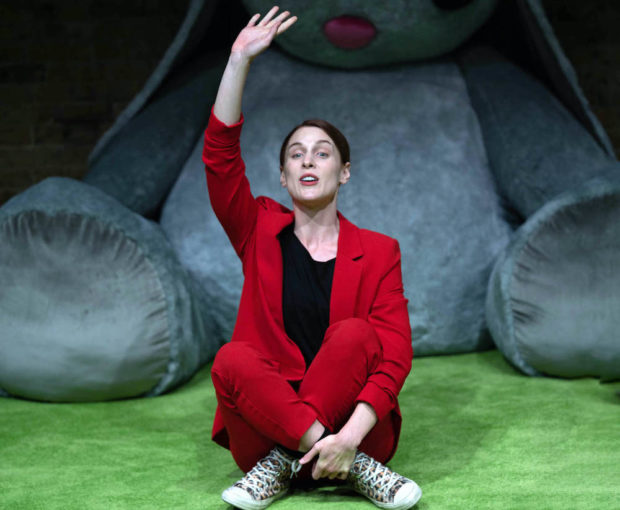 After months (and months) of watching theatre on screens large, medium, small and tiny, I definitely feel great about going to see a live show again. Of course, it's not the usual theatre experience, you know, the one with crowds milling around the bar, people breathing down your neck and elbowing you while you're watching, but at least it's three-dimensional. With COVID-19 restrictions, the audience is all masked up and socially distanced, but there is still a buzz at the Bush about Harm, which has already been screened on BBC Four with Leanne Best. It is a new monologue by Bruntwood Prize-winning playwright Phoebe Eclair-Powell and now the one-woman show stars Kelly Gough, familiar most recently from the BBC's Casualty.
Gough plays a lonely unnamed 39-year-old, who works as an estate agent by day and scrolls through Instagram, Facebook and Twitter by night. She is bored with work, and despises her boss, a really sleazy individual called Barry, but things change when he goes on a business trip to Brussels, and she gets the gig of showing people around a fabulous £2.1 million house in the metropolis's upcoming West Norwood (cue lively jokes about various bits of south London). This is how she meets Alice, a digital media influencer who positively glows with grooming, a shining example of perfection, both pixelated and in real life. Alice, who doesn't blink when she hears the asking price; Alice, who has a hubbie called Daniel; Alice, who is just brilliant in every way.
Of course, our lonesome narrator immediately falls in love with Alice. But her feelings are very mixed: she says that she both wants her to be her friend, and "to suffer something unfortunate". From this moment on, the 70-minute monologue gets darker and darker as her desire to get closer to the charismatic Alice results in some initially sweet situations (she's very helpful, although at first manipulative, with Alice's house hunting), and then in some excruciating experiences. As she throws herself into Alice's digital life, her infatuation grows, but so does her jealousy. By the end of this fraught comedy, we have witnessed some truly ghastly scenes.
Eclair-Powell tells this terrifying tale of extreme loneliness and obsessive self-harm with a beautiful blend of sharp observation and knowing humour. Her voice is wonderfully original in its quirkiness: the narrator begins by watching pigeons mating on her windowsill, a metaphor for the absence of human contact in her own life, and she is soon admitting to not brushing her teeth every night, enjoying "the fact that there's no one to tell me I smell". Such is the invincibility of her solitude. Likewise, Alice's name encourages comparisons with the looking glass wonderland of online relationships. Eclair-Powell isn't just idiosyncratic, she's also good at describing awkward feelings and flaying emotions. And there's plenty of those here.
Harm, a title which refers to both the wish to hurt another person and to self-harm, is simultaneously a brilliant account of emotional extremes in all of their complexity and ambiguity, and a scathing satire on middle-class professionals, especially those that have basked in the dazzling sunshine of social media fame. The tedium of office life and an empty flat is well contrasted with the thrills of Insta, YouTube and FB. The theme of the disjuncture between appearance and reality is well handled, and the swipes at vegan pizzas, MADE.com and new south London yoga studios are both funny and an example of the narrator's furious jealousy. When Alice displays all of her wealth and success, including her pregnancy, on social media, who wouldn't want to bring her down?
The fierce combativeness of social media, with its trolls and forums, is pithily characterized with expressions such as "This is Mumsnet on acid", and when the narrator, in the guise of SadBitch11 (by the time she arrives on this forum there are ten others!), decides to start commenting on Alice's life, things rapidly spiral out of control. Those who live by social media will die by social media, and although this is not a new insight, it is still a powerful one. The sheer aggression, frantic perversity and crazy obsessiveness of the digital world is communicated in a way that is both exciting and sad. Very sad. Very, very sad.
Atri Banerjee's production is designed by Rosanna Vize, whose empty green baize stage is dominated by a huge stuffed rabbit, a symbolic cuddly creature ready to be hugged, pulled about and otherwise attacked by Gough, who plays the narrator with a kind of brittle confidence that is both appealing and worrying — you can feel the pain beneath the ambition. Neon lights radiate and punctuate the action as Gough moves between intensity and vulnerability, ramping up the story's inherent tension. The contrast between this controlled and charming actor and the narrator, who everyone else sees as clumsy and charmless, adds more shades of discomfort. This is a smart and sassy study of loneliness and obsession. #GreatNewWriting
This review first appeared on The Arts Desk