Drive Your Plow over the Bones of the Dead, Barbican Theatre
Friday 31st March 2023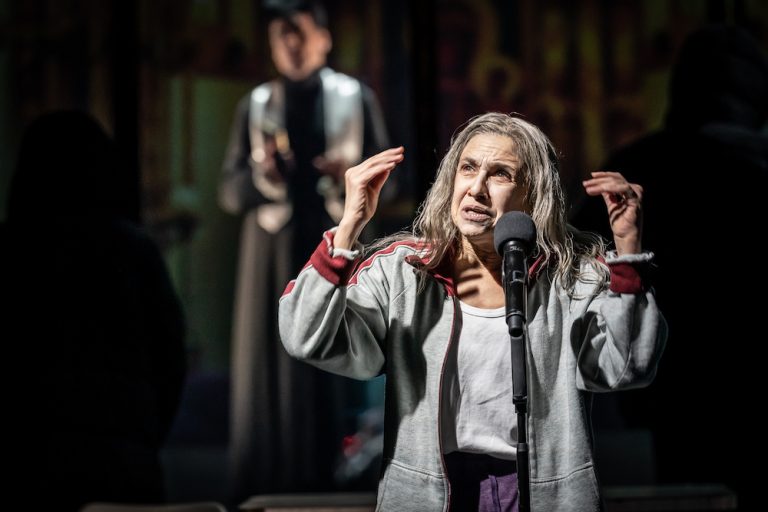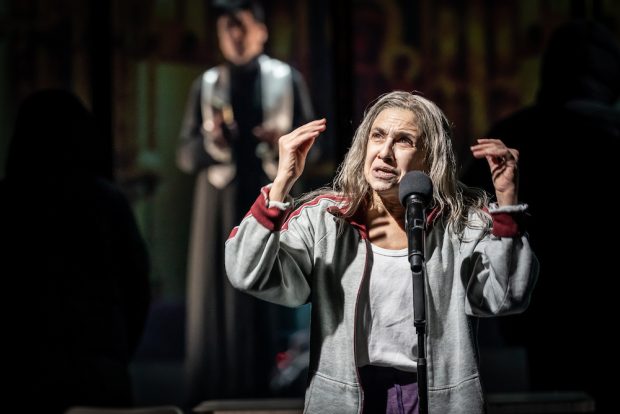 Imagine yourself in a remote place: it could be a mountaintop, or a lost village, or the Amazon. These are the locations that Simon McBurney and his Complicité theatre company take us to with their adaptations of books by adventurous creatives. Their adaptation of Drive Your Plow over the Bones of the Dead, the 2009 novel by Nobel prize-winning Polish author Olga Tokarczuk, has a mesmerizing star performance by Kathryn Hunter, who returns to the role after missing some shows due to illness, plus some beautifully dark visuals and a haunting sense of a mysterious world. It's both a folk fable and an eco-noir thriller with a satisfying plot twist. First seen in Bristol earlier this year, it now comes to the Barbican in London.
The play is set in a remote part of Poland, near the Czech border. A kind of land that time forgot (partly). Janina Duszejko, a 60-something part-time English teacher and animal lover who is obsessed with astrology, feels ignored because she is an old woman in a male-dominated rural community. But for this story this belittled character literally takes centre stage, with Hunter holding onto the standing microphone as Janina shares her experiences with the audience. Okay, it's basically one long monologue, lasting about three hours, in which she narrates events and confides in her listeners. We also meet several of the local villagers and get a sense of a lifestyle which is quite cut off from the modern world. Okay, they watch CSI on TV, but their mindset is pretty trad.
The play's plot is about how men from the local hunting club are suddenly being butchered, in ways that are shocking and alarming, and which puzzle the police. Janina comes forward to say that the killers are local animals, such as the deer, and that they are taking revenge on the trigger-happy huntsmen: you have had your fun hunting us — now this is our vengeance. Of course, the authorities laugh at her, especially when she claims that her horoscopes can predict the time of the victims' deaths. Motivated by the loss of her two dogs, who have disappeared, she nevertheless protests vigorously against the killing of animals, and the culture of the hunt.
Janina's world is beautifully evoked by her storytelling and wry, often downright funny, opinions. She laughs at middle-aged men and their lack of emotional intelligence; she is unimpressed by displays of macho bullying. At the same time, she is an outsider who suffers mysterious ailments, painful attacks of muscular agony, which are often treated by another outsider, Dr Ali, an Algerian refugee. As an English teacher, she helps Dizzy, a former student, to translate William Blake, whose visionary poetic wisdom is a constant commentary on the plot, into Polish. Three other eccentrics are likewise friends: Oddball, a slightly autistic neighbour, Boros, an itinerant entomologist, and the second-hand clothes dealer called Good News. Together, they offer a counterculture — symbolized by a joint smoking session under the night stars — to mainstream society.
This community is put on stage at the annual Mushroom Picker's Ball, where the villagers dress up in animal masks, and drink and dance. But instead of being joyful, this has a macabre and monstrous quality, a vivid contrast to the real animal kingdom, which is constantly under pressure from humans. Central to the politics of the play is the deep dismay at how, even in remote areas of the planet, nature is being destroyed and defiled. If Janina's protests against this moral and literal pollution and exploitation of natural resources, both animals and plants, are a bit eccentric, with her astrological arguments and loud mouth denunciations, it is clear that she is in the right. This is not a drama of ideas, but of insistent images.
Janina's major antagonist is the local priest, who represents Poland's powerful Roman Catholic church and who teaches that nature is God's gift to humans, who may do what they wish with it. As he smoothly argues that animals don't have souls and are thus not as important as people, you can feel Janina's anger as the revolt of everyone who opposes the church as the symbol of an archaic and reactionary Poland. At the same time, there is something a bit disturbing about the play's implicit advocacy of violence as a way of avoiding climate change, and its vengefulness, however understandable, seems frighteningly intense.
All of this, from terrible deaths of humans and animals alike to the exhilaration of natural phenomena, from snow to the stars, is conveyed with Complicité's usual gift for thrilling visual images, from the simple gestures of raising your arms to suggest antlers and the more involved mime of being a dog to the video images projected on the back of the stage. In a production that has a crepuscular doom-laded atmosphere, designed by Rae Smith and lit by Paule Constable, Dick Straker's video projections, which include Janina's memory of her mother (with its shades of Second World War killings and burnings), are compelling. The sequence of animals fighting is amazing. Together, the design and the cast create a spellbinding sense of a different world, a fateful place where tragedy lays down deep roots.
McBurney directs (helped by dramaturgy by Sian Ejiwunmi-Le Berre and Laurence Cook) with a fine sense of balance, between wry comedy and cosmic wonder, as the skies grow and buzz with stars and Blakean rapture. At the story's centre is Hunter's Janina, a towering and career-capping performance, full of rawness and spikiness in movement and words, her voice cracking with anger or dropping into tenderness. She is sublime, and very well supported by the welcome international cast: Johannes Flaschberger (Boros), Alexander Uzoka (Dizzy), César Sarachu (Oddball), Weronika Maria (Good News) and Tim McMullan (priest). So much glorious acting in a marvelously intense journey into the fractured European heart of our present time.
© Aleks Sierz