Behud (Beyond Belief), Soho Theatre
Friday 16th April 2010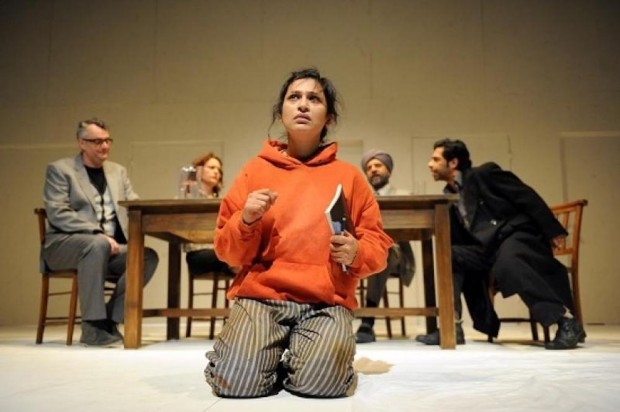 Censorship is alive, and well, and destructive. If the state no longer plays a leading role in stopping the mouths of artists, there are plenty of people, usually part of a segregated religious community, who will be society's self-appointed guardians. But can such censorship also provoke a creative act? In one of the most hateful recent instances of artistic silencing, Gurpreet Kaur Bhatti's play Behzti (Dishonour) was taken off by the Birmingham Rep in December 2004 after violent protests by Sikh militants, who were offended that its scenes of abuse were set in a Sikh temple. As we all know, religious leaders would never abuse anybody, would they? Now, in her new play, Behud (Beyond Belief), Bhatti tells the story of this traumatic time in her career, and she does it with a wonderful mix of firm dignity and theatrical verve.
To tell her 90-minute version, Bhatti doesn't use a documentary form, but instead creates a series of stage metaphors that conjure up some of the feelings from that time, as well as some of the inner darkness that any human will be well aware of. So we get a vivid impression of a playwright who keeps changing her mind, of the anxieties of actors, of the mixed motives of the protestors, and of the shifting support of local politicians and theatre directors. And, very near the surface, the knowledge of abuse and cover-up that so many religious institutions are guilty of. That's the real dark.
Most of Behud takes place inside Bhatti's head: her playwright is called Tarlochan Kaur Grewal, and she spends most of her time angsting about her abilities, hardly changing her dirty clothes, which are splattered with food stains and rather shabby. Her other bad habits include a love of KFC, and an independence of mind that means she is prepared to stand up to pressure from the theatre that is putting on her show, as well as being prepared to champion her work in the face of militant threats.
But if Bhatti is quite tough on herself, she is also pretty scathing about the liberals in arts establishments, who talk big but act small, and about local politicians, who constantly change their tack with every alteration of prevailing populist winds. No one comes out of this show with their honour completely intact, and, perhaps paradoxically, some of the militants are more sympathetically portrayed than the artists. By using such an undocumentary form to tell the story, Bhatti also effectively defuses any complaints about her not telling the whole truth. This liberates her to tell her own truths, the truth of memory and of subjective feeling, without worrying about libel or indeed about any other attacks.
But I do know that the core of the tale — the theatre's ill-fated decision to consult with local Sikh community leaders in the run-up to putting on the show — is factually true. It seemed like a good idea at the time: community consultation. You know, ask the people. But then it all went horribly wrong. The community leaders demanded changes in the script, Bhatti refused to make them, and the next episode was a hastily organized demo that turned into a riot. What lessons can be learned? Well, the obvious one is that if you take the trouble to consult with a community you should be in a mindset to negotiate. If not, don't bother. As an account of New Labour clichés about community consultation, this is salutary.
But the play is much more. It is also composed of playful moments when reality sneezes and art catches cold, the kind of situations when characters talk back at their creator which we associate with Pirandello. There are dreams, dreads and frightmares, in which the victim of abuse appears like a sepulchral mummy. There's a lot of debating, and quite a few good jokes. Laughter lights up some of psychological darkness. Plus a great song, "Taste of Blood", from Archive.
Deftly directed by Lisa Goldman, with engaging performances from a cast led by Chetna Pandya as Tarlochan, this is a great mix of fun and disturbance. The ensemble — John Hodgkinson, Avin Shah, Priyanga Burford, Ravin J Ganatra, Shiv Grewal and Lucy Briers — work well together and Hannah Clark's design enables the action to flow freely in this co-production between the Soho and the Belgrade, Coventry. You leave the theatre not only admiring Bhatti's skill, which is exemplary, but also inspired by her apt quotation, on the epigraph page of the playtext, from Picasso: "Art is the lie that reveals the truth." Indeed.
© Aleks Sierz