Abigail's Party, Menier Chocolate Factory
Friday 9th March 2012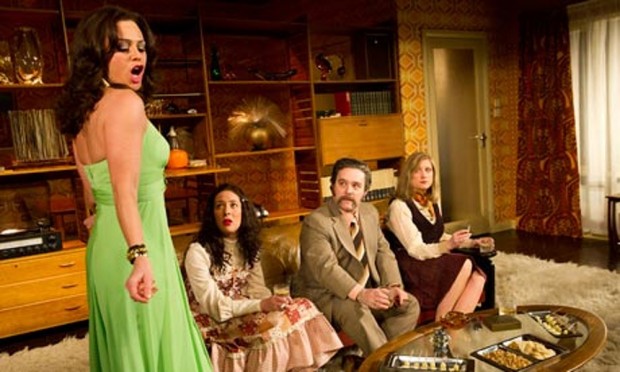 Most plays take place in rooms, often little rooms. At their best, these confined spaces can be crucibles of the passions, cauldrons of desire or claustrophobic torture chambers. One current revival exemplifies the way that emotions can turn four walls into an echo chamber of bottomless misery and stultifying experiences. Abigail's Party by the brilliant Mike Leigh is a contemporary classic first staged in 1977, and then made super-famous by the television version with the same cast, memorably headed by Alison Steadman.
In the sitting room of their suburban home, Beverly and Laurence host a quiet drinks party for two sets of neighbours. The first are Angela and Tony; the second is Susan, whose daughter Abigail is having a roaring house party nearby, but offstage. The class lines are precisely drawn: because Laurence is a successful estate agent, the house is newly decorated and the liquor cabinet (in this case shelf) is full. They are not the new rich, but they are upwardly mobile. By contrast, Tony is a computer operator (not a programmer) and Angela is a nurse. They are also upwardly mobile but their house is smaller than that of their neighbours. Last but not least, Susan is upper-middle-class. Unlike the others, she has been living in the area for ages. She comes from older money.
At the start of the evening, there is much comedy to be enjoyed from watching not only Beverly's vulgar posturing, but also from seeing Sue's polite, but pained reactions. In this comedy of manners, those of a working-class background fall into two types: either relentlessly loud or painfully shy. Although Mike Britton's set, with its 1970s brown and orange wallpaper, sheepskin carpet, cheese plant and fibre light, is actually quite tasteful to look at, the message is that Beverly and Laurence have no taste. Anyway, more money than taste.
Yet they are also both miserable: Laurence works every hour of the day, while Beverly — who aspires to be a sex symbol — is bored, and perhaps longs for a child. Despite her loud mouth, and desperation to show her husband and her neighbours that she knows how to have fun, she is deeply unhappy. She is a monster with a broken heart. Likewise, Tony and Angela are not a model couple. He bullies her, and she is even more gauche than Beverly. So when Tony begins to respond to Beverly's foolish sexual overtures, the final dramatic disaster comes as little surprise.
Abigail's Party has always attracted controversy as well as laughter: are Leigh's lower-middle-class characters being patronised by their creator, and is he inviting us to laugh at them in a smug and superior way? In some productions, you do feel that they really don't have much of a life beyond the stereotype. However, in this version, directed by Lindsay Posner, they emerge more as human beings than as caricatures.
Jill Halfpenny's Beverly is less concerned with nasal consonants than Steadman was, and she is clearly sad inside despite her obvious relish in imposing her will on her husband, played without much exaggeration by Andy Nyman. Likewise, Joe Absolom's Tony and Susannah Harker's Susan are perfectly convincing, although Natalie Casey's Angela could be a touch more gormless. Amid the cheese and pineapple on cocktail sticks, the Demis Roussos on the stereo, and the blasts of punk music from Abigail's party (unseen but not unheard), the characters in this suburban room seem at some points to be trapped in a Dantesque hell. Yes, hell in Essex. As the drinks are poured, the rivalries and resentments increase, and the final tragedy seems like a terrible judgment on their whole bitterly sad lives.
© Aleks Sierz