The Unreturning, Theatre Royal Stratford East
Thursday 17th January 2019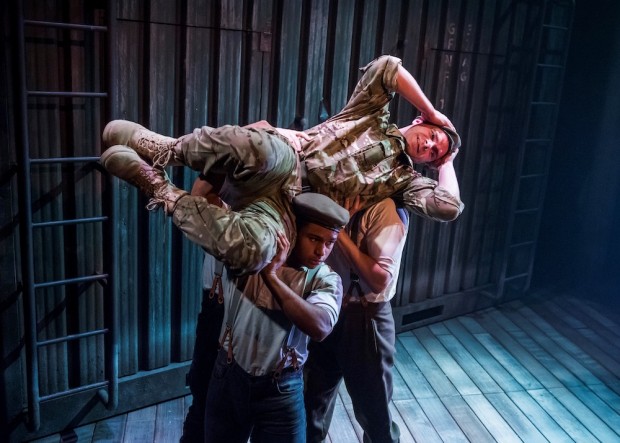 Nadia Fall is a good thing. Her appointment as the artistic director of this venue, with her first season having begun in September last year, has been widely seen as part of a new wave of cultural leaders who are expected to shake up the country's theatre. Already, her building has enjoyed a hipster-inspired cool facelift. And this visiting show, produced by Frantic Assembly and Theatre Royal Plymouth, once again exemplifies one of her favourite themes: youth. The play takes a broad view of war, men and home. But does it have anything new to say about the rather familiar theme of agonised masculinity?
The play, which was first seen in Plymouth in September last year, is written by Anna Jordan, and is a triptych about three men who return from a variety of conflicts to their homes in Scarborough. One strand is set in 1918, another in 2013 and the third in the near future. As the first world war ends, George goes home to his wife Rose, but the experience of the trenches has scarred him. Almost 100 years later, Frankie returns from Afghanistan, but he is no hero: he has been dishonourably discharged for viciously injuring an innocent Afghan child. The final strand, set in 2026, turns today's migrant crisis on its head: Britain is fractured by civil war and Nat has fled to a refugee camp in Norway. Now, he wants to come back to find his little brother Finn, from whom he was separated when he ran away.
The stories of the three men, which are told in a skein of coiled and knotted incidents, are similar, but nuanced. Each of them has experienced the trauma of war: each is suffering. George has shell-shock; Frankie is experiencing flashbacks due to Post-Traumatic Stress Disorder and Nat has been impoverished and made homeless. Each of them are survivors, and all are tormented by guilt: about fallen comrades, about survival itself and about abandoning family during conflict. They are broken men, and Jordan paints a complex picture of masculinity, its crises, its toxicity and its deepest feelings. Each of the men realise that while soldiers have power, civilians are victims. So although the main theme is quite familiar, the writing is sensitive and occasionally offers an original slant on the subject.
In the 2026 story, Nat returns home to find that the place has been devastated — Syria has come to Scarborough. As a refugee pacifist he experiences what so many people have lived through in the Middle East. And his thoughts about the Scandinavian welfare system are a wry comment not only about our current views on Scandi life, but also a rebutal to some rightwing views about greedy migrants. When he sees how badly his hometown has been devastated, we get a strong impression of what the result of civil war must mean. The fate of other distant peoples suddenly comes back to us. And this physical destruction highlights another key theme of The Unreturning: home.
In these stories, the North-East of England is a place that is not only characterised by its specific physical characteristics — bricks, rocks and sands — but also its people. But if it is people that give soul to physical surroundings, they can also prove to be difficult, more changeable in their attitudes than the surrounding environment. When a soldier returns in disgrace, how would their family react to him? And when the landscape and cityscapes are blown up, are they still home? Or is smashing the physical environment a way of destroying the emotional meaning of a place? So although the theme of masculinity is a familiar preoccupation for Frantic Assembly, Jordan's writing — with in this case its recurrent and vivid bird imagery — lifts this show, being exceptionally meditative and occasionally very moving.
Jordan explores her themes by using a very agile theatre form, and the three interlocking stories do talk to one another. In the writing, there are some acute insights into masculinity and its discontents. In one scene, when George and Rose are having sex in bed, he feels a terrible sense of suffocation: this is an original insight into how PTSD can manifest itself in the most intimate of situations. And Jordan shows how it can destroy the closest relationships. For George, not being able to have sex is also a verdict on his masculinity. In the story about Frankie, playwright shows how a typical scene — such as a boys' drunken night out — can quickly turn from celebration to aggression. And all because of social media. On the other hand, there are also some more banal sections, such as the scene set during the Christmas truce on the Western Front, but even this has a twist.
The play is directed by Neil Bettles, who uses a cast of four men — all of whom are graduates of Frantic's Ignition theatre programme for young men — to portray the many characters of these three stories. Andrzej Goulding's set is a heavy metal shipping container, which rotates and has sliding panels to create a sense of physical malleability, and also of existential fragility. It also feels hard and dangerous. His video imagery is enhanced by Pete Malkin's soundtrack music. And the company's trademark physical movement is used sparely but effectively and the cast — Hollyoaks's Jared Garfield (George), Joe Layton (Frankie), Jonnie Riordan (Nat) and, making his stage debut, Kieton Saunders-Brown (Finn) — deftly play not only their main characters but also all the others: Rose, a mother, a doctor, a people smuggler and various young men. The effect is full of both energy and grace.
The Unreturning suggests that although a man can return from war and conflict in one piece, this physical survival means little when their minds are haunted by the experience of violence, and when their consciences are ripped apart by feelings of guilt. They've come back, but they have not really returned. In the metaphorically rich sense of the piece's title, they are the unreturned. The deep emotions dredged up by this show feel very elemental, and there's even a sense of mercy, expressed in each of the several tender moments that contrast with the fire and fury of the representations of violence. While Jordan's text makes wryly satirical references to the idea that Brits could, like Nazi soldiers, be "only following orders" or that young Englishmen might, like jihadis, be "brainwashed", there's a definite pulse of pleasure in the sheer theatricality of the storytelling here. Despite the occasional banal moment, this is a brilliant show.
This review first appeared on The Arts Desk