The River, Royal Court
Friday 26th October 2012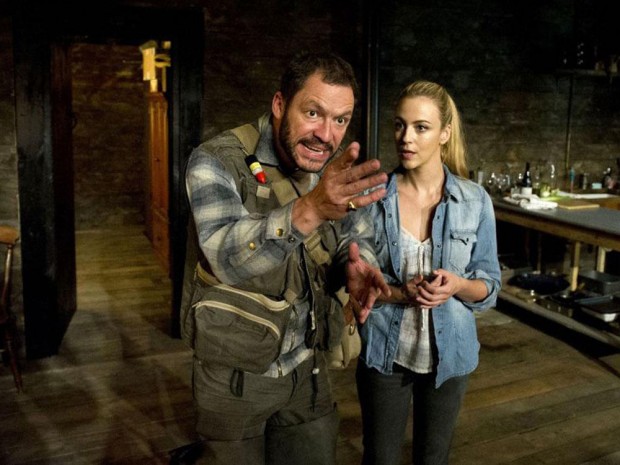 How do you follow a massive success? Playwright Jez Butterworth has had to face that question twice in his career so far. In 1995, his Mojo was a big hit for the Royal Court and the subsequent film version starred Harold Pinter. But because he made a detour into screen writing, we had to wait seven years for his second play, The Night Heron. Now, after the huge international success of his Jerusalem, first staged in 2009, we have The River after a wait of a mere three years. But while Mark Rylance lit up Jerusalem, can Dominic West do the same for Butterworth's latest?
The contrast between Jerusalem and The River is clear. The first is a loud, mouthy public play about the pastoral state of the nation; this one is a quiet, poetic, intense meditation on personal life. Set in a dark wooden cabin on the cliffs above a river, it begins in a thrillingly emotional way with The Man (played by West) begging The Woman (Miranda Raison, fresh from BBC's Vexed) to join him in a night-time expedition to fish for sea trout.
It seems that The Woman is The Man's new girlfriend and he is seductive in his poetic descriptions of the pleasures of fly fishing. For him, the physical act of landing a fish is so intense that it sounds as if he's talking about love-making, and the kinship between sexuality and death runs right through the play like the river of its title. The visceral electricity of The Man's fishing lore creates a mood of expectation that Butterworth subverts by suddenly bringing on The Other Woman.
From now on, as the story unfolds, each scene alternately features The Woman and The Other Woman. This immediately tantalises the audience: is The Other Woman a previous lover, or a new one? Is she or The Woman the real love of The Man's life? Are we switching between past and present, or is he simply picking up a different woman every week? This is a play about rituals and about repetition.
At the same time, in the claustrophobic cabin beautifully evoked in Ultz's hyper-naturalistic design, the bearded West deepens his account of an isolated, bruised masculinity. With a guilty look and an emotional detachment that contrasts noticeably with his real passion for fish, he gradually becomes a figure of haunted intensity in this tragic tale of love and lies.
Butterworth's playwriting, with its quotations from Ted Hughes, TS Eliot and WB Yeats, is both emotionally wired and deeply poetic. We are a long way from the rude spitfire phantasmagoria of Jerusalem, and find ourselves in the mysterious territory of male obsession that Butterworth most clearly illustrated in Parlour Song, his other play to premiere in 2009. There are distant echoes of Harold Pinter's Old Times and Conor McPherson's ghost stories.
At various points, The River is magical, bucolic, gothic and even sacramental. As usual, Butterworth is extremely well served by director Ian Rickson, who creates a wonderful mood that mixes masculine confidence and female truth-telling with a pervading sense of loss. The play is perfectly paced and the sight of West gutting a fresh fish before cooking it for his new lover is a potent image of his character's attempt to make a real emotional connection.
Raison's blonde Woman and Laura Donnelly's brunette Other Woman are a beautiful study in contrasting femininities, with Raison the more troubled and uncertain while Donnelly is daring, flirtatious and finally ice cold. In a breathtaking coup de theatre which no audience member should reveal, the play's storytelling threads are all tied up in the deeply ambiguous concluding minute of this 80-minute show. This is plainly the best new play in town and deserves an immediate transfer from this small studio space to a larger West End theatre.
© Aleks Sierz