Season's Greetings, National Theatre
Wednesday 8th December 2010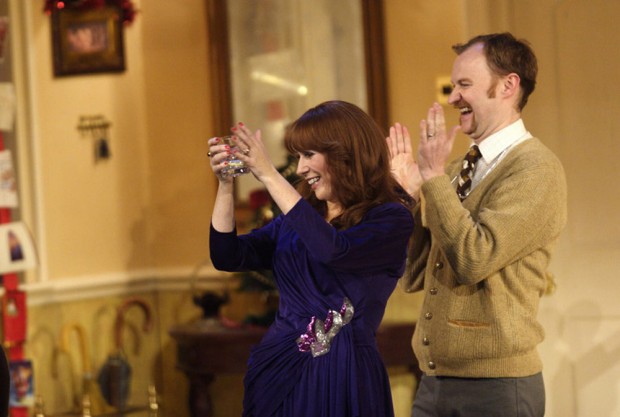 Casting can make or break a play: stars are able to turn dross into magic. So the news that the irresistible Catherine Tate, Mark Gatiss, Neil Stuke and Nicola Walker are all in a revival of Alan Ayckbourn's 1980 seasonal play, called, with pardonable if heavy irony, Season's Greetings, is enough to raise expectations, and lift the spirits. Or is it?
As Ayckbourn obviously realises, Christmas get-togethers are great for drama — it's a fine time to bring together a family of people who loathe each other, but are trapped in each other's company for several days. Once all these people are in place, plus the predictable visiting stranger, you just have to sit back and watch the sparks fly. Basically, it's a formula.
In this version, we are Chez Bunker (you can't say that Ayckbourn isn't making his point clear). The nerdish Neville and his wife Belinda are a comfortably married middle-class couple, although — surprise, surprise — the man seems to be more comfortable than the woman. For Christmas, they are joined by Neville's sister Phyllis and her husband Bernard, who brings his puppet theatre, their fascistic uncle Harvey, Belinda's sister Rachel and the Bunkers' friends Eddie and Pattie. Since Rachel has invited Clive, a novelist, there is also the innocent stranger who acts as a catalyst for the disaster that looms.
The main energy of the show — apart from the obvious absurdities of the individual characters and the humour that can be milked from amateur puppetry — comes from the dissatisfaction of Belinda with her hubbie Neville (basically, he never helps her and never listens to her). So Belinda's first meeting with novelist Clive is alive with their mutual sexual attraction.
After a considerable amount of alcohol has been consumed, and after the comic potential of the usual family rituals has been explored, the lustful brew that draws Belinda to Clive, and Clive to Belinda, finally ignites, with predictably funny results. I say predictably because there is nothing in the plot that is the least bit surprising.
Nor is Ayckbourn's characterization anything to write home about (the regularly aired comparisons with Anton Chekhov are simply stupid). Nor is his dialogue at all distinctive: in fact, his language never rises an inch above that of the standard television soap. At its very best, it offers banal insights; at its most exciting, it delivers all the delights of farce.
But don't expect depth, originality, individuality, or wit. Sure, Ayckbourn shows how the Brits hide their aching hearts behind compulsive behavior and polite smiles. But surely this is now a cliché, isn't it? No, this old writing, painfully arthritic, stale and politically inert. Okay, Marianne Elliott's production is efficient enough, and the farcical moments are delivered as neatly as any seasonal gift.
Of the starry cast, Tate allows herself some operatic squeals and growls, plus the occasional exaggerated mannerism that is the trademark of her grotesques. It's enjoyable, but hardly revelatory. Neither Stuke (as Neville) nor Walker (as Rachel) ever really plumb the desolate pits of their characters so, for my money, Gatiss (as Bernard the puppet man) is the most deeply felt and complex performance. Season's Greetings is almost three hours of harmless fun, but — even at Christmas — the spirit longs for something more substantial.
© Aleks Sierz