Rosencrantz and Guildenstern Are Dead, Haymarket Theatre
Tuesday 21st June 2011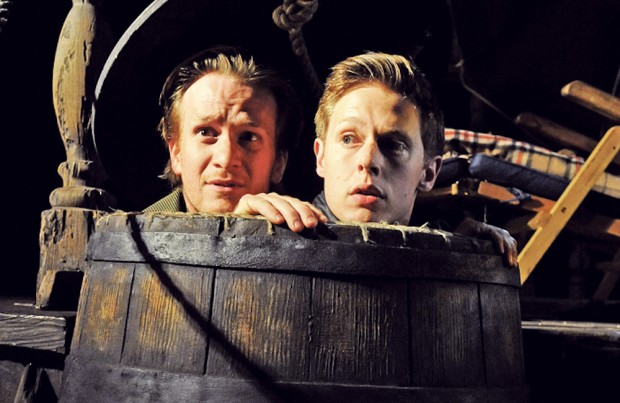 What are the politics of absurdism? Tom Stoppard spent much of his long career standing up to civil rights abuses in the former Eastern bloc countries, but he's also been a strong critic of liberal pieties in the West, and of leftist theatre — especially in its more didactic forms. Now, with this fine revival of his first play, Rosencrantz and Guildenstern Are Dead, we can examine once again the meaning of his witty, allusive and absurdist style.
Originally staged in 1966, this is a play within a play. Taking Hamlet, that quintessential English masterpiece, as his inspiration, the Czech-born Stoppard looks at what happens to two of its two minor characters, Hamlet's old student buddies, who have been sent by the evil and guilty King Claudius to spy on him. Because both Rosencrantz and Guildenstern are non-entities, they are able to do anything that Stoppard wants them to.
So, in Stoppard's version of Hamlet, they play games of chance, they philosophise, they try and suss out what ails the Prince of Denmark (with very little effect), and they finally take him to England (and to their deaths — this is not a spoiler: just read the play title). In the meantime, they talk with the visiting Players, embark on a voyage and discuss the nature of appearance and reality. They talk to the audience about the nature of theatre.
It's very witty, very clever writing. With startling ambition, the young Stoppard takes on not only the Bard but also Beckett: this is a 1960s rewrite of Waiting for Godot, with bits of Pirandello thrown in for good measure. It is funny, sad and constantly stimulating, if a tiny bit heartless. Later on, in The Real Thing and Arcadia for example, Stoppard added depth of feeling to his verbal acrobatics.
In its vision of two minor characters stranded in a situation they imperfectly understand and feeling helpless to affect their own circumstances, while still being able to behave spontaneously, Stoppard came up with a powerful metaphor for the situation of many young people in the Swinging Sixties. But the point is that while, in the world outside the theatre, youth was revolting — on stage they were just philosophising. Rejecting Karl Marx's dictum that it is insufficient to interpret the world (the point is to change it), Stoppard shows our essential hopelessness. His human beings are unable to change their situation — as political agents, they are impotent. They are also caught in the double-binds of absurdism. Everything they do is crazy; so they are powerless.
As directed by Trevor Nunn, Rosencrantz and Guildenstern Are Dead is a superbly staged evening in the theatre. The inspired casting of two of the original History Boys from Alan Bennett's play gives a real zest to the acting. Samuel Barnett's Rosencrantz is attractively nerdish and camp while Jamie Parker's Guildenstern is more impatient and has hidden depths. As the Player, Chris Andrew Mellon is fiercesome. With its brilliant, scintillating text, and its sublimely postmodern feel, Stoppard's play cannot fail to entertain and delight. If its politics are determinedly anti-leftist, this aspect of the playwright's ideology is never thrust in your face; it is never intrusive. Today, the piece occasionally feels like a lament for the passing of a more innocent age — but it's great fun too.
© Aleks Sierz